| | |
| --- | --- |
| Three takeaways from White Sox win over Mariners | |
---
| | |
| --- | --- |
| Wednesday, April 7, 2021, 2:50 PM | |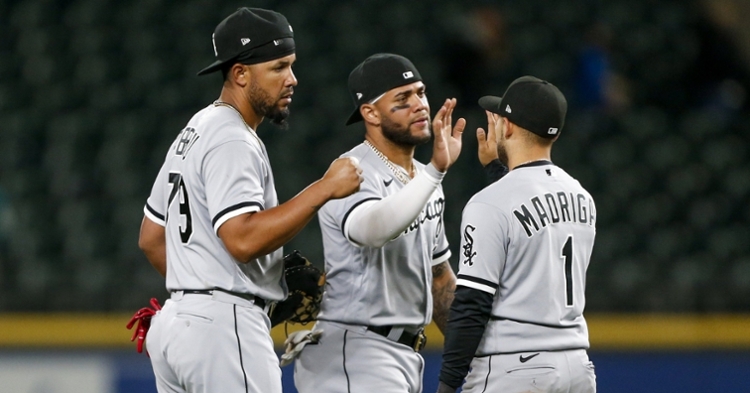 After getting off to a slow start, the White Sox seem to be picking things up a bit as they continue to play out west. In what had the makings of being a pitcher's duel, the White Sox turned to their ace Lucas Giolito against the Big Maple James Paxton. Giolito was as good as advertised, striking out 10 in 5 1/3 innings of work, while Paxton left in the second injury with an undisclosed injury.
Giolito was hit hard in the third inning, which led to three of Seattle's four runs, but a three-run homer by Zach Collins in the second paired with the Jose Abreu Grand Slam in the eighth was more than enough offense.
The White Sox won their second straight against Seattle 10-4 and improved to 3-3.
The reigning MVP is putting on a show
Ever since the White Sox signed Jose Abreu out of Cuba, he has been not only their most reliable hitter but their most consistent hitter. You can pencil him in for 25-30 homers a season, and 100 plus RBIs as the first base success continues following both Frank Thomas and Paul Konerko.
Last season, Abreu had a season for the ages as he took home the AL MVP honors. Even though it was an abbreviated season, Abreu put on a show and was on pace for a 40 homer 120 RBI season which hasn't been for a while. Not only is Abreu back after inking a fresh new deal, but he is looking to put on a show following that MVP season and has done that so far.
His eighth-inning grand slam on Monday was not only his second homer of the season but his 200th homer of his White Sox career, and there is plenty left in the tank. Should he continue to remain healthy, Abreu should move into second place on the White Sox homer list, only trialing Thomas when it is all said and done.
Giolito continues to dazzle
The transformation that Giolito has made in recent seasons is incredible, and he has emerged as one of the top pitchers in all of baseball. The ace of the White Sox staff continues to throw at a high velocity while executing pinpoint command to pile up the strikeouts. That is one thing that has plagued him early on in his career.
Now that he has ironed it out, Giolito is becoming one of the top five pitchers in all of baseball. His fastball is in the 95-97 MPH while his slider and changeup continue to get better. Tuesday night saw his changeup on full display as that was his out pitch all night. Chicago needs to focus on keeping Giolito long-term as he is still young enough where they can continue to build the rotation around him.
Are the White Sox the best team in Chicago?
When last season started, the White Sox were the talk of baseball given the moves they made last offseason? Those moves proved beneficial as they were the key pieces to jumpstarting the White Sox offense and leading them back to the postseason.
After a first-round exit at the hands of Oakland, Chicago continued to add some pieces this offseason by bringing in Lance Lynn and Liam Hendricks while most of their offense remained intact. Losing Eloy Jimenez certainly is a blow for this team, but they have plenty of firepower and depth across the board that they should be fine.
That brings me to my next question, are they the best team in Chicago?
On paper, you could argue and say yes, they are. Their Pitching staff, especially the front end of the rotation, is better, and with both Michael Kopech and Garrett Crochet ahead of Hendricks in the pen, I think their bullpen is better too. Offensively, the White Sox are miles better than the Cubs as the North siders have been stuck in neutral for the past few seasons while the Sox are trending upward.
Then you look at the managers where the White Sox have a hall of fame world series manager, and the Cubs have David Ross, who is good in his own right but has only one year under his belt. Although Cubs fans may not want to admit the White Sox, maybe the best team in Chicago not only right now but in the foreseeable future.
They are built much like the 2016 Cubs were built where they went out and developed some key pieces while making some key trades to add to the roster. Eventually, the money started coming in, allowing this team to spend money and add to the roster. What will be interesting is to see what this team does at the deadline.
If all goes right, this will be a team contending for a division title all season. With the loss of Jimenez and some minor holes to fill, expect Chicago to be buyers at the deadline. The question is, what do they give up to get better? Could they do another deal with the Cubs to take some of the Cubs assets in exchange for prospects? Who knows, but the bottom line is this team is loaded and should win tons of games.