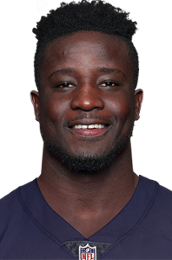 #50
Jeremiah Attaochu
Linebacker
| | |
| --- | --- |
| Position: | Linebacker |
| Ht./Wt.: | 6-3, 262 lbs |
| Hometown: | Georgia Tech |
B I O
PRO CAREER:


An eighth-year player who has appeared in 74 career games (23 starts) with the Chargers (2014-17), Jets (2018) and Broncos (2019-20)
Collected 128 total tackles (102 solo), 20.5 sacks, three forced fumbles and one fumble recovery during his first seven NFL seasons


2020 SEASON (Broncos):


Played in 13 games with five starts
Recorded his most sacks since his 2015 campaign with 5.0; added 29 combined tackles, six tackles for loss, eight QB hits and one forced fumble while appearing in 13 games  


2019 SEASON (Broncos):


Attaochu appeared in 12 games (5 starts) with Denver, finishing with 17 tackles (12 solo) and 3.5 sacks (19.5 yds.) — all in the team's final four games — to go along with one fumble recovery and four special-teams stops
Was signed by Denver on Oct. 1 after spending training camp with Kansas City
Totaled two solo tackles, two sacks (9 yds.) and one fumble recovery at Houston (12/8)
Registered four tackles (2 solo) at KC (12/15)
Made two tackles (1 solo) and 0.5 sacks (4.5 yds.) vs. Detroit (12/22)
Collected two solo tackles and one sack (6 yds.) vs. Oak. (12/29)


2018 SEASON (Jets):


Appeared in 11 games with the N.Y. Jets, finishing with nine tackles (7 solo) and two sacks
Recorded one solo tackle, one sack (7 yds.) and one forced fumble against Denver
Tallied one solo tackle, one sack (8 yds.) and three quarterback hurries at Miami (11/4)


2017 SEASON (Chargers):


Attaochu saw action in four contests with the Chargers, collecting six tackles (5 solo) during the season.


2016 SEASON (Chargers):


Attaochu appeared in eight games (1 start) with the Chargers, totaling seven solo tackles and two sacks (19 yds.)
Posted one solo tackle and one sack (14 yds.) at K.C. (9/11)
Recorded his second sack of the season (5 yds.) and three solo tackles against N.O. (10/2)


2015 SEASON (Chargers):


Attaochu started at linebacker in 12-of-15 games played for the Chargers
Finished the season with a career-best 52 tackles (42 yds.) and six sacks (39 yds.) to go along with one forced fumble
Collected three solo tackles and two sacks (13 yds.) vs. Cleveland (10/4)
Registered another pair of sacks for 13 yards with and three solo tackles at G.B. (10/18)
Registered three tackles (2 solo) and one sack (7 yds. ) at K.C. (12/13)
Totaled seven tackles (4 solo) and a half sack (5.5 yds.) against Miami (12/20)


2014 SEASON (Chargers):


Selected by San Diego in the second round (50th overall) of the 2014 NFL Draft, Attaochu competed in 11 games as a rookie
Contributed eight tackles (6 solo) and two sacks (13 yds.) with one forced fumble as a rookie
Recorded three solo tackles, one sack (4 yds.) and one special-teams tackle in his NFL debut at Arizona (9/8)
Tallied two solo tackles and one sack (9 yds.) vs. Oak. (11/16)



*Courtesy ChicagoSportsHQ.com
Latest Jeremiah Attaochu News