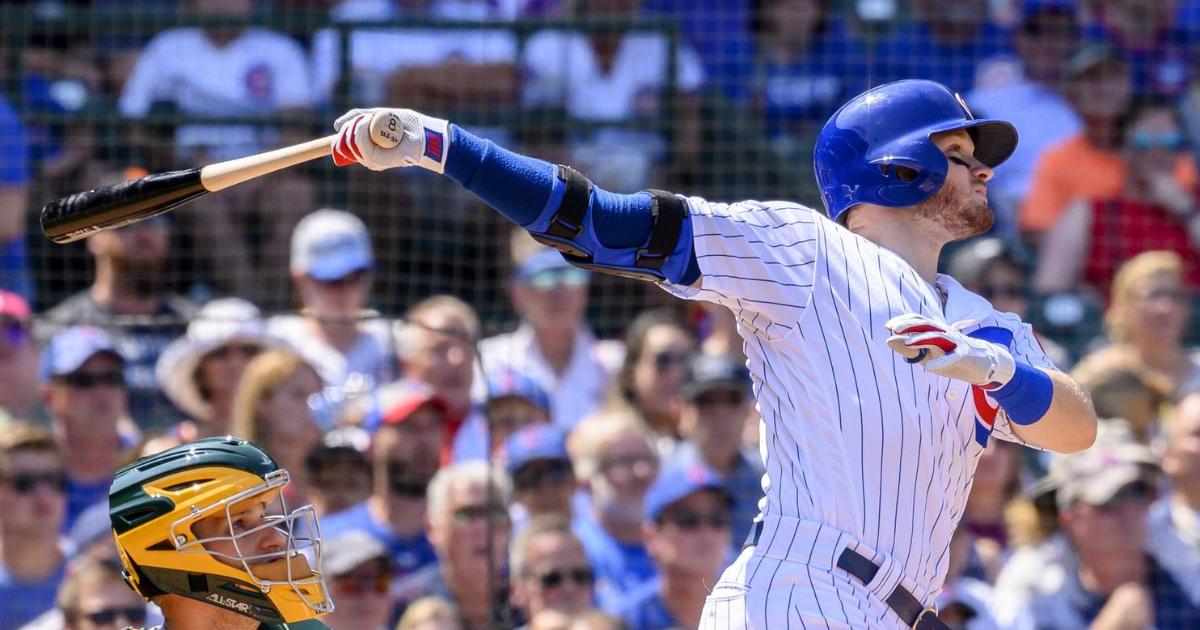 | | |
| --- | --- |
| 2020 Breakout Cubs candidate: Ian Happ | |
---
| | | |
| --- | --- | --- |
| Friday, February 14, 2020, 11:47 AM | | |
Ian Happ has the potential to be a major difference-maker for the Cubs in 2020.
A lot of people ask who is likely to breakout before a season begins, and Happ is one of the biggest breakout candidates for the David Ross' Cubs this season.
Happ provides versatility in nearly any way you could imagine. He hits for both contact and power from both sides of the plate, and he has played seven positions so far in his three-year career.
Happ has had an up and down tenure with the Cubs thus far in his career. He was brought up during the 2017 season and clubbed 24 homers, drove in 68 runs, and even gained votes in that season's Rookie of the Year voting.
The youngster came into 2018 with even more power, leading the Cubs in homers in spring training and earning the leadoff spot out of the gate. He led off the season with a leadoff dinger, and the rest of the season was downhill for Happ. He finished the year with nine fewer home runs and 24 less RBIs in almost 30 more games.
Those struggles prompted the Cubs to shock the baseball world and leave Happ of their opening day roster when they broke camp last year and sent him to Triple-A Iowa.
Despite being angry at the demotion, Happ remained focused and coachable as he itched to get back on the big league squad. He was demoted to work on his approach from the right side of the plate, as well as his defense primarily in center field as well as second and third base.
Happ had various hot streaks that appeared to be overlooked by the big league staff, but the persistent Happ eventually found his way back to the majors, and finally, his hard work started to show.
In just 58 games, Happ hit a career-best .264 with 11 homers and 30 RBIs. Despite having a good eye, Happ still strikes out too much, but it was evident that the approach had improved, and he made just two errors in the field, and neither of them were committed in the outfield.
Happ looked his best during the final week of the season when he took home NL Player of the Week honors. Hopefully, Happ can take that progress he made through the offseason and into the 2020 season.
The reason Happ looks like such a likely breakout candidate is because he already began to break out down the stretch in 2019.
The key to keep that up is maintaining that same approach that worked down the stretch last season. For Happ, that means having more barrel control, especially from the right side of the plate — even though he will likely bat more against righties since both Steven Souza and Alert Almora have historically had more success against left-handers. It would also mean that Happ plays consistent defense in the outfield. Happ seems poised to take a big chunk of the time in center field this year, especially since Albert Almora has been one of the statistically worst hitters over the last year and a half.
Happ offers more speed, more potential, more power, and more versatility both on the diamond and in the batting lineup than any of the other center fielders the Cubs could roll out.
This season he is expected to take on a bigger role, and that could be one that could give him an alley to breakout much like Kyle Schwarber did last season and Javier Baez did in 2018. However, I am also not saying Happ will be as good as Baez or finish second in MVP voting.
If you had to put money on the starting center fielder, I would encourage you to put money on Happ. Spring training will be telling to see if Happ can ultimately fit the leadoff role the Cubs have always wanted him to fill, but Happ seems primed to make a big step in his career and make a big difference for the Cubs in 2020.
Keep an eye on Happ to break out this season. Where he will be in the lineup or on the field is more of a David Ross question.