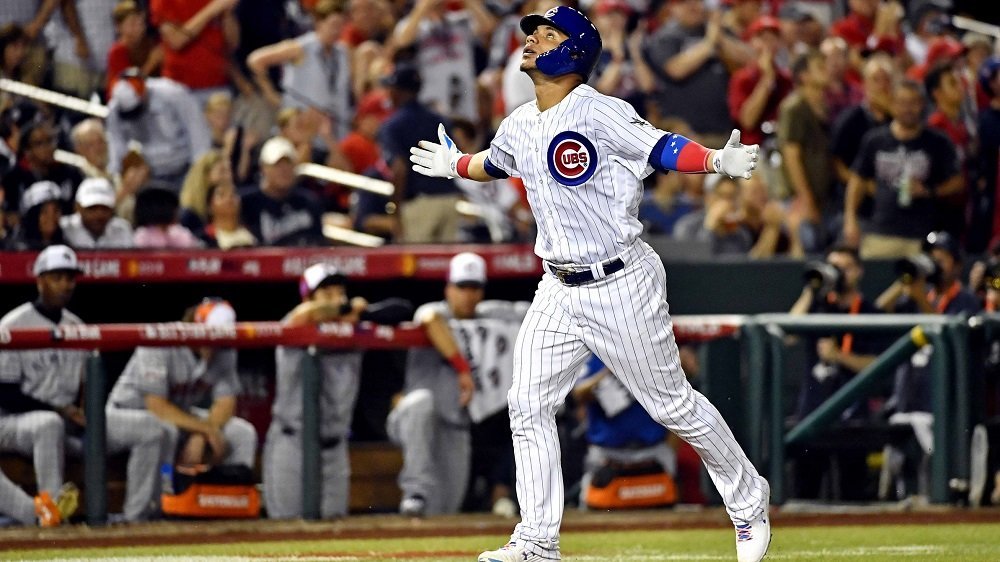 | | |
| --- | --- |
| 2020 Season Projections: Cubs Catchers | |
---
| | | |
| --- | --- | --- |
| Monday, March 9, 2020, 1:55 PM | | |
Now that we are about three weeks into the spring training season and three weeks away from the regular season, I think it is safe to say we have reached the mid-way point. We are starting to see some of our regular players finding consistent rhythm while others continue to battle for playing time on the bench with hopes of cracking the big-league roster.
Today marks the first day of a lengthy season projection series that will feature projections from every position on the roster. Some will be major league only, some will be minor league only, and some will be a combination of both when you look at who is on the roster for that position. Today is the first installment of this series as we look at what to expect from the Cubs catchers this season.
WILLSON CONTRERAS: Unlike most teams, the Cubs have two capable starting catchers who don't appear to be going anywhere anytime soon. Despite numerous off-season rumors about Contreras being trade bait, the fact remains that he is a Cub, and he is happy to be here for the foreseeable future, or at least to start the season.
Knowing that this is the first time that he has had to endure constant trade talk, there is no telling what kind of effect that may take on him as the season plays out. Judging by what we have seen from him this spring, I don't think those rumors have affected him that much, and I don't see them weighing him down this season.
If and the big question is if Contreras remains healthy all season, I am looking for a breakout performance from him as he has shown he can play at an all-star and even MVP level. I look for a small chip on his shoulder, which could motivate him throughout the season. Another question that could arise has to do with the Cubs in general and if they become buyers or sellers at the deadline. Should they become sellers, Contreras will undoubtedly be a name to watch.
Projection: 107 games (95 starts, 82 at catcher 13 elsewhere): .278 average, 24 homers, and 75 RBIs.
Make no mistake about it, that when he is healthy and locked in Contreras is right up there with the best offensive catchers in the game. Sometimes that comes with a curse as they tend to overwork him to keep his bat in the lineup. I fully expect to see him get much more relief behind the plate this season, but still expect to see his bat a lot.
With the new lineup changes expected to happen at the top of the order, not only will Contreras be an essential piece in the middle of the lineup, but look for him to have tons of RBI chances as well. He could be a sleeper MVP candidate if all goes right.
VICTOR CARATINI: No player has improved more over the past two offseasons than Caratini. So much so, that he would be the starting catcher for numerous clubs in this league. Not only does he call a great game behind the plate, but he offers switch-hitting, which is nearly impossible to find in the catching world.
What makes him even more valuable is that he is the primary backup to Anthony Rizzo should heaven forbid he go down with an injury. So far this spring, Caratini has been nothing short of impressive in every which way leading me to believe he will see an increase in starts and games played throughout the season.
Projection: 98 games (72 starts 55 at catcher, 17 plus at first): .289 average, nine homers, and 38 RBIs.
If Caratini was an everyday player, he would have 15 homers and 60 RBI potential without question. The fact that he isn't an everyday player minuscules those numbers a little bit, but not enough to concern anyone. Caratini is a great hitter from both sides of the plate, although he is better from the left.
With an extra roster spot this season, should the Cubs choose to carry three catchers at any point in the season, look for him to get more chances as they would have more flexibility with bench players. Given the uncertain future of Contreras, Caratini is a crucial piece for the Cubs going forward until Miguel Amaya is ready to come up.
JOSH PHEGLEY: I am throwing Phegley on this list with the presumption that the Cubs will indeed carry three catchers at some point this season. It may not be right away, but with an extra roster spot, having a third catcher is an obvious choice.
Signed as a minor leaguer this offseason, Phegley is expected to open in AAA and be the team's No. 1 in Iowa. That hasn't stopped him from showing potential this spring to the point where he could land on the opening day roster. I look for him to not only get called up when injuries happen but could very easily stick as a third catcher should the Cubs have a stretch of 19 games in 20 days to spell some relief.
Projection: 43 games .235 average, four homers and 17 RBIs.
These are just major league projection numbers as those numbers should go way up in AAA. Phegley has never been a primary No. 1, but given a chance, last season with injuries showed he has the potential to handle full-time duties for a short-term run. Don't expect that in Chicago unless a trade is made, or major injury happens.
Phegley is listed as the third catcher on the depth chart, meaning that is his role on the team for now. He won't be called on much unless needed, but when given that chance, I do expect some minor production from him. Let's hope it is only to fill small holes, not long-term issues.