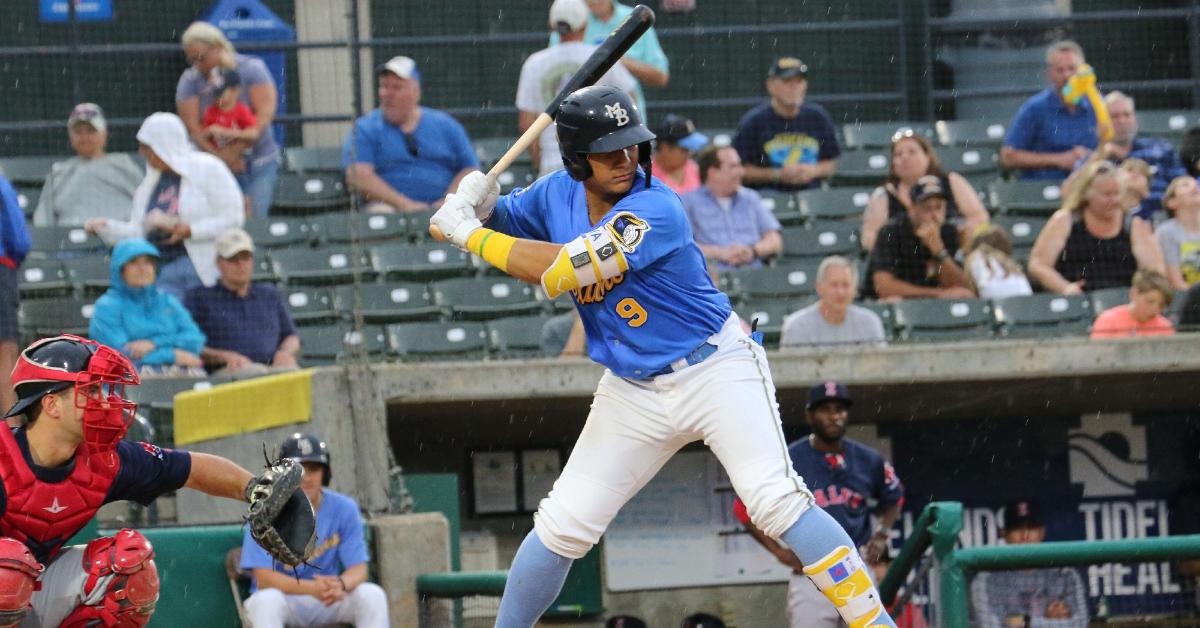 | | |
| --- | --- |
| 2020 Season Projections: Cubs catchers in minors | |
---
| | | |
| --- | --- | --- |
| Tuesday, March 10, 2020, 3:31 PM | | |
Yesterday, we started a lengthy series getting into the season projections for players at every position. As mentioned, some will be MLB only, some will be MILB only, and some will be combined based on the number of MLB players on the roster at that position.
Monday was part 1 of the installment as we focused on the catching position. Today, we once again focus on the catcher position but turn our focus to the minor league front to highlight the minor league catchers this season. Keep in mind, I will not be highlighting every player in the minor league system by position, but instead focusing on the ones who should have the most significant impact in the minors this season.
MIGUEL AMAYA: The No. 2 prospect in the system is in an interesting position right now as the team tries to figure out the future for Victor Caratini and Willson Contreras. Long term, Amaya is the future behind the plate, but with trade rumors surrounding both MLB catchers, how much longer will Amaya see Minor League time before he is called on to contribute in Chicago.
Through two full minor league seasons, one with South Bend and one with Myrtle Beach, Amaya has shown tremendous potential but has also shown growing pains as expected with a 20 now 21-year-old prospect. For those not familiar with his game, fans have gotten to see a lot of him this spring, and I can say I am impressed with how he has held his own against some roster fringe players. Do I expect him to see MLB time this season? No, I don't unless drastic things happen, and he simply has a breakout season, but look for him to open in A.A. with a shot at AAA this season.
Projection (106 games) .242 average, 12 homers, and 58 RBIs.
Numbers aside, this would be an excellent season for a 21-year-old at an AA/AAA level. Not only is going to be a younger player in the Southern League this season, but that league is often referred to as one of the most difficult leagues to play in, so those kinds of numbers would look good.
As of now, we can safely say that Amaya's defensive game is far ahead of his offensive game, but that doesn't mean his offense is weak by any means. Despite hitting in the .230s for Myrtle Beach last season, Amaya led the team in walks, homers, and RBIs as he continues to develop as a hitter. That is scary when you think about it as he could become a dual-threat within the next two seasons and could be the Cubs answer long term behind the dish.
Ross' parting words to Amaya: "I told him, 'you can back up in the big leagues right now with your catching ability, catch and throw. But I think you have higher goals than that.' I think he's going to be a real impact catcher in the major leagues at some point."

— Mark Gonzales (@MDGonzales) March 10, 2020
P.J. HIGGINS: Higgins is having himself quite a spring, and it is starting to catch the attention of the Cubs front office. Not known for his power, Higgins brings with him a great approach and high contact skills to the plate, which he has demonstrated all spring.
Last season between AA/AAA, Higgins hit a .281 with ten homers and 57 RBI's in what was a breakout season for him. Look for him to open the season in AAA this year and battle it out with Josh Phegley as the teams No. 1 catcher with a shot at cracking the MLB roster sometime in 2020.
Projection: (97 games, 75 at catcher, 22 at other positions) 270 average, 15 homers 68 RBI's.
Moving to AAA, where the ball seems to jump like a golf ball, Higgins' power numbers should increase even more this season, but at what cost. I do expect to see his average drop a little bit as he will have to adjust to much better pitching than what he saw in A.A. Still, look for him to have a massive 2020 campaign giving the Cubs another catcher option for the future.
JHONNY PEREDA: Much like Higgins, Pereda will open the season up in AAA and will be fighting for playing time not only behind the dish but at other positions. Unlike his counterparts, Pereda is still very unpolished offensively, but quite possibly could be the best defensive and receiving catcher in the system right now. For a team that has had trouble framing pitches in recent seasons, that is quite an asset to have.
Projection: (83 games) .245 average, six homers, and 41 RBIs.
As mentioned, Pereda is not going to wow you with his offensive skills, but playing in AAA will always make your numbers look better. Instead, he will be a valuable defensive asset behind the plate, which will make any pitcher better. For a team looking to develop some young arms, finally, look for him to play a significant role in that when it comes to calling games and pitch framing.
Caleb Knight: 2018 draftee Caleb Knight hasn't played a ton in two seasons (55 games), but the potential to be great is there. A career 233 hitter through two seasons, Knight busted out to hit 267 last season with two homers and 11 RBI's, giving him three H.R.'s and 15 career RBI's. That is minimal production for a player now two years in the league, but once he was given a more prominent role, the numbers did increase.
Projection: (76 games) .234 average, eight homers, and 35 RBIs.
Knight will open the season at South Bend this season and will see a significant increase in games this year. That means his numbers should go up except for average. Given that he has yet to play 60 games in the system, Knight still has a lot of growing up and adjusting to do in terms of a hitter. Pitchers will expose that this season, but Knight will be given plenty of chances to overcome that and prove he is worth the Cubs time.
ETHAN HEARN: The final catcher I will highlight is last year's sixth-round pick in Ethan Hearn. Not only is Hearn young at 19 years old and taken right out of high school, but he was regarded as one if not the best hitting catcher in the high school ranks, which is why the Cubs pounced on him when they did. A lefty hitter with the potential to grow into some real power, Hearn is still very raw but saw time for the AZL Cubs 2 Rookie affiliate last season.
During his first taste of pro ball, Hearn saw action in 23 games hitting just a 163 in those games. His two homers and 14 RBI's was a promising sight as he would put up great numbers should he keep that pace up for an entire season. Much like last year, I look for Hearn to start in the Rookie league for a month or so, but don't be shocked to see him with amble time with Eugene and maybe even South Bend at some point in 2020.
Projection: (61 games) .212 average, six homers 31 RBIs.
The power capabilities are certainly there for Hearn, and I expect him to showcase that plenty of times this season. The problem is that at 19 years old, his average will continue to be around 200 until he has a better grasp of the strike zone, pitch recognition, and just what to do in certain situations. However, Hearn has the tools and makeup to break out at some point soon, and fans will finally get a chance to see him play outside of rookie league ball.