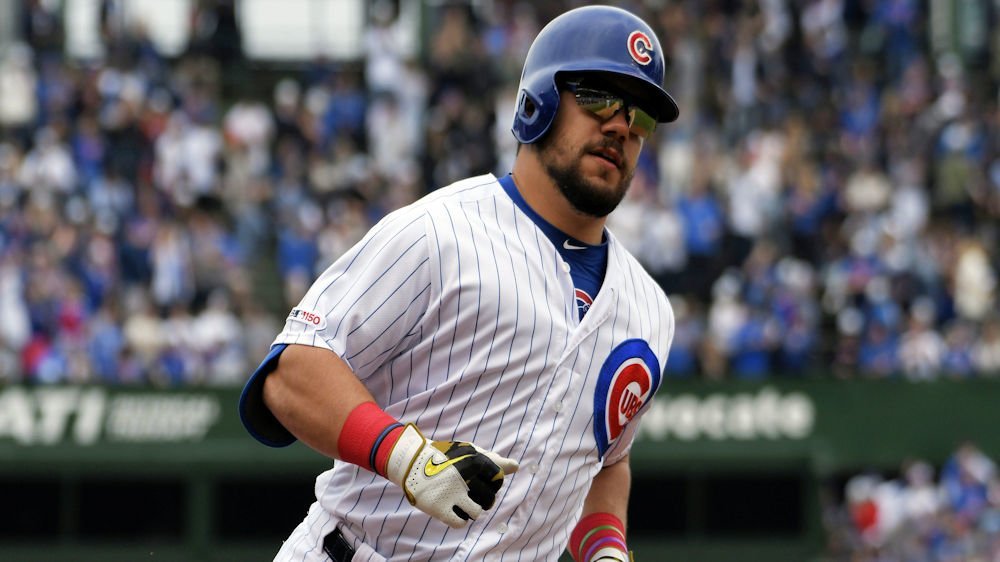 | | |
| --- | --- |
| 2020 Season Projections: Schwarber, Happ, Heyward, more | |
---
We have moved to the final position of the season projection series before we get into the pitching staff. That, of course, would be the outfield. On paper, the Cubs have a very intriguing outfield that could be very good or very bad. There is also the option of the in-between depending on how things play out.
Right now, it appears that we have our three favorites to not only start, but run with the job, but that doesn't mean the rest of the crew isn't going to see time on the field. To me, this is a make or break year for both Albert Almora and Ian Happ as one of them needs to establish themselves now.
Kyle Schwarber: it was a tale of two halves last year for Schwarber as the Cubs finally got the production they were looking for. After struggling to find consistency in the first half of 2019, Schwarber appeared to turn the corner after the All-Star break finishing just shy of 40 home runs to lead the team. If you talk to a lot of the Cubs coaches and front office personnel, many believe that the second half of last season will translate to this year as it appears, he has figured tons of stuff out.
We all know defensively, he isn't going to be great, but he has improved every season out there, which is a testament to his work ethic. Add in that he has an accurate and reliable arm, and teams think twice about running against him. The DH will always be a topic surrounding Schwarber, as many people still believe that is his future. For now, he is precisely the kind of left-handed power bat the Cubs need to pair with Rizzo.
Projection: .265, 28 homers 70 RBI's.
Before our world was tipped upside down, I was going to give Schwarber his first 40 homer 100 RBI season as I have very high expectations for him this year. Even with what is going to be a shortened season, I still look for him to produce at a high level and lead the team in homers for a second straight year. His willingness to use all fields to his advantage is a huge plus, and he isn't afraid to demonstrate that power. Let's see if he indeed has turned a corner this upcoming season.
Ian Happ: Happ had an interesting season last year that saw him spend the first four months working things out in the minor leagues. Once called up, Happ appeared to put that work to good use as he was a different player, especially the last two weeks of the season. Despite just 11 homers and 30 RBI's, Happ had the highest home run rate on the team, which is a good sign moving forward.
Right now, I think Happ has earned the right to open the season in CF, but also expect him to bounce around given his versatility. He provides power from both sides of the plate and speed to go with it, which makes him even more valuable. The thing to keep an eye on this season is where he is used in the lineup. Ideally, he seems to be the perfect middle of the lineup bat, but he has looked good in the leadoff spot throughout spring. Regardless of what David Ross decides to do, Happ gives him options.
Projection: .275 average, 15 homers 48 RBI's.
Call me crazy, but the demotion last season was exactly what Happ needed. It allowed him the chance to work through some things and figure stuff out without the pressure of doing that on the MLB roster. Sure, there were times when that wasn't smooth sailing, but I think he has found what works for him and look for him to put that to use this year. Happ is a guy who's bat you want in the lineup through six innings but maybe subbed late for defensive purposes. He will be an important x-factor this season.
Albert Almora Jr.: Outside of the Daniel Descalso fiasco last year, no one had more of a disappointing season than Almora. After showing so much promise in 2018, 2019 was supposed to be the year where Almora not only earned the starting CF but locked it down long term. That was the case early in the season until an unforeseeable incident changed that.
It was a June game in Houston where Almora ripped a foul ball into the seats, hitting a two-year-old girl. Visibly shaken, Almora played through the rest of the game, but it was clear that he was never mentally right after that. Besides hitting just a .223 average over the final four months, his defense took a big hit also as he eventually lost every day playing time and was demoted a few weeks. The physical tools are still there, but mentally, he was not where he needed to be.
Projection: .282 average, three homers 20 RBI's.
With a year off to clear his head, Almora has adjusted his approach to the plate, and so far, the rewards are visible. It will take a lot for him to see an everyday role, but given his defensive skills, he will be used a lot in late-game substitutions. Almora does still have the LHP thing going for him as he should see plenty of plate appearances against them, given his career track record. Let's see if his mind is clear this year.
Jason Heyward: It is going to be very interesting to see what Heyward brings to the table this season, given what we saw from him last year. Defensively, you know what you are going to get as he consistently will provide gold glove defense along with a cannon of an arm to keep teams frustrated at the plate. What disturbs the Cubs fans the most is his inability to live up to his contract at the plate.
For the money he signed for, everyone expected the 25-30 homer guy that the Atlanta Braves had been accustomed to seeing. The reality is, that is not who Heyward is as he reached 20 homers for the first time since 2014 last season. That was primarily due to a two-month stretch where he was one of the hottest hitters in the game until a July move to the leadoff role ended all that momentum. It was at that time where Heyward saw his average drop from 286 to 252, and he was never able to recover.
Projection: .264 average, eight homers 41 RBI's.
If appropriately used in the lineup, Heyward could once again have a very productive season at the plate. When Joe Maddon left him in the seven spot in the lineup, Heyward finally started to show the signs that the Cubs have been hoping for since his arrival. As soon as he made the switch in the lineup, those signs went away. For Heyward to remain successful this season, it is up to Ross to not only find the perfect place for him but to leave him there if he is succeeding. By now, the Cubs are going to get what they get from him, but they can't move him if he is thriving.
Steven Souza Jr.: Signed as one of the few Major League Free Agents for the Cubs this season, Souza has a lot to prove this year. Not only will he be the team's fifth outfielder and see limited starts unless against lefties, but he is coming back from two injuries, including a knee injury that could have ended his career. Now healthy, Souza says he is feeling the best he has felt, which is vital.
The Souza that Cubs would love would be the one from Tampa Bay that put together some great defensive years to go with solid seasons at the plate before signing with Arizona. I think that would be expecting a lot for a guy who has barely played since 2017, but any sort of production from him would be a nice add off the bench. Souza knows where he is on the depth chart and expects to be mainly a bench player this year.
Projection: .250, 5 homers 23 RBI's.
Much like Almora, the bulk of Souza's starts will come against LHP or in pinch-hitting roles. He will also see time as a defensive sub late in games as his defense better than Schwarber and could easily play left in those situations. The thing I am most curious to see is how long do the Cubs hang onto him this season. Yes, he is signed to a one-year deal, but should he be producing better than expected, would they try and flip him before seasons end if teams can trade. That is a question to be answered later.
Ian Miller: Signed as a minor league free agent with an invite to spring, Ian Miller has been a huge surprise this camp. So much so that I think the 26th roster spot is his, which is a considerable gain for the Cubs. Not only has he been squaring up the baseball all spring, but he offers the element of speed, which is something the Cubs have lacked in forever.
Miller won't start unless a plethora of injuries take place, but his speed will make him a late-game threat in the eighth inning or later should the Cubs try to use him as a pinch-runner in crucial situations. Although not as fast as Terrance Gore, look for Miller to be this year's version of Gore for the Cubs.
Projection: .275, 0 homers, 10 RBI's, 15 steals.
As mentioned, Miller won't get many starts as his legs will be why he sticks on the roster. Depending on when he is used, he may see some plate appearances, but I would be shocked to see him get more than 60 at-bats this season. Should the Cubs use him right and let him be a late-game pinch-runner, things could be exciting with the game on the line.
Upgrade Your Account
Unlock premium boards and exclusive features (e.g. ad-free) by upgrading your account today.
Upgrade Now