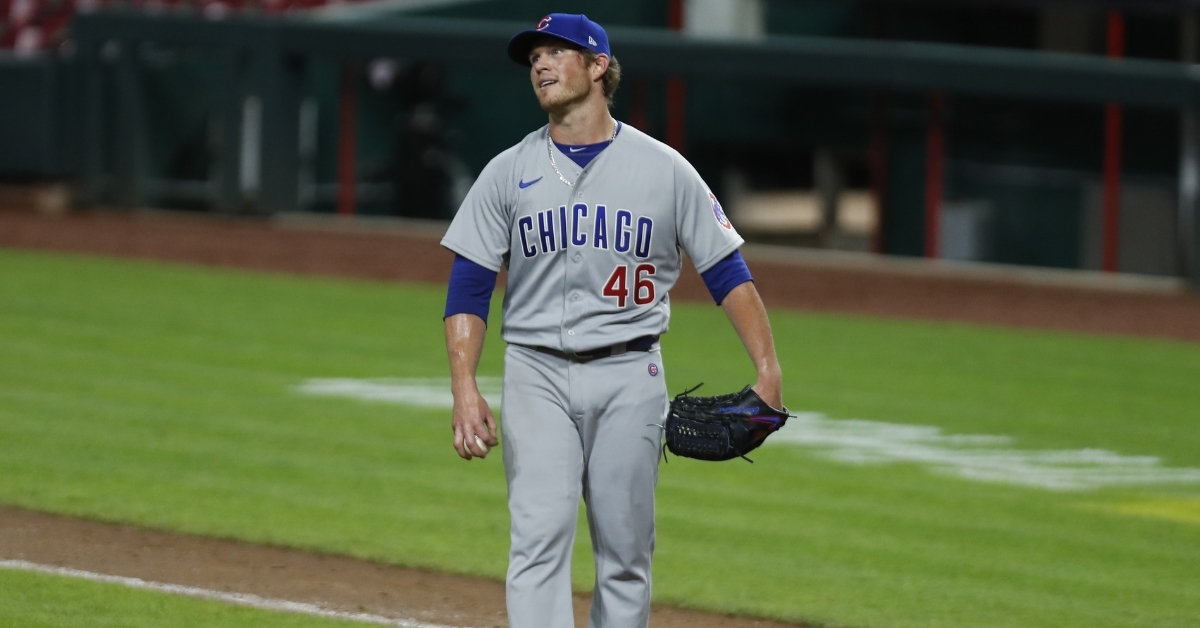 | | |
| --- | --- |
| All options on the table regarding Craig Kimbrel | |
---
| | | |
| --- | --- | --- |
| Tuesday, July 28, 2020, 11:19 AM | | |
Heading into the seventh inning of last night's game, you couldn't help but feel very confident in the Cubs chances. Then the Reds added two more followed by two more in the eighth, and we had an 8-5 game. With closer, Craig Kimbrel set to make his season debut confidence in the Cubs picking up their third win was still very high.
Then we saw Kimbrel, and that confidence quickly went out the window. Not only did Kimbrel allow two earned runs, but he did so pitching just 1/3 of an inning, walking four and hitting a batter throwing 34 pitches. 13 of those pitches were strikes as Jeremy Jeffress saved the day from this catastrophic meltdown. After witnessing what I saw last night, I can't help, but wonder is Kimbrel done as a closer.
One of the best closers over the past decade, Kimbrel had a hall of fame trajectory written all over him during his tenure with both the Braves and Padres. His success continued through Boston in 2017, but once the Red Sox reached the postseason in 2018, things changed. Kimbrel saw a dip in his velocity from the 98 plus range to around 95-96, but his command also started to take a turn for the worse.
His successful regular season turned into a struggle during the playoffs, and the Red Sox sensed something not many teams did. Following the World Series, Boston let Kimbrel go and didn't resign him as the righty waited out the Free Agency process hoping for a deal. While that deal didn't come when he expected, Chicago was able to sign him last June when Pedro Strop went down with an injury as the Cubs were in desperate need of a closer at that point.
Signed for three years with a fourth-year option, Kimbrel certainly had his struggles a season ago with no spring training, and a rush to get him to the bigs certainly didn't help. His ERA was north of 5.00, and his command suffered all season, and Kimbrel was hit very hard before an injury in August ended a disappointing first year on the north side. With a full offseason in the books and what was a regular routine until COVID came about, Chicago was expecting great things from him in 2020. Instead, we may have seen the end of the closer days for Kimbrel.
Throughout spring and even during the summer camp period, Kimbrel did not look good. His velocity was still in the 96 MPH range, but his fastball command was terrible as the hits kept piling up. It wasn't just hitting either as multiple players were taking him deep all camp long. After a promising outing in the Cubs final exhibition game, Kimbrel sat in the pen the first three games of the season before getting the call last night.
If David Ross could have the ninth inning over last night, I am sure he would as Kimbrel should never have lasted as long as he did last night. In his one year with Chicago, last night was by far the worst outing Kimbrel has had, and that must be very concerning for a team that has a bullpen that no one knows what to expect at this point. It might be time for the Cubs to start to figure out what plan B is.
In case you missed it, Tyler Stephenson looked like a veteran in his major league debut, staring a hole through Craig Kimbrel's soul to work a bases-loaded walk in the bottom of the ninth. pic.twitter.com/Y2q0foKX7E

— And This Blog Belongs To The Reds (@ATBBTTR) July 28, 2020
Leave Kimbrel as is, but on a short leash: For now, the Cubs have no choice but to leave Kimbrel as the closer, but on a short leash. Chicago spent a lot of money on this man, so they need to ride him out as long as possible. However, that doesn't mean he won't be on a short leash from here on out, and I mean a three or four batter leash. If he can't lock things down in less than four hitters, he isn't going to last through the ninth. That is something Ross needs to instill in his head and do it quickly.
Go in house with Jeffress, or other options: Should Kimbrel continue to struggle; the Cubs have other options as to who close games with the primary candidate being Jeffress. Bouncing around between primarily a setup man and Closer, Jeffress has more than 70 career saves and won't hesitate to jump in that role.
Make no mistake about it, Jeffress hasn't looked particularly sharp this season either, but he has not given up a run-in relief, which is not many players in the pen can say. Kyle Ryan and Rowan Wick also have minimal closer experience, but those are not options I would trust right now.
Give the young guys a chance: The Cubs have a makeshift bullpen filled with released players and unproven arms. However, the Cubs have two players in the pen that have saved plenty of games at the minor league level. Those players would be Dillon Maples and James Norwood. Once a top 30 prospect, Maples has struggled with command since arriving in the Cubs system, which has impacted his overall development. Still, he does have some of the nastiest stuff on the staff and has shown the ability to close games if he can throw strikes.
On the other hand, Norwood is a top prospect this season and checks in at No. 13. His ability to work off a 98-99 mph heater with sink mixed with a solid splitter makes him an ideal high punchout and high groundout pitcher if he can locate. Much like Maples, Norwood has struggled with command at the MLB level but had a breakout season in AAA last year. If his performance against the White Sox in their exhibition game is a sign of what he can do, I would love to see him have a chance.
Sign or trade for a closer: This seems like the least likely of all the options mainly because of the Kimbrel situation. Last season, Kimbrel didn't have a spring, and the Cubs took a chance on him, and he still doesn't seem right. Without a full spring, this season, and a short regular season, are the Cubs willing to spend what little money they have on a closer or trade for one for that matter?
Dig into the South Bend Pool: I don't want this to happen, but I think it needs to as the Cubs need to do something with this bullpen. If it were me, I would dig into the South Bend pool and see what you got. Dakota Mekkes is on option as he has pitched in several high-leverage situations for Iowa the past two years. He was viewed as someone who contributes this season, but not much talk of that has happened now.
Other options could be using starters Adbert Alzolay and Brailyn Marquez in the closer role just to get them some innings. Alzolay would be the first choice as he not only brings big-league experience with him but has pitched in relief before. However, I would love to see Marquez get a shot at the majors at some point.
Not only is he the Cubs top pitching prospect, but he is a lefty who throws 102 and reminds me a lot of Aroldis Chapman. The Cubs view Marquez as a long-term starter, but I have gone on record saying I would love to see him transition to the pen to get the most out of that heater. He may not be major league ready now, but putting him in a closer role, we could see what he has.
Bring in Burl Carraway: It was announced last week that Cubs second-round pick Burl Carraway was heading to South Bend camp. A player who many scouts felt was the most major league ready arm in the draft, could be called upon this season. With rosters still sitting at 30 and three weeks until they shrink to 26, bringing Carraway up now is something the Cubs should consider. He throws in the mid to upper 90's, features the best breaking ball of any pitcher in this year's class, and already has closer experience from college under his belt.
If the Cubs bring him up now, they could pitch him for the next three weeks and see what he can do in high leverage situations. If he succeeds, not only do you have him on the 26-man roster, but you may have found your close for the future. Suppose he doesn't succeed; you are sitting in a similar spot to where we are right now.
I don't expect Ross to make any significant changes right now, but if this continues, all options should be on the table.
Craig Kimbrel's Cubs stint so far? Not great! ?? pic.twitter.com/K7QGeZdToC

— theScore (@theScore) July 28, 2020
the following criteria in MLB game
1 or fewer outs recorded
4+ BB, 1+ HBP, 1+WP

Craig Kimbrel Cubs 7/27/2020
Vern Law Pirates 7/20/1951
Harry Eells Cleveland Naps 5/30/1906@dan_bernstein @pgammo @jaysonst @cubs

— Mike Garrigan (@MikeGarrigan23) July 28, 2020

Tags: Chicago Sports Baseball
,
Craig Kimbrel
,
Jeremy Jeffress
,
Pedro Strop
,
David Ross
,
Kyle Ryan
,
Rowan Wick
,
Dillon Maples
,
James Norwood
,
Dakota Mekkes
,
Adbert Alzolay
,
Brailyn Marquez
,
Aroldis Chapman