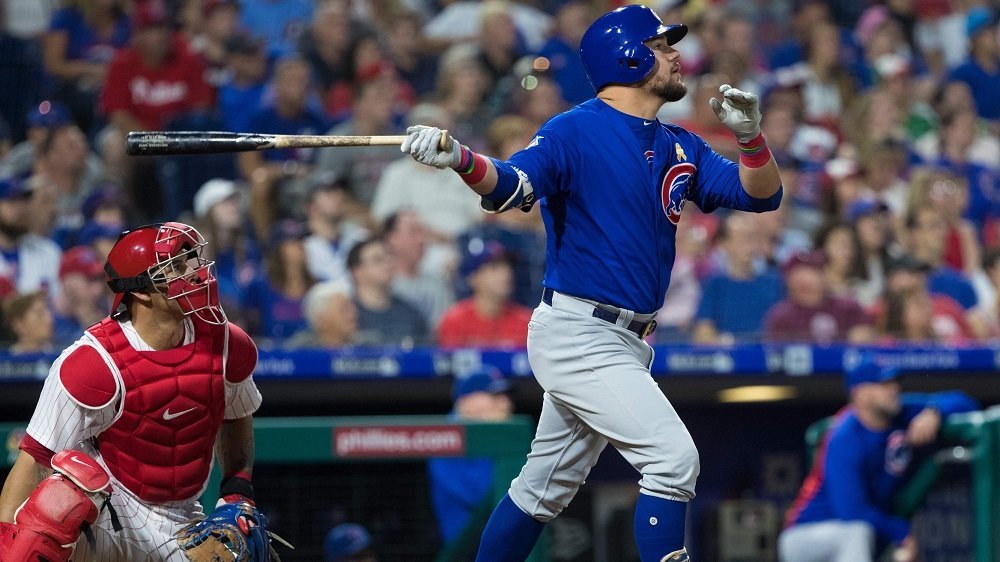 | | |
| --- | --- |
| Analyzing the Cubs' non-tender moves including Schwarber, Almora | |
---
| | | |
| --- | --- | --- |
| Thursday, December 3, 2020, 8:09 AM | | |
December 2nd marked the deadline for MLB players to offer arbitration-eligible players a contract or make them free agents as the offseason progresses.
What makes this offseason tender deadline so polarizing is due to the financial limbo many owners are undergoing after conducting an entire baseball season in the midst of a global pandemic, affecting both the health and the financial stability of everyone — and MLB organizations are no different.
The league has seen Brad Hand, a reliable left-handed reliever, have a relatively cheap 10 million dollar option declined — and Charlie Morton, an ace on a team that made the World Series, sign a contract for just 15 million dollars a year.
Thus far in the offseason, it has been apparent that many organizations are going to be hamstrung for money, and that was on display by the Cubs and other organizations during Wednesday's non-tender deadline.
Players the Cubs did not tender a contract to:
Jose Martinez — went hitless in 21 at-bats after the Cubs traded for him at the 2020 trade deadline.
Ryan Tepera — after five years in Toronto, Tepera spent 2020 with the Cubs. He pitched in 21 games and struck out 31 batters in 20.2 innings. Tepera and his 3.92 ERA was a stabilizing force in the Cubs bullpen. He even received an MVP vote.
Albert Almora Jr — Almora was the first player drafted by the Theo Epstein regime and contributed to the Cubs' 2016 World Series win. Almora's defense was always a bright spot, but he has struggled at the plate over his five-year career. Almora has had back to back bad offensive seasons and essentially served as a defensive replacement before being sent to the minors midway through 2020.
Thank you Albert Almora for everything you've done for Chicago & the organization. 8 years of hard work & dedication. Without you tagging up in Game 7 of the 2016 World Series, we may not have won. Best of luck to you. Forever a Cub! @albertalmora

(??: WindyCityBaseball / YT) pic.twitter.com/KecVWqWtCK

— Cubs Zone ™? (@CubsZone) December 3, 2020
Kyle Schwarber — If you didn't believe the Cubs' budget concerns, seeing this name become a free agent will definitely open your eyes. Schwarber's five-year career has been legendary, but for the offensive powerhouse he is expected to be, the Cubs couldn't afford 8 million dollars per year for Schwarber to strikeout in almost a third of his at-bats and hit below .200 as he did in 2020. The fans and the organization will always be grateful for his heroic contributions to the 2016 World Series Championship. The Cubs have not ruled out a possible reunion at a lower price, but as of now, Schwarber is a free agent.
Kyle Schwarber is a Chicago Cubs legend. pic.twitter.com/dEh9IoqMKb

— Cubs Live (@Cubs_Live) December 3, 2020
The following are players the Cubs tendered a contract to and will go through the arbitration process.
Kris Bryant — Bryant's case was one that had some doubt, but ultimately the Cubs decided not to let him walk a year early. Bryant is coming off of an injury-plagued, power-zapped season, but the Cubs hope to extract some more of that MVP form from the 28-year-old. Bryant will still have his name brought up in trade conversations, likely from now until the trade deadline, but for now, he is safe in a Cubs uniform.
The @Cubs have tendered Kris Bryant a contract. #MLBTonight pic.twitter.com/qOusyGWHrz

— MLB Network (@MLBNetwork) December 3, 2020
Javier Baez — Baez was a no brainer to tender a contract despite his .203 batting average in 2020. Baez is one of the most complete, exciting, and marketable players in the game that the Cubs will likely look to extend long term, but at least temporarily have him locked up for one more season.
Ian Happ — Happ is a long term solution in the Cubs outfield and was not surprisingly tendered a contract. Happ is coming off a 12 homer, 28 RBI year where he led the Cubs offense in a year that otherwise the Cubs struggled at the plate. Happ was briefly in the 2020 MVP conversation and will be with the Cubs in 2021.
Willson Contreras — Arguably the best catcher in the MLB, Contreras' contract was an easy one to tender. An improved defender, Contreras and his firepower on offense have turned him into a top catcher in the game. Contreras hit .243 and drove in 26 runs in 2020 and will be a staple in the Cubs lineup in 2021.
Victor Caratini — Caratini is often unsung behind Contreras, but his management of the pitching staff and consistency on offense is enough to be tendered for 2021. Caratini had 16 RBIs in limited playing time and was Yu Darvish's personal catcher, and Darvish finished second in the NL Cy Young race.
The following are the Cubs' players signed to one-year contracts to avoid arbitration:
Kyle Ryan — Over the last two seasons, Ryan has been a reliable lefty in the Cubs bullpen — something they have lacked as of late. Ryan had a bumpy 2020, but his 3.87 in a Cubs uniform has been welcomed. The Cubs will be happy to have Ryan in the bullpen in 2021.
Dan Winkler — Winkler spent the sixth year of his career with the Cubs in Chicago after five years with the Braves. After a choppy start, Winkler settled in and finished with a 2.95 ERA for the Cubs. More work with Tommy Hottovy and in the pitch lab, Winkler is expected to carry a large role in the Cubs' bullpen in 2021.
Colin Rea — Rea will likely serve a role of an extra starter or swingman in the bullpen in 2021, after garnering a few outings for the Cubs in 2020. The Cubs like the righty's stuff and hope his potential can show on the team in 2021.
There weren't many surprises for the Cubs. The only move that came as a surprise to me was not tendering a contract to Tepera after entering manager David Ross' circle of trust in his first year in Chicago.
Contract terms for Cubs pitchers who agreed to 2021 deals: Dan Winkler ($900,000); Colin Rea ($702,500) and Kyle Ryan ($800,000 in the majors or $250,000 in the minors).

— Patrick Mooney (@PJ_Mooney) December 3, 2020
The Schwarber move was a bit of a shock, although it was also somewhat expected. Obviously, the Cubs didn't want to lose Schwarber for free, but they also don't want to pay him $8 million in 2021, so this is a move they had to take.
It is possible the Cubs could still agree to terms with Tepera and Schwarber. It's just that the rest of the league also gets a crack at signing the reliever and the slugger.

Tags: Chicago Sports Baseball
,
Ryan Tepera
,
Albert Almora
,
Kyle Schwarber
,
Kris Bryant
,
Ian Happ
,
Willson Contreras
,
Victor Caratini
,
Yu Darvish
,
Kyle Ryan
,
Colin Rea
,
David Ross
,
Theo Epstein
,
Tommy Hottovy