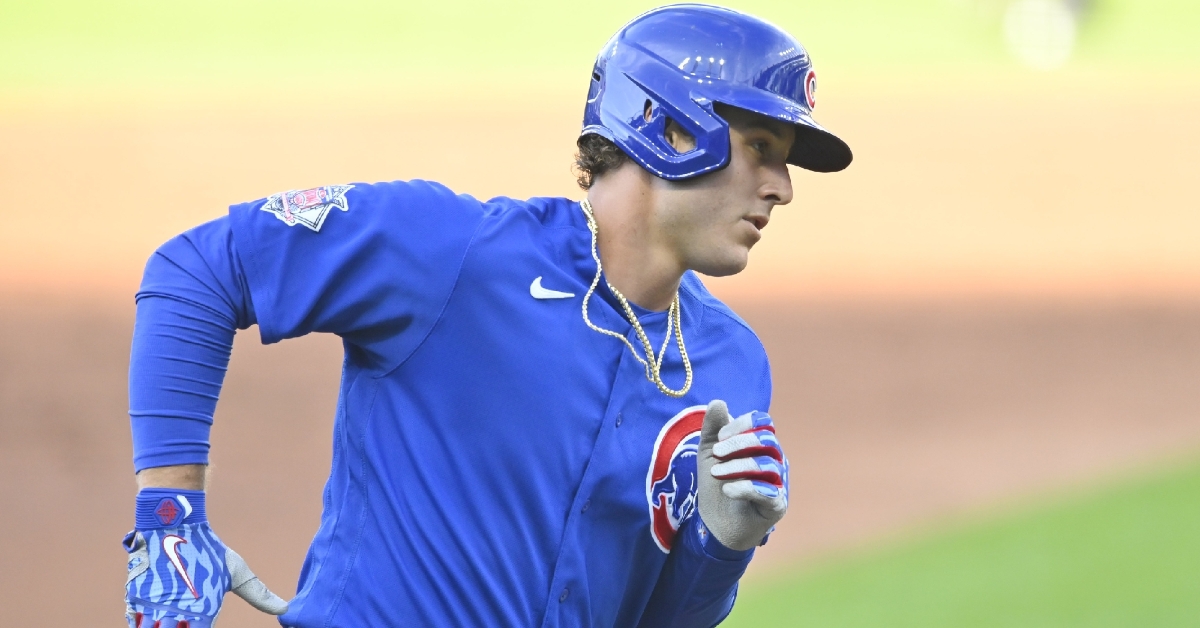 | | |
| --- | --- |
| Anthony Rizzo shows off his bling as Cubs sweep Tribe | |
---
CLEVELAND — The combination of a quality start by righty Kyle Hendricks and a solid plate performance by first baseman Anthony Rizzo equaled a 7-2 Chicago Cubs (12-3) victory on Wednesday. Completing a two-game sweep of the Cleveland Indians (10-9) at Progressive Field, the Cubs never trailed on the evening.
Rizzo donned two large gold chains, and the bling seemed to bring the burly slugger good luck, as he went 2-for-4 with two runs scored, one RBI, which came on Rizzo's fourth home run of the season, and one walk. Hendricks tossed six innings of one-run ball, striking out five and earning the winning decision.
---
Inning-by-Inning Breakdown:
---
T1: Carlos Carrasco started on the bump for the Tribe. He walked Rizzo and Javier Baez in the first but kept the Cubs off the scoreboard. Baez shared a light-hearted moment with his buddy Francisco Lindor after getting outed at second base, with Lindor playfully punching Baez in the stomach.
Score: Cubs 0, Indians 0
Here's Frankie Lindor punching Javy Baez in the stomach, because he's jealous he's not #ElMago ?? pic.twitter.com/EVfNIjGgp6

— Michael Cerami (@Michael_Cerami) August 12, 2020
---
B1: Despite giving up a one-out double to Jose Ramirez, Hendricks worked a scoreless first.
Score: Cubs 0, Indians 0
---
T2: Following a two-out single by Victor Caratini, former Indian Jason Kipnis walked. Kris Bryant then grounded out.
Score: Cubs 0, Indians 0
---
B2: A leadoff base knock by Franmil Reyes was all that the Indians mustered in the bottom of the second.
Score: Cubs 0, Indians 0
---
T3: Rizzo, who redeemed himself after going 0-for-5 on Tuesday, led off with a lined shot that barely cleared the wall in the right field corner. The 353-foot solo tater allowed Rizzo to show off his jewelry while jogging around the bases.
Score: Cubs 1, Indians 0
Gotta be the chains. #TeamRizzo@BinnysBev pic.twitter.com/MSIdqXGUJr

— Chicago Cubs (@Cubs) August 12, 2020
---
B3: Hendricks sat Cleveland down in order in the third.
Score: Cubs 1, Indians 0
---
T4: Thanks to a pair of walks and a wild pitch, the Cubs boasted runners on second and third with one out. Carrasco escaped the frame without giving up any runs, though.
Score: Cubs 1, Indians 0
---
B4: Reyes singled with two outs but was left stranded.
Score: Cubs 1, Indians 0
---
T5: Rizzo and Baez hit back-to-back singles before Willson Contreras struck out swinging. Contreras was not pleased with the strike-three call, as it came on a checked swing. The fiery catcher argued with home plate umpire Tim Timmons before slamming his bat on the ground. Timmons ejected Contreras while he walked back to the dugout. Cubs manager David Ross came out to chide Timmons for the ejection. Baez stole second during Contreras' at-bat, and, following a pitching change, Ian Happ drew a walk to load the bases. Happ celebrated his 26th birthday on Wednesday, and he scored a run in the fifth. Jason Heyward plated Rizzo via a sacrifice fly, and David Bote scored Baez and Happ on a single to right. Bote was thrown out attempting to stretch his hit into a double, thus ending the half-inning.
Score: Cubs 4, Indians 0
Willson Contreras was just ejected for the #Cubs. Borderline check swing, David Ross wanted the home plate ump to check with the guy at first.

Ross could be heard on TV at the end of his argument: "I know you know baseball, but that's trash." pic.twitter.com/M0xBT8q7dp

— Billy Heyen (@BillyHeyen) August 12, 2020
---
B5: The Indians accumulated three singles off Hendricks in the fifth, and a sacrifice fly by Jose Ramirez drove Tyler Naquin home.
Score: Cubs 4, Indians 1
---
T6: With two outs, Bryant hammered a monstrous 430-foot dinger out to center field for his second homer of the year. Indians reliever Adam Cimber, who had only just entered the game, was victimized by the long ball. Bryant was seen grabbing at his wrist in the previous inning, but he was clearly able to shake off the minor ailment. He started in left field in place of Kyle Schwarber, who was scratched from the lineup because of a knee contusion. Schwarber made one plate appearance as a ninth-inning pinch hitter and struck out swinging.
Score: Cubs 5, Indians 1
KB, how's your wr- pic.twitter.com/nUkq7TNzJC

— Chicago Cubs (@Cubs) August 13, 2020
---
B6: Reyes stayed hot the plate, collecting his third single of the contest. Hendricks prevented Reyes from scoring in his final frame on the mound. "The Professor" flashed a rare smile as he headed for the dugout at the end of the inning.
Score: Cubs 5, Indians 1
August 13, 2020
---
T7: The Cubs went down in order in the seventh.
Score: Cubs 5, Indians 1
---
B7: Daniel Winkler and Rowan Wick combined to pitch the seventh for the Cubbies. Winkler issued two walks, and Lindor came up with a two-out RBI single off him. Wick entered the game at that point and drew an inning-ending groundout.
Score: Cubs 5, Indians 2
---
T8: Heyward garnered a base on balls to kick off the eighth and proceeded to steal second. After Caratini walked, Kipnis slapped a ground rule double that landed just fair down the left field line before bouncing into the stands. Heyward scored on the two-bagger. A couple of strikeouts followed, leaving Caratini and Kipnis stranded.
Score: Cubs 6, Indians 2
---
B8: Wick struck the side out swinging as part of an impressive eighth-inning performance.
Score: Cubs 6, Indians 2
---
T9: Happ was walked with two outs, and the birthday boy scurried home on an ensuing Heyward double that rolled to the wall in right.
Score: Cubs 7, Indians 2
---
B9: Reliever Jeremy Jeffress pitched the bottom of the ninth, wrapping up the Cubs' five-run triumph. A 6-3 double play ended the game. Jeffress has yet to give up a hit this season.
Final Score: Cubs 7, Indians 2
---
Statistical Breakdown:
Chicago Cubs: Batting: 2 2B, 2 HR, 7 RBI, 4 2-Out RBI, 1 SF, 2-12 RISP, 9 LOB; Baserunning: 2 SB; Pitching: 8 H, 2 R, 2 ER, 2 BB, 10 K, 0 HR, 1 HBP, 0 IBB, 0 WP
Cleveland Indians: Batting: 1 2B, 2 RBI, 1 2-Out RBI, 1 SF, 1 GIDP, 2-7 RISP, 8 LOB; Fielding: 1 Assist; Pitching: 8 H, 7 R, 7 ER, 9 BB, 13 K, 2 HR, 0 HBP, 1 IBB, 1 WP
---
Studs of the Game:
Chicago Cubs: Anthony Rizzo (1B): 2-4, 2 R, 1 RBI, 1 BB, 1 K, 1 HR, 0-1 RISP; Kyle Hendricks (SP): 6.0 IP, 7 H, 1 R, 1 ER, 0 BB, 5 K, 0 HR, 0 HBP, 0 IBB, 0 WP
Cleveland Indians: Franmil Reyes (DH): 3-4, 0 R, 0 RBI, 0 BB, 1 K
---
Duds of the Game:
Chicago Cubs: Willson Contreras (C): 0-3, 0 R, 0 RBI, 0 BB, 2 K, 0-2 RISP, ejected for arguing balls and strikes
Cleveland Indians: Carlos Carrasco (SP): 4.1 IP, 4 H, 3 R, 3 ER, 5 BB, 7 K, 1 HR, 0 HBP, 0 IBB, 1 WP; Mike Freeman (LF): 0-4, 0 R, 0 RBI, 0 BB, 0 K
---
Up Next: The Cubs will begin a four-game affair with the rival Milwaukee Brewers (7-9) on Thursday, Aug. 13. Chicago previously took two of three from Milwaukee in the opening weekend of the 2020 season. Like that series, the upcoming four-game set will take place at Wrigley Field. Game one is slated to feature a pitching matchup between Cubs right-hander Yu Darvish (2-1, 2.12) and Brewers left-hander Brett Anderson (0-1, 5.40) on a clear, warm night in Chicago. The first pitch is scheduled for 6:15 p.m. CDT.
---
Box Score:
Chicago Cubs at Cleveland Indians
Aug 12, 2020
1
2
3
4
5
6
7
8
9
R
H
E
Chicago (12-3)
0
0
1
0
3
1
0
1
1
7
8
0
Cleveland (10-9)
0
0
0
0
1
0
1
0
0
2
8
0
W: Kyle Hendricks (3-1) L: Carlos Carrasco (2-2)
---
Highlights:

Tags: Chicago Sports Baseball
,
Kyle Hendricks
,
Anthony Rizzo
,
Javy Baez
,
Victor Caratini
,
Kris Bryant
,
Willson Contreras
,
David Ross
,
Ian Happ
,
Jason Heyward
,
David Bote
,
Kyle Schwarber
,
Rowan Wick
,
Jeremy Jeffress
,
Yu Darvish
,
Daniel Winkler