| | |
| --- | --- |
| Are the Cubs set to add some big-time heat? | |
---
| | | |
| --- | --- | --- |
| Friday, September 4, 2020, 5:54 PM | | |
Before I get into this story, let's remember that this is just pure speculation for a few sites, and nothing has been confirmed. However, seeing this story being circulated has certainly got my attention as I have been pushing for it all season.
We all know the Cubs are short on major league ready pitching, and that is something they have been trying to build on over the past few seasons. Adbert Alzolay is the most major league ready arm they have in the system, and the Cubs have already called him up twice this season. However, perhaps the best pitching prospect this team has seen in years is on the verge of making his debut before the seasons end.
I am talking about the organization's top pitching prospect and No. 2 overall in Brailyn Marquez. Marquez has been in the Cubs organization for five years now, but it wasn't until the past two seasons when he made a name for himself. Armed with a heater that sits 98-100 consistently, we saw him topping out at 102 at times last year, turning heads across the minor league world. It is clear Marquez has big-league heat and would have no trouble putting his heat on display, but what else could the reason be for the Cubs to consider this move.
All season long, I have been a big proponent of calling up Burl Carraway and Marquez to help the bullpen out potentially. The front office said that wasn't going to happen, so my hopes and dreams appeared crushed at that point. While no one is saying Marquez is going to the Cubs, given the injuries we have seen in the rotation recently and inconsistencies with the bullpen, Marquez may have a chance to come to Chicago before seasons end to put his stuff on display.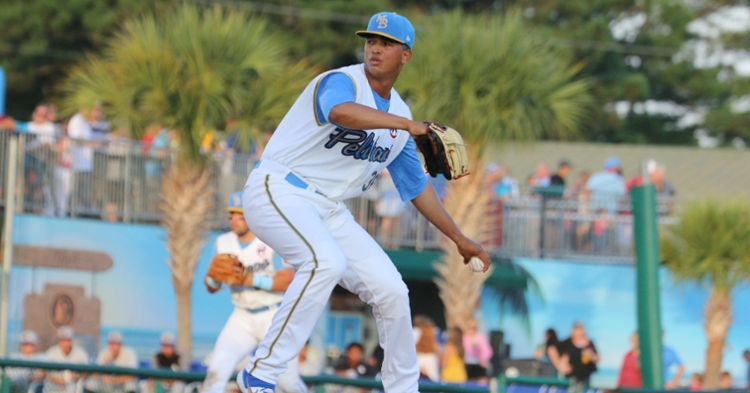 Right now, it looks like the Cubs are just piecing things together and will reevaluate these discussions in a week or so. Marquez is one of those names starting to pop up as a name that could come in and help this team this season. Marquez has been working at the South Bend sight since the start of the season and seems to be making huge strides since the beginning of camp.
The hard-throwing lefty seemed very unlikely as a candidate to help the team this season, especially after coming along slowly in camp. Well, now it looks like he is trending in the right direction, and if that continues over the next week or so, Marquez could not only make the MLB roster, but he could become a threat in some way, shape, or form.
If you're looking at the roster and the future of where Marquez stands, he is still very young (21) and has been in the Cubs system for 4-5 years. The problem is Marquez is eligible for the RULE 5 draft following this season, meaning any team can sign him if he is not added to the 40-man roster by November. There is no roster related reason to bring him up, but there is a rule 5 reason to bring him up with the chance of losing him. Given how valuable an arm he is, you can bet the Cubs will add him to the roster. The question is when.
From the outside looking in, I don't know anyone inside or outside the organization that can even predict how Marquez would fair against big-league talent. Thanks to COVID, the kid hasn't thrown a competitive game in nearly a year, and his highest level of competition has been Myrtle Beach in High-Level A ball.
Even with that in mind, he only made five starts for the Pelicans but did post an impressive 1.69 ERA in the process. Minor leaguers have no chance to hit a triple-digit hitter, but major leaguers will make him work much harder. Yes, triple digits are hard enough to hit at the big-league level, but the off-speed stuff will be the key to success.
The jump in talent from A-Ball is huge, and just throwing him into the wolves won't do him or the organization any good if he flails around. Expect the Cubs to be cautious with him in whatever decision they make. Ideally, though, he is the hardest thrower in the Cubs organization, and it is not even close. He has a big-league fastball, and the Cubs want to use it in some way.
Don't expect him to start if he is called up. Instead, expect him to pitch out of the bullpen early on as a matchup lefty to get his feet wet and then get trusted with higher-level situations later. The goal would be to get him some experience, so they don't risk losing him through the Rule 5 draft next season. Who knows, maybe Marquez will find a home in the pen and end up being the Cubs version of Josh Hader or Aroldis Chapman 2.0. I'm sure all of us would take that.