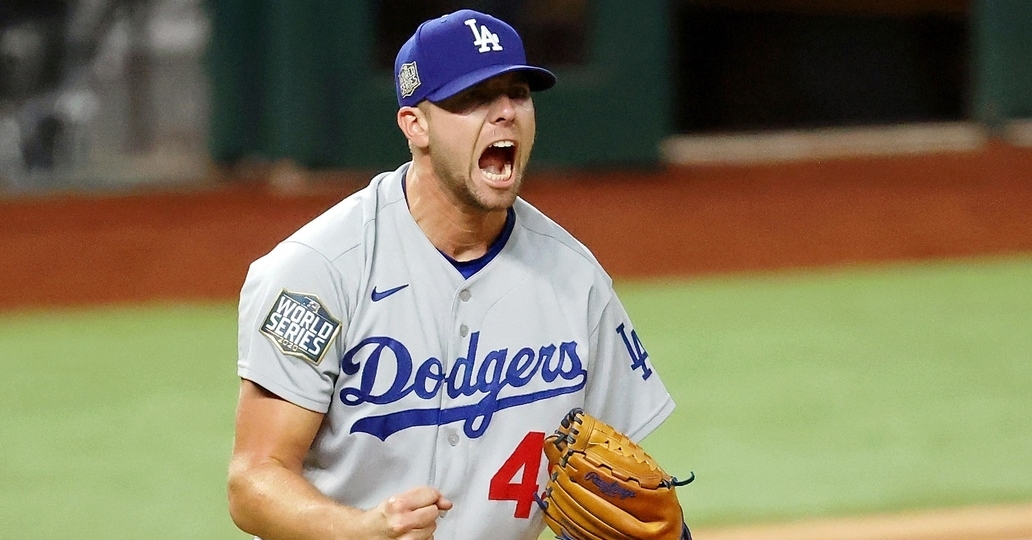 | | |
| --- | --- |
| Blake Treinen could be a viable option for Cubs | |
---
When you look at the bullpen landscape across the MLB, many relievers stand out.
Kenley Jansen, Josh Hader, Wade Davis, Kirby Yates, Jordan Hicks, Andrew Miller, Edwin Diaz are just some of the NL names who have been ranked near the top in terms of bullpen rankings. Then you have those arms who often go overlooked despite posting strong career numbers across their MLB tenure.
One name that falls into the second category is now free agent Blake Treinen who is looking for a new home. For those unfamiliar with Treinen, he is a 31-year-old late-inning reliever who has been around the league since 2014. He started his career with the Washington Nationals and immediately became a fixture in the pen.
In 50 innings across 15 games (7 starts) as a rookie, Treinen went 2-3 with an impressive 2.49 ERA. His 13BB and 30K were slight concern command-wise, but for the most part, the Nationals loved what they saw and felt he could contribute out of the pen. Over the next two seasons, Treinen was a busy man, pitching 173 games combining 135 innings. Although his record was 6-6, his ERA continued to be impressive, posting a 2.93 ERA over those two seasons, including a 2.28 in 2016. His command was still his biggest downfall as he continued to sit around a 2-1 strikeout to walk ratio.
After three solid seasons with the Nationals, Treinen took a step back in 2017, which ultimately led to a midseason trade. He pitched in 72 games for the season, one-off his career-high, but managed to pitch to a 3-6 record and a 3.93 ERA. That happened to be the second-highest ERA of his career. Treinen also picked up 16 saves that season and saw his command improve significantly.
Not knowing what to expect in 2018, the Athletics liked what they saw from him during the second half of 2017 and decided to make him their closer. That proved to be the best decision they made as Treinen not only emerged as a legitimate reliever but quite possibly the best reliever in the game that season.
Despite seeing action in just 68 games, Treinen was used a ton throwing a career-high 81 innings. You would think that the extra workload would lead to a decline in stats. That was far from the truth as he delivered one of the best seasons over the past decade. Not only did he go 9-2, which is a ton of decisions for a closer, but he notched 38 saves in 43 chances, which is more than half his career total.
Not only that, but his command was also at an all-time best, walking 21 to go with 100 strikeouts as Treinen finally appeared to figure it out. The telling stat from that season was his ERA as he allowed seven earned runs all season and picked up a career-low 0.78 ERA. It is a perfect example of someone figuring it out and finally coming into his own.
Treinen followed that season up with a 16 save campaign in 2019, but his career-worst 4.91 was a significant cause for concern as he was looking for work last season. Hoping to get back to his old form, the Dodgers took a chance on him and saw Treinen go 3-3 with a 3.86 ERA, eight walks, and 22 strikeouts this season. Those numbers are a far cry from his 2018 season and a vast improvement from a career-worst year in 2019.
Now a free agent again, Treinen is looking for work and could help anyone looking for late-inning arms. The Cubs certainly are in the mix for those types of arms, and Treinen is an attractive option. No one is expecting him to go out and put together another 2018 type of season. If that was the case, whoever signs him will be getting an elite force for a bargain price.
Even if he can't live up to those numbers again, he will do just fine if he can pitch anywhere close to his career mark. Take the past two seasons out of the equation, and Treinen is a guy who is going to give you 55-60 games a season while pitching to a 3.02 ERA. His 54 holds and 72 saves is a pleasant site as he is what you call a utility reliever.
The biggest snag I see is looking at his last two years and three of the previous four. Since 2017, in three of his last four seasons, he had posted an ERA over 3.86 with a 4.91 in 2019. Take away his 0.78 ERA in 2018, and he would have an ERA in the 4.3 range over his last four years, but instead, it is a 3.29 because of that great season.
When he is on, Treinen has some of the best stuff out there. His fastball will always touch 95-98, and his slider has proven to be one of the best pitches in all of baseball. Command has ultimately been his undoing, but as you have seen recently, it seems like he is starting to get that under control. If the Cubs were to make a move for him, he wouldn't be brought in to close. That doesn't mean he couldn't, though.
Treinen is a guy who, if he did sign, would most likely do what Jeremy Jeffress did last season. Someone who you can count on in the late innings, but also someone who can step in and close if needed. I have no idea what the market looks like for him, but Treinen is a wonderful option to have ready to unleash.
Upgrade Your Account
Unlock premium boards and exclusive features (e.g. ad-free) by upgrading your account today.
Upgrade Now