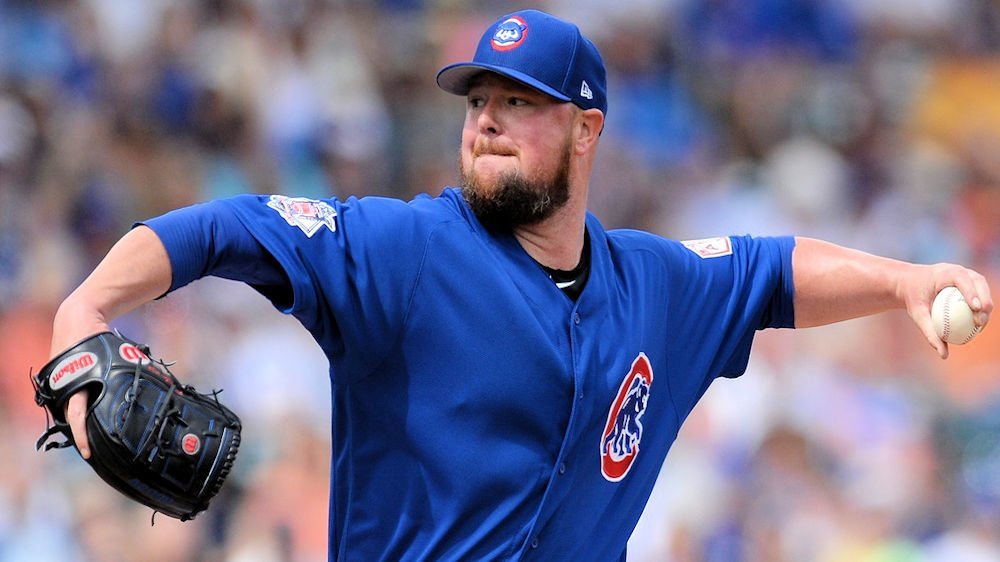 | | |
| --- | --- |
| Breakdown: Jon Lester and the value of his contract | |
---
| | | |
| --- | --- | --- |
| Tuesday, October 29, 2019, 8:53 AM | | |
In the 2014 offseason, the Chicago Cubs signed former Boston Red Sox starting pitcher Jon Lester to a six-year, $155 million deal with an option for 2020. The signing was a sign of the organization coming into a new era of contention and winning seasons. Five years later, it's time for the organization to wonder if the signing was worth it and what value can Lester brings in the last years of his deal.
Throughout the deal, Lester has put together respectable numbers through an up and down tenure. The first two seasons Lester put together on the North Side were terrific with a combined 30-17 record with a 2.89 ERA, and a second-place Cy Young Award finish is 2016. Since then, Lester has shown signs of aging with his inflated ERA of 4.03 ERA from 2017- 2019.

Before his regression in 2017, Lester was everything the Cubs paid for. He was dominant on the mound with his 2.89 ERA mentioned above as proof. His veteran presence among a young locker room was crucial for a team that would eventually break the most prolonged curse in American professional sports.
Since then, Lester has turned into the aging starter they knew he one day would. After one of his best professional seasons ending in his second World Series championship, Lester showed he wasn't invincible.
The new version of Lester the Cubs see is one that's starting to slow down in terms of production and velocity. According to Fangraphs.com, Lester's fastball velocity from 2015- 2016 stayed around 92-93 MPH, topping out at 96 MPH. That number has dropped every year since then to where in 2019, Lester's fastball averaged just around 90 MPH and topped out at 93 MPH.
With a noticeable dip in velocity, Lester hasn't been able to produce down the stretch like he used to. Post All-Star Break, Lester usually does his best work. Since 2008, Lester has had six seasons with a post-All-Star Break ERA below 3.05, including four straight from 2013-2016. Since then, Lester has a 4.77 ERA after the Mid-Summer Classic.
He's also started averaging fewer innings after the All-Star Break. From 2008 -2016, Lester pitched 85 or more innings every year except for one. Since then, Lester hasn't been able to pitch past 78 post-All-Star Break innings.
Jon Lester Post-All-Star Break (BOS/ OAK)

Jon Lester Post-All-Star Break (CHC)

Lester still has one full year on his contract, as well as a vested option year that automatically kicks in if Lester reaches 200 IP in 2020, or 400 IP between 2019 and 2020. The option is unlikely to automatically kick in as Lester would need 228.1 innings to combine for the 400 IP. Lester hasn't reached 200 innings since 2016, with his career-best 219.2 innings coming in 2014.
That leaves the Cubs with the decision to decide Lester's future in Chicago. Making that decision could prove more difficult than some would expect. While Lester is clearly in decline, he's shown flashes in 2019 that proves he can still be a quality pitcher — and being the big signing for a Cubs dynasty that never gave enough good faith through the organization to keep him around for an extra year. Only his $20 million price tag may force him out of the blue pinstripes early.
Throughout his time with the Cubs, Lester has proven his worth by not only producing on the field but providing a veteran presence in a growing young clubhouse. With an established clubhouse culture now, the team must pick Lester up through his steady decline. The last years of his deal may not be the prettiest, but Lester is still a quality pitcher capable of bringing plenty of value to any team.