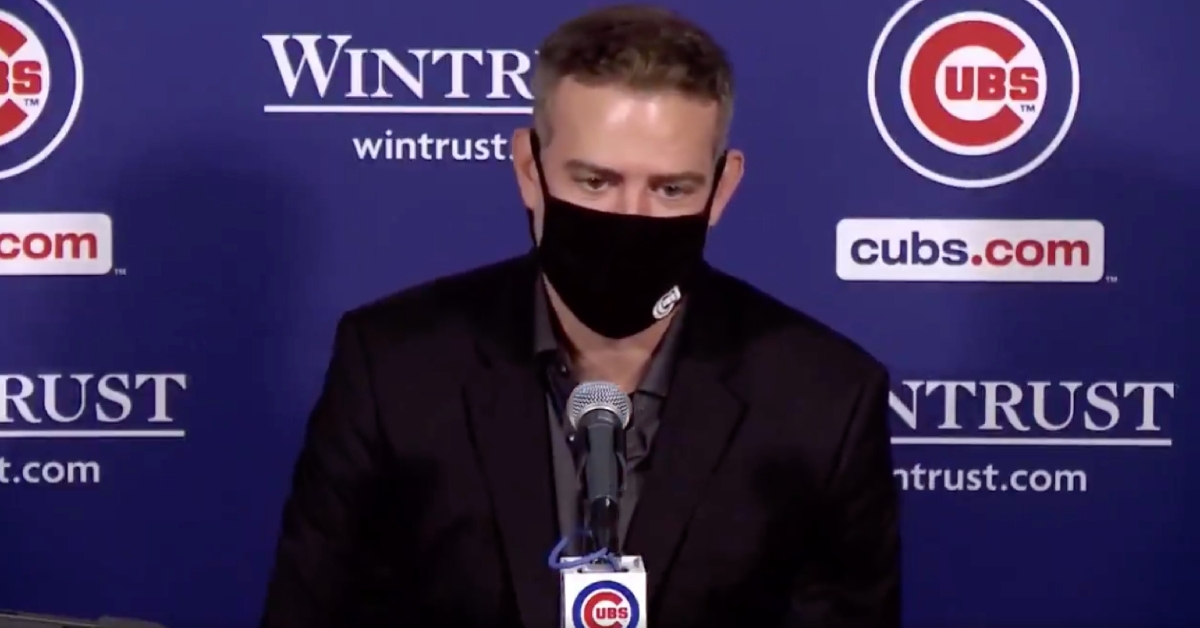 | | |
| --- | --- |
| Breaking Down Theo Epstein's Press Conference | |
---
| | | |
| --- | --- | --- |
| Saturday, October 17, 2020, 8:42 AM | | |
Theo Epstein met with the media for his annual end-of-season press conference to essentially address the state of the team and roll out its plan for the near and distant future. It was via zoom and not in person, the final piece of the puzzle that has been the oddest season in MLB history.
The Cubs managed to win the NL Central division for the first time since 2017 and the third time in five years. Rookie manager David Ross led the team to the playoffs as Ian Happ, Yu Darvish, Jason Heyward, and Kyle Hendricks thrived for a team that ended the season as the only team to no have a positive Covid-19 test all season long.
There was a lot to be proud of from an organizational standpoint, and there is a lot of uncertainty moving forward regarding finances, fans, contracts, and the economic landscape of baseball — but it is impossible to ignore the way the season finished.
The season ended disappointingly for the fourth season in a row. This season didn't quite replicate the September collapses of years prior. Still, the offense growing cold and stagnant when the team needed it most was an all-too-familiar reality for a team whose President has said, "Our offense broke" and "A reckoning is coming" in years prior at the end of the year press conference.
This year, Epstein had a lot to say after a short season, and we at CubsHQ decided to grab some of his quotes that have gained the most traction and analyze them.
The first one is a fairly simple quote that shows that despite rumors that Theo Epstein may forfeit the last year of his contract and give the Cubs his due money for the budget and move on a year early, he will stay in Chicago.
"My expectation is that I'll be here," Epstein said.
Later in that same thought, Epstein expressed his desire to help the Cubs in any way possible, acknowledging that that may include building toward a future where he will likely not be with the organization.
"My expectation also is that I'm going to do whatever is best for the Cubs every day. And that means being thoughtful about a transition, whenever that may come. I'm focused on the 2021 Cubs and how to position ourselves for long-term success."
As he has been in prior years, Epstein was very blunt about the Cubs' offensive struggles and how he has to take ownership of that as a front office member. These struggles have been prevalent over the last three years, especially in the playoffs, and after two offseasons calling on change, Epstein was forced to say that change is coming and mean it this time.
"We have not performed up to our expectations offensively," Epstein said, "and especially at the most important times of the year. And sort of simply hoping for a better outcome moving forward doesn't seem like a thoughtful approach. So, embracing some change, even significant changes is warranted."
That quote comes after a season where the Cubs were swept out of the playoffs in two games, where they scored just one run in 18 innings despite their players being healthy. Of the Cubs' offensive core with only one year of control left (Anthony Rizzo, Kris Bryant, Kyle Schwarber, and Javier Baez), Anthony Rizzo led the way with a batting average of .000.
Baez had one of the league's worst runs created plus in the league, Schwarber hit well below .200, and Kris Bryant barely mustered up 11 RBI.
With a lot of talk of the Cubs' window closing or their dynasty coming to an end, Epstein was quick to right the ship on the mindset moving forward.
"Is it an end? No," Epstein said. "Is it a bit of a crossroads and clearly a period of transition? Yes."
Among some of the other quotes included Epstein praising David Ross in his first season as manager, alluding once again to the fact that he believes ten years is enough time in one place before transition as he enters his 10th year with the Cubs, and hinting at the fact that some players on this team may have productive years in the future for other teams.