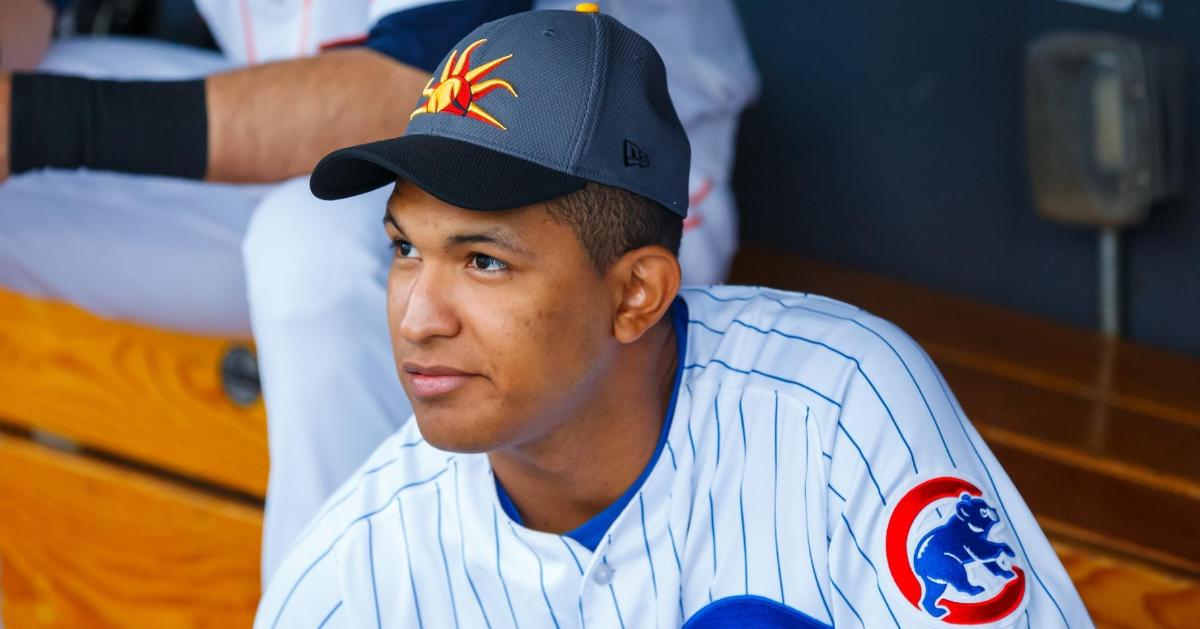 | | |
| --- | --- |
| Breaking down MLB Pipeline's Top 30 Cubs prospects (Part 5) | |
---
We have now reached the top 10 of the Cubs top 30 prospect list, or as I like to call it the future of the franchise. These are the players who appear to be the most MLB at this point and the ones who will be on the roster sooner rather than later. While some may be traded away at some point to fill other needs, all these players will be essential for the future of the franchise one way or another.
#10 Christopher Morel (3B South Bend): The older brother of Rafael Morel, who was on a previous list, Christopher was part of the loaded South Bend roster this past season and could be the Cubs third baseman of the future. Signed internationally in 2015, out of the Dominican Republic for 800,000, a freak accident at home forced him to delay his pro debut, not seeing the field until 2017.
Since then, Morel has been a force so much so that teams inquired about him in multiple trades over the past year, including the Kansas City Royals, when a Whit Merrifield was being discussed. At 6-0 and just 140 pounds, people look at Morel and try to figure out how he can even hit at this level. However, Morel is a great hitter and what he lacks in pure size and muscle he makes up for with one of the quickest bats in the system that leads to impressive exit velocities off the bat.
He does need to add some weight over the next few years to redefine his pull happy approach at that plate, but that comes with time. He may never hit for a high average, but a .265ish hitter with above-average power is not out of the question. Morel also displays above-average speed as he is known for his long strides on the bases and quickness out of the box.
For his career, Morel has played in 188 career games, including a career-high 73 last season despite missing time with an injury. His average is only a .243, but last season he raised it to .284, which was something the Cubs needed to see. His six homers and 31 RBIs were also an excellent sign considering he missed half of the season.
#9 Chase Strumpf (2B SOUTH BEND): Sticking with their power first approach to the draft as Theo has done for a large portion of his time in Chicago, the Cubs drafted the slugging 2B in the second round of last years draft. We all know what happened next for the UCLA product as he proceeded to hit a Home Run the very next at-bat giving the Cubs a glimpse of what he can do.
Signed for just over a million dollars, Strumpf had a successful pro debut that spanned across both Eugene and South Bend. Throw the .244 average out of the equation as most players need at least a year to adjust from college ball to pro-ball, but Strumpf managed to hit three homers and drive in 17 across 39 games this season. Look for an even bigger second season whenever that happens.
At this point, it is unclear whether Strumpf will remain at second long term, but he has drawn some Ian Happ and Nico Hoerner comparisons thus far. He has the tools to be an everyday player should he hit consistently, but if that doesn't happen, he will not have a role on this team long term.
#8 Ryan Jensen (RHP EUGENE): While Myrtle Beach may have the most talented team in the Cubs system this year, Eugene may be the one to watch on the pitching side of things as Jensen is another arm to watch. Taken with the Cubs first-round pick out of Fresno State last year, Jensen is known for one thing "HEAT" as he had the best fastball in last seasons class. Not only does he throw a riding 2-seamer that sits at 94 mph, but he also has a 4-seamer that sits around 95-96 mph but has no trouble reaching 98 mph plus. While both of those pitches remain his go-to pitches, he continues to struggle with his secondary stuff hence the 5.84 ERA his first two seasons in college and increasing command issues. While his slider is around 84 mph with a late break, Jensen needs to develop another secondary pitch, which the Cubs pitching lab is hoping they can do for him.
In his first go-around in pro ball, Jensen made six starts for the Emeralds and impressed the team with a 2.25 ERA in 12 innings of work. If there was one thing to criticize about his game right now, it would be his command as he walked 14BB/19K in those 12 innings. However, opponents hit just a 171 off him, which kind of reminded me of Tyler Chatwood and how some of his outings look like. With more seasoning, Jensen will be a top of the rotation arm in the Minors for the next few years before coming to the North Side.
#7 Kohl Franklin (RHP South Bend): A name some may not have been familiar with last season; Franklin is undoubtedly someone to watch now that he is moving to full-season ball full time. The top high school arm in 2018 from Oklahoma was drafted in the sixth round by the Cubs that year, where he spend time with Eugene the past two years before cracking the South Bend Roster late last season.
Now on the verge of full-season ball for the first time, the Cubs are anxious to see how he does as they expect him to be in the rotation once again. Franklin has seen his fastball velocity rise over the past few seasons as he continues to fill out his 6-4 body. What was sitting at 88-89 mph out of high school, rose to 91-92 mph his first season in pro ball and now sits around 93-97 mph.
The thing that changed Franklin's fortune, in my opinion, was his switch to a knuckle curve to help generate more spin on his breaking pitch to pair with his fading changeup giving him three strong pitches to use. That switch in grip proved to be a game-changer as Franklin went 1-3 in 11 starts last year, but posted a 2.36 ERA. His command significantly increased as well walking 20 and striking out 52 over 42 innings, including his 14BB/49K showing for Eugene. If Franklin continues to add strength and improve, he could be in Chicago by 2022, having some role with the Cubs.
#6 Adbert Alzolay (RHP IOWA): After being the top pitching prospect and the top prospect in the organization a few years ago, Alzolay has found himself fading as injuries have certainly taken a toll on the right-hander. With that being said, he still checks in at No. 6 on this list and is the most MLB ready arm in the organization to this point.
Alzolay has been with the Cubs for what seems like forever as he signed for 10,000 in 2012 at the age of 18 out of Venezuela. Alzolay went on to lead the Dominican Summer League in ERA the next year at 1.07 but has had sporadic success ever since. It appeared he was ready to make his big-league debut in 2018, but a shoulder injury in May pushed that debut back to last season, but once again, injuries derailed what could have been a great story.
Alzolay has always been viewed as a front of the rotation arm with a fastball that checks in around 94-96 mph that can touch 98 mph, a running change up that sits around 85-86 mph which has been his best pitch most of his career, and then a hard breaking curve that peaks around 82 mph and shows good depth. That is the one pitch that has improved the most over the years, giving Alzolay a great three-pitch mix.
He has a good track record of throwing strikes but has shown struggles of doing that at times throughout his career. For his career, Alzolay has posted a 33-27 record as a starter in the minors with a 3.63 ERA 145BB/442K. That included his three-year run from 2015-17 in which he went 22-10 with a 3.12 ERA. It was at that time that he earned the top prospect spot in the organization before the injuries and wheels began to fall off.
Alzolay finally made it to the Bigs last season, pitching in four games for the Cubs with two starts. While his results were mixed going 1-1 with a 7.30 ERA 9BB/13K, Alzolay did show promise in a few of his outings. The biggest question I have is durability despite competing for the final rotation spot this spring. Given the injury history, we have seen from him, I am not sure starting should be his long-term outlook. I get that is what the Cubs want from him, but I would like to see him as a middle to back end of pen reliever until he can show he can stay healthy.
Upgrade Your Account
Unlock premium boards and exclusive features (e.g. ad-free) by upgrading your account today.
Upgrade Now