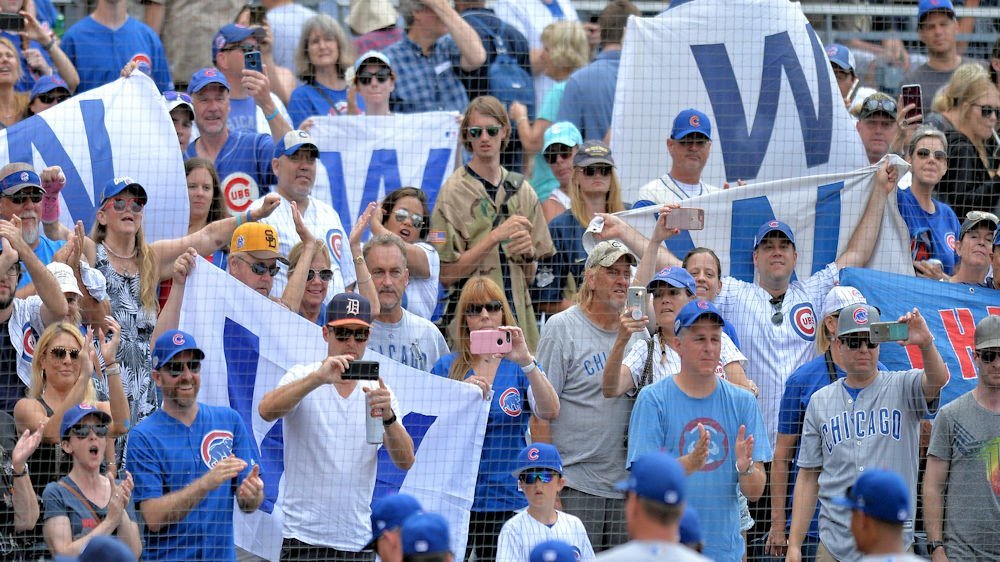 | | |
| --- | --- |
| Breaking down MLB Pipeline's Top 30 Cubs prospects | |
---
| | | |
| --- | --- | --- |
| Saturday, April 18, 2020, 1:19 PM | | |
Every season a new prospect list comes out for every organization that gives us some insight as to what the future will hold. In most cases, you can almost pencil in the top prospects as they have made a name for themselves in the organization in years past. On the side of the equation, you have those prospects who were under the radar in years past that have now made their way onto the list.
Over the next few days, we are going to look at the new top 30 prospect list from MLB Pipeline with five prospects at a time as we see what the future holds for the Cubs franchise.
Today we will start with numbers 30-26 and work our way to No.1. Let's get right to it.
#30: Nelson Velazquez (OF AZL 2/South Bend): Nelson Velazquez is an intriguing outfield prospect for the Cubs as it appears, he is finally coming into his own after three seasons of pro ball. In his first season in full-season ball, Velazquez split time between South Bend and AZL 2 as he needed to spend a week to rehab a minor injury. In 72 games for South Bend, Velazquez showed promise with a .286 average, four homers, and 34 RBIs. The average was a pleasant surprise last season, as he is a career .253 hitter, but it seems like he sacrificed some of his power to hit for a better average.
Velazquez has an interesting story behind him as he moved back to Puerto Rico his senior season after being ruled ineligible to play in high school that year. Fortunately for him, the Cubs were one of the few teams with a full-time scout in that area who fell in love with his overall ability and signed him to a 400,000 contract. A solid right-handed hitter who can display power to all fields, Velazquez used to have above-average speed only to slow a bit as he has filled out. Look for a debut sometime around 2023.
#29: Brendon Little (LHP Myrtle Beach): For the longest time, the Cubs front office has been trying to develop some sort of pitching to better the future of their franchise. While none have panned out yet, it appears that pitching help is on the way as plenty have landed on this prospect list. The first one we will discuss is that of left-hander Brendon Little whom the Cubs drafted in the first round back in 2017.
After showing tons of promise before the Cubs drafted him with one of their two first-round selections that year, Little has seen his stuff regress since coming to the Cubs organization, causing his drop on the prospect list. A guy who once was throwing 93-96 mph, has now been clocked around 91-93 mph and it doesn't appear to be going up anytime soon. He does add an overhand low 80's curve, however, which does help keep hitters off balance.
At 7-15 with a 5.05 ERA in his three seasons of pro ball, you can see why there are some reasons for concerns given his lack of production. However, if 2019 was an indication, maybe he finally turned a corner. In 12 starts last season, Little went 2-2 but saw his ERA drop to 3.58. That was mainly due to a 1.91 ERA that he posted in six starts for South Bend before seeing it balloon once again to 5.95 ERA for Myrtle Beach. Look for him to be a back of the rotation arm once again as the Cubs try to piece together his future.
#28 Jack Patterson (LHP Myrtle Beach): Another southpaw on the Pelicans staff happens to be one of the faster risers in the Cubs system in Jack Patterson. Unlike some of the other pitchers in the Cubs system, Patterson was not a highly ranked prospect out of college, falling to the 32nd round of the 2018 draft before signing with the Cubs. After dealing with concussion symptoms for two seasons after taking a line drive to the head, Patterson is an option the Cubs could be looking at long term if the production continues.
His stuff isn't going to wow you by any means, but it will be sneaky good as he uses a 92-93 mph sinker to induce tons of ground ball outs to keep pitch counts low. He has topped out at 95 before, but that is extremely rare. When his sinker isn't working, look for Patterson to mix in his 79-82 mph slider curve combination and a cutter that is currently a work in progress. While none of these are a plus pitch, for now, look for the Cubs to work with him on his curve to use that as a massive weapon.
In his two seasons with the Cubs, Patterson has been nothing short of dominant and impressive. In 24 games (9 starts), he has gone 10-2 with a 2.04 ERA 42BB/113K. That included an 8-1 season last year in which he started nine games and tossed a 1.69 ERA. Patterson started the year in South Bend and finished in Tennessee as the Cubs had no choice but to move him through. When the season does start, look for him in Tennessee full time as a potential front-line starter or swingman out of the pen.
#27 Alfonso Rivas (OF/1B Myrtle Beach): If you sense a theme on this list, it looks as if Myrtle Beach will have a ton of talent to watch this season as some good prospects will be on their roster. The 23-year-old left-handed hitting Rivas is another one of those players as the Cubs try to piece together the best position for him.
Drafted by Oakland in the fourth round of the 2018 draft, Rivas was traded to the Cubs last season in exchange for Tony Kemp. That only made sense as the Cubs raved about his abilities back in 2018, only to see Oakland beat them to the punch when it came time to draft him. Not only does he have a sweet swing from the left side, but he has an excellent feel for the zone, which is why he has made it to AAA already.
While he has yet to play a single game for the Cubs, Rivas has seen action in 183 games over two seasons, where he has put together a solid 290 average with ten homers and 88 RBIs. After making the jump to AAA last season, Rivas hit .406 in eight games and appears to be a lock to start at first base for Iowa this season. With Rizzo's contract up following 2021, could Rivas have a shot to be his replacement in 2022?
#26 Keegan Thompson (RHP Tennessee): The final prospect on the first part of this list is indeed another pitcher in Smokies, right-hander Keegan Thompson. A highly touted prospect who won two gold medals on the high school national team, Thompson was selected by the Cubs in the third round of 2017 with hopes of being a future middle of the rotation arm.
While his stuff isn't overpowering, with a fastball that sits around 92, and upper 70's curve and a slider and changeup in the low to mid 80's, Thompson has a legitimate four-pitch mix that he could use to keep offenses off balance. The problem has always been health as Tommy John surgery in 2016 dropped him back to the third round after being projected as a first-round talent that year.
2019 got off to a promising start for him as he tossed five no-hit innings in his season debut only to miss the next four months with an elbow injury. That leaves his 2020 in flux as no one knows the health of him right now. Despite his inability to stay healthy, take his last full season of 2018 to get a look at what he can do. In 25 starts that year, Thompson went 9-6 with a 3.68 ERA 34BB/115K showing great command. He followed that up with three starts last year, posting a 3.60 ERA and 1BB/13K.
If healthy, you can bet Thompson will be near the top of the Smokies rotation to open this season or next, with the chance to be the ace depending on what happens to other pitchers later on this list. If I had to compare him to a Cubs starter, I would compare him to Ryan Dempster, who never had the most overpowering of stuff, but knew how to pitch by keeping hitters off balance.