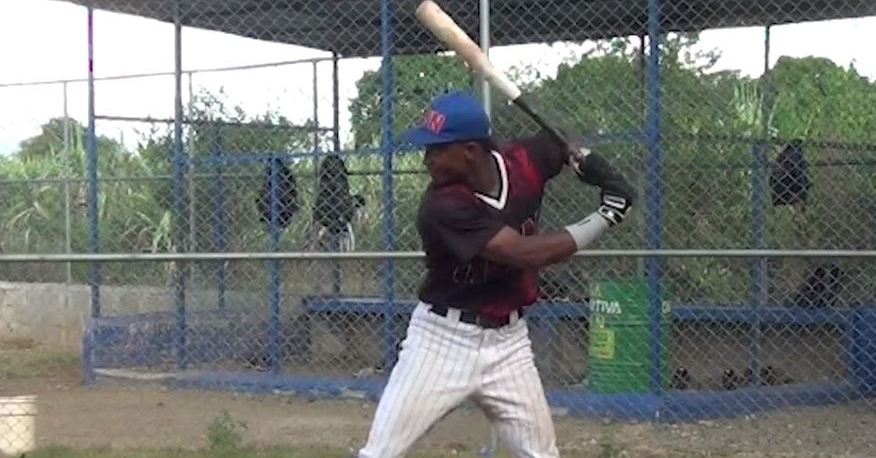 | | |
| --- | --- |
| Breaking down MLB.com's Top 30 International Prospects (Part 5) | |
---
| | | |
| --- | --- | --- |
| Wednesday, May 13, 2020, 9:14 AM | | |
We have reached the fifth installment of the top International Prospect series, which has us down to the top 10. This is the part of the list to pay the most attention to as these are the players generating the most buzz and will make probably make the fastest impact. While I expect the Cubs to kick the tires on a lot of these players, look for them to go after at least one or two in this list, depending on what shakes out the rest of the way.
#10 SHALIN POLANCO (OF Santo Domingo, D.R.): When you see the last name Polanco in terms of baseball players, you think of Placido Polanco and other shortstop type players. Shalin Polanco, on the other hand, is an outfield prospect from the DR and a good one.
Lanky and lean, Polanco is a very well put together teenager with a projectable body that can grow to be a good size. He shows excellent bat speed with loose hands, and that results with an incredibly smooth swing. Although he does have an overly aggressive approach at the plate, Polanco still manages to remain calm as he has a good feel for the zone and makes consistent hard contact.
Defensively speaking, his arm strength is what scouts are looking most forward to seeing develop as that could become one of his best attributes leading me to believe he is ticketed for right field. He does project to be a center fielder at this point, but I like him in right field, especially if his arm pans out the way most think it will. Right now, central division foes Pittsburgh appear to be the favorites that would pair him with another OF Polanco in Gregory Polanco.
#9 YIDDI CAPPE (SS Havana, Cuba): The highest-ranked SS product from the country of Cuba is that of ninth-ranked Yiddi Cappe. The young talent left Cuba late in 2018 and quickly become one of the best international talents who is eligible to sign this season. Cappe has a body build like that of Carlos Correa and Derek Jeter around the same age, but it projects to be better than that over time.
While Cappe may not have one tool that stands out ahead of the rest, he is projected to have above-average tools across the board with the ability to showcase some more than others. Right now, he shows advanced bat to ball skills at the plate, which leads scouts to believe he will be a high average hitter at the next level. Add that to his feel for the strike zone, and you could have a top of the lineup hitter in the making.
In the field, Cappe shows excellent footwork on defense to go with a plus arm and solid hands. He may outgrow the position later in his minor league career, but for now, he will remain at SS unless forced to move. Cappe began playing the game at the age of 4 and was playing at a national level at age 16. The closest team to his native land Miami are the favorites to sign him as they could use a nice splash in that organization.
#8 RICHARDO PEREZ (C Valencia, Venezuela): The first catcher on this list checks in at No. 8 in Richardo Perez. While catchers are not as prevalent in the international signing period, the Cubs have had a ton of luck in bringing catchers in, most notably with Willson Contreras and Miguel Amaya.
Perez is not only a left-handed hitter but is viewed as one of the top international players in the class with plenty of upside. His profile is like Jesus Galiz, who we will get to shortly. The thing that sets Perez apart from other catchers is his receiving ability behind home plate, solid footwork, and quick release to throw out runners. All are years above where they should be, and they will continue to get better over time.
Offensively, Perez shows above-average bat speed and has been consistently making hard contact for years. Not only does he have a chance to be an above-average hitting catcher, but he has shown flashes of power to all fields, which could make him an impact player on both sides of the ball. Scouts love his in-game experience already, and the Phillies have him in mind to replace J.R. Realmuto in the future.
#7 JESUS GALIZ (C Maracaibo, Venezuela): As mentioned above, Perez was closely comparable to fellow Venezuelan catcher Jesus Galiz. The only difference is Galiz is rated as the best catcher in the class and rightfully so. As a middle infielder most of his childhood, Galiz dreamed of being the next Gleyber Torres until his move to catcher.
Now that he converted two years ago, he has his sights set on becoming one of the best international catchers in the game. His quick feet, strong arm, high baseball IQ and overall athletic ability behind the dish is the main reason why he has become the top catching prospect in the International class this season. He still has the hands of a middle infielder, but that is a good thing because he uses that to block pitches in the dirt.
Along with what scouts are raving about behind the plate, Galiz has also shown advanced skills at the plate, making him a dual-threat player. Galiz features a quick and compact swing that allows him to spray the ball across the entire field. Galiz projects to have plus power in the future and could be a middle of the lineup bat long term.
With him continuing to model his game after Torres, it should come as no surprise to see the Yankees kicking their tires on him, but don't count out the Cubs for his services. They signed a haul in terms of international catchers last season, and with Contreras' future in doubt in Chicago, the Cubs may want to have multiple options lined up long term.
#6 PEDRO LEON (OF Havana, Cuba): Unlike in past international classes where pitching and OF stood out, this was the year of the SS with other positions filling in the list. However, if you want to look at an outfielder, look no further than Cuban native Pedro Leon as he comes in at No. 6 on the list.
Leon is one of the oldest if not the oldest prospect in this class as he is 21 years old already. That will be used to his advantage as he has the most seasoning of anyone and will be big-league ready than most of his fellow international mates at this point. Not only is he a quick athlete, but he has the potential to possess above-average stuff in all five tools making him a can't miss prospect.
Not only does Leon have a short compact swing at the plate, but he doesn't swing and miss much, which is a lost art in the game of baseball. That compact swing generates decent power, which he uses to all fields, and his above-average speed makes him a threat on the bases also. Despite and above-average arm in the outfield, scouts love Leon's make up, and most believe he will remain in CF long term.
During the 2018 season is when Leon busted through as that was the year teams began to covet the start. Not only did he hit a 371 that season with 15 homers and seven steals, but he posted an absurd 1.220 OPS all in just 33 games. Leon elected to leave Cuba following that season in 2019 and was declared a free agent on December 6, eligible to sign on December 20. Although he had an injured oblique in 2019, he has bounced back from that injury and held a showcase in February for 30 teams.
As if the Astros needed any more thunder in their lineup, Leon appears destined to sign with Houston at this point as they need to remake their image. Imagine that 33 game sample size for a full season in Minute Maid. Yeah, he could be a star.