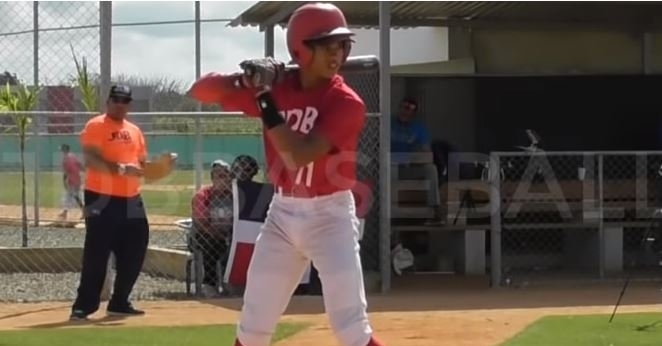 | | |
| --- | --- |
| Breaking down MLB.com's Top 5 International Prospects | |
---
| | | |
| --- | --- | --- |
| Friday, May 15, 2020, 8:56 AM | | |
We have reached the final installment of the international prospects as we cover the cream of the crop. Not only are these the ones that are going to be coveted the most by teams, but these are the ones viewed to not only move fast through the system but could make immediate and substantial impacts from the day they arrive with their respective organizations.
#5 CRISTIAN HERNANDEZ (SS, Santo Domingo, D.R.): The quality of shortstop play in this class is unreal, and that will be evident on this top five list. Hernandez is another one of those studs who mans the shortstop position. At 16 years old, Hernandez is big for the shortstop position standing 6-2 but is a five-tool type of player who projects to have above-average tools across the board. From a build standpoint, Hernandez is comparable to a young Manny Machado or Alex Rodriguez, but he molds his game after current Cubs shortstop Javier Baez.
Not only is he big right now, but he is expected to get bigger and stronger with the expectation that he will have no trouble sticking at the SS position through any team's system. His approach at the plate not only gives him the chance to hit for a high average around 300, but he has the potential to be a 30 plus home run hitter, which would make him a legit star in this league.
Defensively, Hernandez is smooth and can make plays all over the diamond while displaying soft hands and a strong and accurate throwing arm. His excellent footwork in the field helps in the batter's box as he is faster than people give him credit for running down the line. A student of the game, scouts, continue to praise him for his instincts and overall understanding of the game of baseball. Ironically, Baez is his favorite player, and the Cubs are the favorites to ink his services this summer. Does Chicago have a Javy 2.0 in the waiting?
#4 ARMANDO CRUZ (SS Santo Domingo, D.R.): The SS train continues with another DR born player in Armando Cruz. If you are a fan of defense, then Cruz is your man as he is without question the best defensive player at any position in this year's class and will be someone to watch for years.
Cruz isn't built like a normal MLB SS at this point, but he is being compared to Jose Iglesias build wise, which isn't the worst thing in the world. Cruz is known as a tremendous fielder with great footwork and amazing hands that allow him to field the ball cleanly more than 95% of the time. His arm isn't the greatest right now, but that will get stronger the more he builds up.
While his defense is his best attribute, Cruz is no slouch in the batter's box as his soft hands allow him to generate good bat speed with a slight uppercut in his swing. He is a consistent line-drive hitter who barrels up the baseball often. Power is not going to be a massive part of his game, but he is the type of player who is going to be a hard out and will not be afraid to take what the pitchers give him. Right now, the Nationals are the favorites to sign him, which leads me to believe he may move to second in their organization should they get him.
#3 CARLOS COLMENAREZ (SS, San Felipe, Venezuela): We continue the climb toward the top spot as Colmenarez is next on our list. Once again, another SS, Colmenarez, is being compared to Asdrubal Cabrera from a body type but is a well-rounded prospect who could put up much better numbers as an everyday player.
The best part of his game right now is with the bat as the teen shows solid mechanics in the box with a slight lift in his swing that allows him to hit the ball out of the ballpark. He not only shows good bat speed but makes hard contact to drive the ball to all fields. While his power is still a work in progress, he will continue to add more as his body develops as he could become a 20-homer player.
Like most SS, quick feet are essential to their game as well as a strong arm. The feet are already there for Colmenarez, but the arm is still a work in progress. The quick feet play to his strength, however, as it allows him to show above-average range pegging him to be an above-average defender at the next level. A little raw compared to the previous two we discussed, Colmenarez has a very high upside as the Rays would like to bring him aboard this year.
Carlos Colmenarez is making a strong case to be the No. 1 player in the 2020 international class.

That should be music to Rays fans' ears. https://t.co/6HdEgYJhbr pic.twitter.com/BoWZHAgdjv

— Baseball America (@BaseballAmerica) August 25, 2019
#2 WILMAN DIAZ (SS, Maracay, Venezuela): The best well at least the highest-ranked SS on the international prospect list is that of Wilman Diaz from Venezuela. The athletically gifted 16-year-old has all the makings to be a great five-tool player as the sky is the limit for him at this point. His combination to hit and play great defense at a premium position has him ranked as the top teenage SS prospect in the class this season.
Diaz shows above-average hitting for his age as his ability to recognize pitches from the start to go with elite bat speed helps him drive the ball to all fields with power and loft. Diaz has become exceptionally good at taking the ball the other way as he is no stranger to accepting what the pitchers give him. The ability to hit is what got scouts attention a few years ago, and now the power is starting to follow.
Defensively, Diaz has a stronger arm than most in his class and is demonstrating plus actions at the ss position. He is smooth in the field and can make the plays all over the diamond while adding plus speed to make him a threat to steal on the bases. There is no telling what his playstyle is going to look like, but from what I have seen, I compare him to Francisco Lindor at this point. With that being said, the Dodgers are the favorites to add him to their farm system, which will just suck if you're an NL team.
#1 YOELQUI CESPEDES (OF YARA, Cuba): Younger brother of Yoenis Cespedes, Yoelqui is the top-rated international prospect in this year's class and for a good reason. The 22-year-old is the oldest member of the class this season, but also one of the smallest standing at 5-9, but does check-in at 205 lbs. What Cespedes may lack in size he makes up for with experience as he played in the world baseball classic for team Cuba in 2017 before defecting Cuba for the Can-AM League in New York. Currently, Cespedes resides with his brother in the Bahamas as he is ready for MLB life.
Eligible since about March 18, basically when baseball was shut down is going to be the most sought-after prospect in this years class, but is not sold on the MLB just yet. Recent reports have swirled that he may test waters in Japan first before coming stateside.
While playing for Cuba, Cespedes was known as a plus runner and reliable defender. Unlike his brother, who is a masher at the plate, Yoelqui is more of a line drive type of hitter, but a revamped swing and some added weight to his frame has him looking exactly like his older brother meaning the power may start to follow also.
While no teams are said to be the favorites for him at this point, mainly because he has been posted that long, you can bet nearly every organization with high international pool money will take a swing at him. That includes the Cubs who once had a slugger in Jorge Soler who they let go to Kansas City, where he turned out to be a star. If the Cubs can manage to swing a deal for Cespedes, I don't think they could pass up that opportunity.