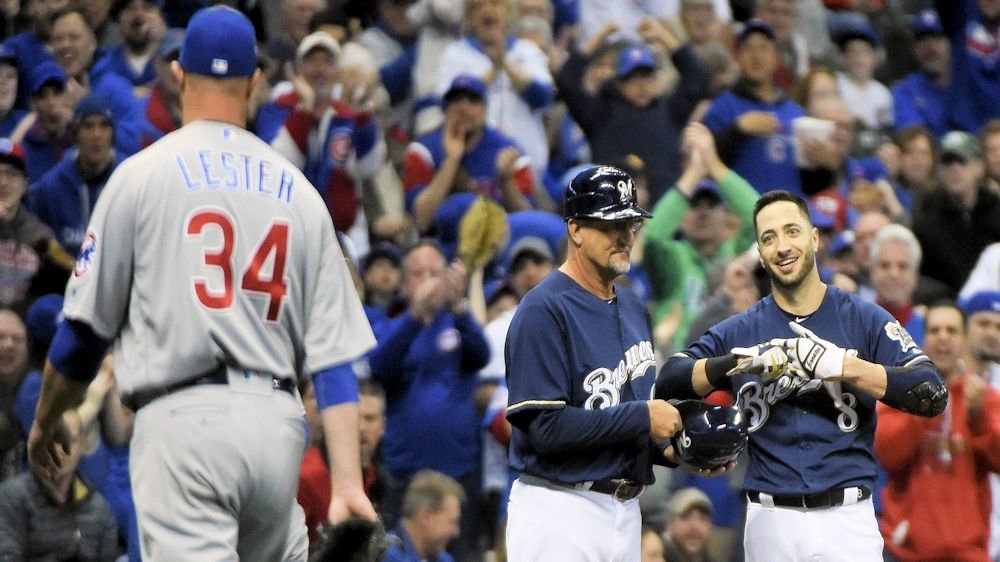 | | |
| --- | --- |
| Brewers take down Cubs in All-Time contest | |
---
| | | |
| --- | --- | --- |
| Wednesday, April 29, 2020, 5:55 PM | | |
As a way to fill your baseball needs during these uncertain times, the MLB has staged a simulated bracket between each team's all-time players — and we at CubsHQ will bring as much action from it as we can to you.
If you have ever wondered what it would be like for the best Cubs players to unite on one team, here is your chance to see how it would play out. Draft kings' simulation has been so far so good to the all-time Cubbies roster. For those of you who may have missed the last few articles, here is what the Cubs roster looks like.
Starters:
C: Gabby Hartnett
1B: Anthony Rizzo
2B: Ryne Sandberg
3B: Ron Santo
SS: Ernie Banks
LF: Billy Williams
CF: Hack Wilson
RF: Sammy Sosa
DH: Andre Dawson
Bench: Kris Bryant, Javier Báez, Mark Grace, Aramis Ramirez, Frank Chance, Jody Davis
Pitchers: Fergie Jenkins, Mordecai Brown, Greg Maddux, Jon Lester, Kerry Wood, Jake Arrieta, Hippo Vaughn, Lee Smith, Bruce Sutter, Pedro Strop, Carlos Marmol
And they were in simulated action once again. In the first round the Cubs beat the All-time Mets, this time around they took on division rival Milwaukee Brewers.
However, this go around, the simulation was not all that kind to the all-time Cubs. In a thrilling seven game series, the All-time Cubbies were handed a loss by the all-time Brewers club. The series was one of the most dramatic of the simulations, as it was just one of two series to go to seven games.
In game one, the Cubs defeated the Brewers 6-1. The Cubs were led on the mound by Fergie Jenkins. Jenkins threw a complete game allowing just three hits while striking out eight batters. Frank Chance had three hits, and he, Hack Wilson and Sammy Sosa all drove in a pair of runs. From there it was on to game two.
In the second game of the series the Brewers outslugged the Cubs 8-6. The Cubs got their runs from Hack Wilson and Andre Dawson home runs as well as Ernie Banks legging out a triple. However, Mordecai Brown was hit pretty hard as the Brewers got four RBIS from Christian Yelich among other Brewers finding ways to contribute. The series was back to even.
Game three is where the Cubs got back on track, as they defeated the Brewers 7-6 with a walk-off. Despite Greg Maddux giving up six runs in just three and two thirds innings, the Cubs were able to rally and get the northsiders the win. Gabby Hartnett led the way offensively for the Cubs with three hits, three runs scored and two RBIs. Ernie Banks also drove in a pair of runs while Anthony Rizzo knocked in a run as well. The Cubs actually won the game with a Billy Williams error that was able to score Sammy Sosa — and the Cubs had a two games to one lead.
Game four brought a pitcher's duel that the Cubs were ultimately able to win 3-2 to take a commanding three games to one series. The Brewers had their starter pitch seven and two thirds innings of two run baseball, and Jon Lester was able to duel him with seven and two thirds innings of two run baseball of his own. The Cubs' runs here driven in by Hack Wilson, Andre Dawson and Billy Williams. The biggest hit of them all was a walk off home run from the hawk Andre Dawson off of Rollie Fingers to give the Cubs a 3-2 win and a 3-1 series lead.
However, as the Cubs know from their own all-time historic experience, a 3-1 lead is never safe. The Cubs won the World Series in a 3-1 comeback over the Cleveland Indians in 2016 — and they got eliminated in the MLB all-time simulated tournament by the Brewers coming back from a 3-1 deficit. The Cubs lost game five 5-4, game six 3-2 and game seven 6-5 in typical heartbreaking fashion.
As the Cubs' run concluded, they were led offensively by Ryne Sandberg and Hack Wilson's four home runs and eight RBIs (each) as well as an above .300 average for Billy Williams, Ron Santo and Gabby Hartnett plus solid contributions from some players on the bench.
On the mound, Fergie Jenkins was terrific. Greg Maddux, Jon Lester among others were solid for the all-time Cubs — but the run ends in the round of sixteen.