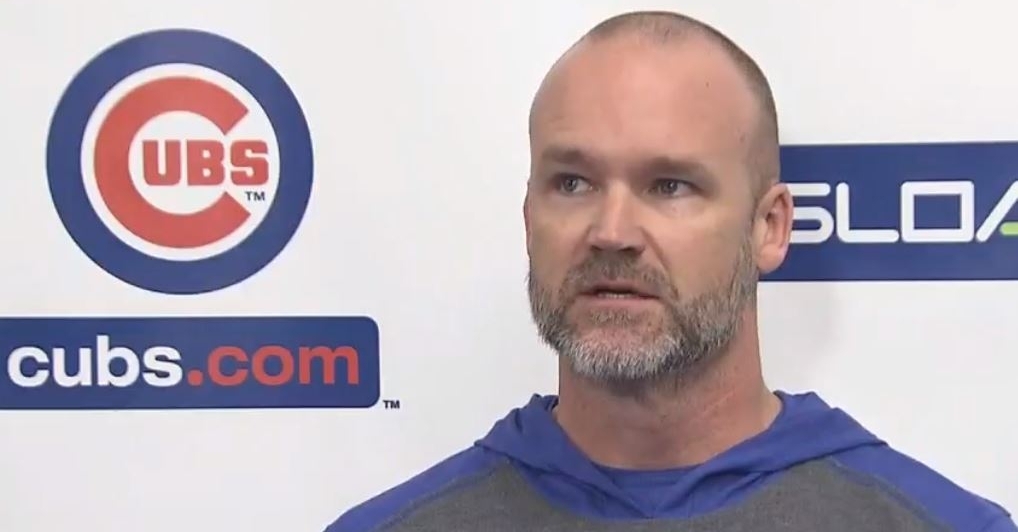 | | |
| --- | --- |
| Can David Ross have success in his first season? | |
---
| | | |
| --- | --- | --- |
| Wednesday, March 11, 2020, 8:57 AM | | |
The 2020 baseball season is just around the corner, and many Cub fans are anxious to see how this year's team is going to do. There are new faces, old faces, and again faces in the clubhouse. One of those again faces is new Cubs Manager, David Ross. Most Cub followers contribute a great deal of the Cubs on-field success over the last six years to none other than ex-manager Joe Maddon. Today we are all wondering if our new skipper will have the same success.
It comes as no surprise that success is limited for first-year managers. To the chagrin of most Cub fans, few have taken their new teams to the World Series and won it their first year. Keep the faith Cubs fans…it is possible! The last manager to do it was Alex Cora with the Boston Red Sox in 2018. A familiar name to most Cubs fans, Bob Brenly, did it as a freshman manager with the Diamondbacks in 2001. You then have to go back to 1961 to find the next one, Ralph Houk, when he managed the Yankees to the World Championship. In total, only 5 have done it the earliest being in 1924. So, it can be done, albeit rare. An interesting side note here that should keep Cub fans interested is two out of the five have been ex-catchers, Brenly and Houk. That bodes well for Rossy.
Okay, so let's not panic because we have a rookie manager. Ross is no stranger to his new team, and the players are no stranger to him. This should help in the transition stage of Ross' first year. How it equates to wins, we will have to wait and see. It should be interesting to see how Ross utilizes his roster to squeeze the most out of his players. He will be more traditional in his approach than Maddon, who's unorthodox style sometimes paid dividends and sometimes did not. It was fate in 2016. In his other years, it was a 50-50 proposition. Ross has equity with the players since he was one of them only three seasons removed and has stayed close to the team since his retirement from playing.
What mistakes does Rossy have to avoid to be successful this year? For starters, he has to make sure he draws the line between manager and player. As a player, Ross could get away with saying things to other players to get them to perform or stay focused. Kick them in the backside, so to speak. The same rhetoric as a manager may have an opposite effect on his players and demotivate them as they think their manager may be mad at them or think they cannot please their manager. It will be a balancing act for sure. Good thing Ross has already had to pull Jon Lester out of a game, as that would not be pretty if it happened the first time during the regular season.
Secondly, he has to develop and then implement his own management style. He cannot pretend to be Joe Maddon, Theo Epstein, or anyone else. He has to be David Ross, and the sooner the players know who that manager is going to be on the field, the better. I think, as a catcher, he has an advantage in managing the ebbs and flows of the game. He understands the strategy of the game and how to utilize pitchers. I hope it translates well to his players. His take on the game will be different for his roster, and the rate at which they pick up on it will dictate how many games they can win, especially early in the season.
Third, he needs to have the respect of his players. They cannot second guess his decisions and try to overrun him because of his inexperience. I think this will be one area Ross will thrive as he was in the day-to-day battle with a lot of these guys. Again, will that transfer over to the manager/player relationship from the player/player relationship. The level to which he is successful with this can go a long way in getting his players to perform at a high standard throughout a grueling 162 game season.
I am a Dave Ross fan. I liked him as Lester's personal catcher. I like his clubhouse and bench presence as a player. I liked him hitting a home run in his last major league game. I liked him in the TV booth as a color commentator, and I liked him as a special advisor to Theo. I like his being selected as the next Cub manager. So, what could go wrong? Will Ross be the next ex-catcher to take their team to a World Series championship in his managerial debut?
We shall see, as for me, I hope I am still a fan and even like him at the end of this season!