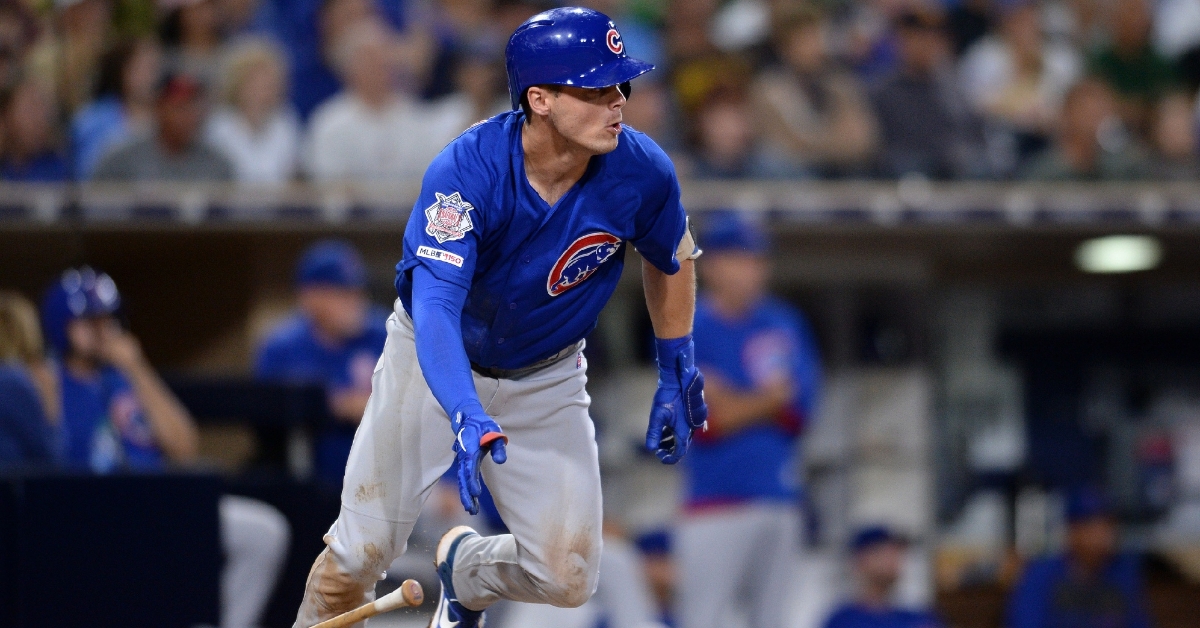 | | |
| --- | --- |
| Chicago Cubs land four in Top 100 Prospect list | |
---
Ever since Theo and company took over this team, they have done nothing but strike gold in terms of positional players. The Cubs drafted well and, for the longest time, landed countless hitters in the top 100 prospect list, with some of them even cracking the top 10 and top 5 at one point. As those hitters continued to develop in the minor leagues, they eventually made the major league roster, and the rest is history.
The problem with having such a fertile farm system at one point was that teams knew they could use that to their advantage when it came to making trades and gutted the Cubs farm system for the past three years. It now appears that the Cubs system is starting to flourish once again, but they continue to produce an abundance of rich and talented bats while the pitching side of things continues to lack. Here is who the Cubs landed in the MLB top 100 prospect list this season.
Saw what you want about the Cubs farm system at this point and being down from recent seasons, but the truth is they are better than what anyone gives them credit for. Not to mention their four top 100 prospects, and that gives them the most top 100 prospects in the division, which is surprising. Leading the way on the list is none other than SS Nico Hoerner.
Drafted in the first-round back in 2018, Hoerner hasn't had much professional experience to this point, playing in a total of 97 games in both the minors and MLB as injuries have shortened each of his first two seasons. Checking in at No.51 on the top 100 list, there is a reason why Hoerner is the top prospect in the organization and why he should play a huge part for this team going forward.
Despite his lack of professional baseball experience, one thing is for sure about Hoerner, and that is the guy can flat out hit. His keen eye at the plate and great bat to ball skills make him the perfect leadoff hitter down the road, and his excellent speed could make him a legitimate 20 plus stolen base player every season. In 75 minor league games last season, Hoerner hit a 292 with three homers and 22 RBI's. Fast forward to his September callup in which he played 20 games on the northside, and you saw Hoerner match his home run total with three to go with 17 RBI's and a 282 average. Let's see if that translates into healthy 2020 on the big-league roster.
Coming in at No. 68 and rapidly rising through the system is the teams new No. 2 prospect and now top pitching prospect Brailyn Marquez. Marquez entered last season with a lot of hype, but was still an unknown as to how good he could be. He is no longer an unknown as the Cubs could be on the verge of developing their first arm under the Theo regime.
Last season saw Marquez put up fantastic numbers as he went 9-5 with a 3.13 ERA in 22 starts. His 50BB and 128K was a bit deceiving as his command got better as the season went on. You can see that after his promotion to Myrtle Beach in which he went 4-1 with a 1.71 in five starts, 7BB and 26K. Add in his zero walk, 14 strikeout performance in one of his final starts for South Bend, and Marquez was on a roll down the stretch.
Not only is Marquez a young 20-year-old left-hander, but he is still growing into his body standing at 6-4 and just 185 pounds right now. Kind of scary to think about what he could turn into if he is throwing triple digits right now. This is precisely the type of arm the Cubs need in the rotation, but could they use him as a Josh Hader type of weapon in the back end of the bullpen. It wouldn't shock me, but for now, look for him to be in the rotation for years to come.
Another fast-rising prospect is the teams No. 3 overall prospect and now No. 2 position player Brennan Davis who checks in at No. 78 in all of baseball. The 20-year outfielder has enjoyed his professional baseball career thus far, which was spend in A ball last season for the Midwest League Champion South bend Cubs. Drafted No. 62 overall in the third round of the 2018 MLB draft, Davis appears to be a steal and a future star.
In just 50 games this season, Davis flashed his true potential despite being plenty raw in every asset of his game. Davis put together an impressive 305 average in his first season fresh out of high school and delivered a team-high eight home runs to go with 30 RBI's. His 18BB and 38K were also good to see, considering he showed excellent contact skills.
Knowing that a pair of hand injuries slowed him down last season, it will be interesting to see what Davis can become with a full season under his belt and more bulk on his frame. Look for him to be ready to contribute to the MLB club by 2022, giving the Cubs an intriguing bat moving forward.
The final top 100 prospect for the Cubs comes in at No. 98 as catcher Miguel Amaya lands in that spot. Once viewed as the team's top prospect just two seasons ago, slower than expected development has sent him down the list a little bit as he now comes in at No. 4 on the team's prospect list. That doesn't mean he is not a good prospect with the potential to be great long term.
In High -A ball last season, Amaya went through plenty of growing pains, but still managed to play in 99 games for the Pelicans. His 235 average was not what the Cubs were hoping to see, but his team-high 11 homers and 57 RBI's continues to be a good sign as he is a better hitter than most catchers his age. His 54bb 69K ratio at the plate also shows a great eye at the plate, which could go a long way in his development as a hitter.
What attracted the Cubs most to him when they signed him back in 2017 was his defensive ability behind the plate. He hasn't disappointed in any of his defensive areas to date, which is something the Cubs hope remains his strong point. He is a better receiver and moves better than most catchers his age do behind the plate. He has also shown the ability to adapt and has learned to frame and block pitches much better, which is becoming essential in today's game.
Add in his keen ability to throw out runners as his arm has gotten stronger each season in the league with a chance for it to become one of the best in the game, and you have a game-changer behind the dish. What makes his arm even look stronger than it is has been his ability to get out of his crouch and release the ball quickly. That makes it harder for any base stealer to grab second base against. Should his offensive skillset continue to evolve, then you are looking at a future star behind the plate in Chicago.
Upgrade Your Account
Unlock premium boards and exclusive features (e.g. ad-free) by upgrading your account today.
Upgrade Now