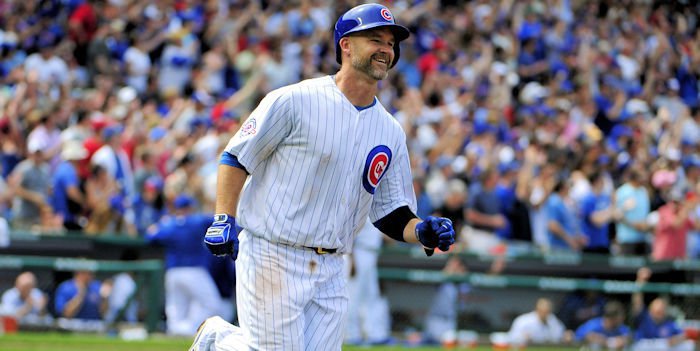 | | |
| --- | --- |
| Commentary: Cubs continue their search in Post-Maddon era | |
---
At this point, it seems like there are more free agent managers than free-agent players, as a ton of teams scramble for their new leader. If you've lost count, Chicago ( Joe Maddon), Pittsburgh (Hurdle), Philly (Kapler), San Diego (Green), San Francisco (Bochy), the Mets (Callaway) and the Angels (Ausmus) are all looking for new help, with each previous manager vying for a job with a new team. It's a mess.
There's really only one team to be concerned with (so far as we are concerned), and that's the Cubs. Theo's office probably has a revolving door at this point, as candidate after candidate comes and goes.
Earlier today, Astros' bench coach, Joe Espada, interviewed for the position vacated by Joe Maddon and the Cubs will also be interviewing former Phillies' manager Gabe Kapler this week (unless a decision is reached by then). Kapler is a bit of a surprise, as he wasn't in the original pool of candidates, but it looks like Theo is exploring all avenues. According to Jesse Rogers (ESPN), Espada and Kapler should be the final two interviews before Theo Epstein is left with a decision.
Theo's choices for a manager did, however, become lighter yesterday, as Carlos Beltran apparently wants to manage the Mets so badly, that he turned down interviews with both the Cubs and Padres. New York (Mets) obviously think highly of Girardi, but it'll be interesting to see when (or if) they may announce Beltran as the new manager. There's certainly no harm in Beltran interviewing with multiple teams to gain leverage, so the fact that he turned down Chicago and San Diego tells me that he may very well be the favorite (and know it) in New York.
By the end of this week, the Cubs will have completed interviews with Gabe Kapler, David Ross, Joe Girardi, Joe Espada, Mark Loretta, and Will Venable – and would have interviewed Beltran, had he not backed out. Plenty of choices and styles there, and some better than others, but no matter who is chosen, fans are going to be divided by the decision.
I don't think Loretta or Venable are even viable candidates at this juncture, and while I felt that Ross was a shoo-in, I'm beginning to question that feeling. Joe Girardi's eight-hour interview can't be discounted, but then again, neither can the casual pictures of Ross and Theo strolling with Starbucks in hand. The one guy who I think could surprise everybody is Espada, as his name continues to get a lot of attention in the media; I also find it interesting that Kapler has also now come into play.
So, what about Girardi? Philly is obviously interested in him, but after an eight-hour interview, it would be nice to know why the Cubs passed on him – if that turns out to be the case. There are a ton of people who think I hate Girardi, but that's not so. He's a phenomenal manager, but as I said before, I can't see his strong will meshing with the players or Theo. It was suggested to me last night that Girardi would be a better look for the Cubs (based on his experience) than Ross would be, but I'm not sure at this point what "look" Theo Epstein wants.
The one thing that I've been preaching for several weeks now is that the MLB trend is to hire younger, less experienced and cheaper managers, which would undoubtedly favor Ross (age 42) and Espada (age 44). Joe Girardi is only 55, but I don't think his age fits the mold if the Cubs do want to trend towards younger players and a younger manager.
Looking at the rest of the field, Kapler is also only 44, but while his sudden emergence into the pool is worth taking note of, the fact that he couldn't get production out of a Phillies' team loaded with talent also seems noteworthy. Mark Loretta is 48, which certainly fits the mold, but he somehow seems too quiet. Once thought to be the frontrunner for the position, Loretta's name appears to have fallen by the wayside when others entered the race. Will Venable is the youngest of the bunch (age 37), but somehow, he just never seemed (at least to me) to be a serious contestant.
We'll probably never know why candidates weren't chosen, leaving fans and the media to speculate. Had Theo offered the job to Girardi and Joe passed, it isn't like Epstein is going to announce the new manager by saying, "Well, we wanted Girardi and couldn't get him, so we chose ____ instead." Nope, I can't see where any of these guys would want to know they were the second choice.
I think at this point that it's a three-horse race, with Ross, Espada, and Girardi, with Ross – much to the dismay of some, still being the frontrunner. I'm not confident that David Ross is the best choice, but I'm sure, at one point, Yankees fans didn't feel very comfortable with Boone either. Many fans think that Rossy being a "friend" to the players may be a hindrance, but so long as he can differentiate work from friendship, it shouldn't be an issue.
Former Cubs' hitting coach, Chili Davis, cited an "inability to connect with millennials," which makes me think the trend toward younger managers (at least in the eyes of the powers that be) should somehow satisfy that issue. It does make sense that a younger manager may be more in tune with the players, but is that a suitable substitute for experience? Only time will tell, should the Cubs choose anybody but Girardi.
It has been an interesting race to watch, but only one of those horses will get to be in the winner's circle. I would think with free agency looming large, Theo would have to make some sort of decision by Monday, if he was to get the Cubs new manager in place and at least somewhat acclimated before the World Series is over.
Stay tuned.