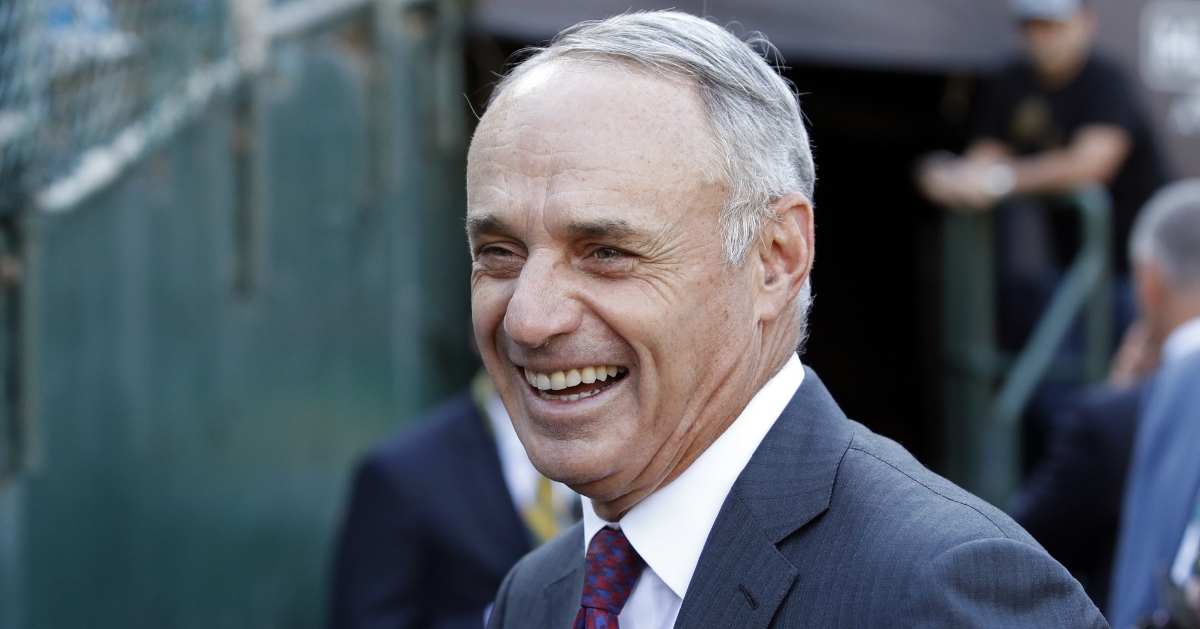 | | |
| --- | --- |
| Commentary: MLB, MLBPA deadlocked in talks | |
---
| | | |
| --- | --- | --- |
| Tuesday, June 16, 2020, 8:33 AM | | |
Union Strong. That's about the best way to encapsulate the latest developments regarding MLB. Just days after union chief, Tony Clark tweeted that the teams were ready to get back to work, "Just tell us when and where…", and after Rob Manfred said, "100 percent," on baseball's return five days ago, MLB has hit what appears to be another brick wall.
In an ESPN interview yesterday, Commissioner Rob Manfred did his best to blame the union for stonewalling MLB's efforts to get the season moving again. Manfred claimed that the players and union were creating unnecessary issues surrounding the topic of player safety in the wake of the COVID-19 pandemic. The union has unequivocally denied this allegation.
Manfred went on to claim that the players were offered the "fully prorated salaries that they asked for," but failed to add that the offer for full proration was based on a fraction of the games that the union and players wanted to play. Then, Manfred used the words himself that no one wanted to hear, claiming the sport to be a disaster at this point.
Major League Baseball Players Association Executive Director Tony Clark today released the following statement: pic.twitter.com/d1p3Oj4K70

— MLBPA Communications (@MLBPA_News) June 13, 2020
"It's just a disaster for our game, absolutely no question about it. It shouldn't be happening, and it's important that we find a way to get past it and get the game back on the field for the benefit of our fans." – Rob Manfred
Major League Baseball Players Association Executive Director Tony Clark today released the following statement: pic.twitter.com/ibyOqB93WC

— MLBPA Communications (@MLBPA_News) June 15, 2020
When asked what percentage he'd place on the likelihood that 2020 will be played after the latest developments, Manfred hesitated. "Paraphrased, Manfred stated that just hours after his 100% prediction fell apart at the seams, he was afraid to attempt to "handicap" the odds again. When pressed, Manfred was asked if he were at all confident a season would occur in 2020. "I'm not confident. I think there's real risk, and as long as there's no dialogue, that real risk is gonna continue," Manfred told ESPN's Mike Greenberg.
The tables have now turned. Just a day after I wrote that players faced potential lawsuits over damages, should they not play, the union has now vowed to file a grievance against MLB.
Source: In a letter today, MLB told the MLBPA there would be no 2020 season unless the players waived any legal claims against the league.

— Bill Shaikin (@BillShaikin) June 15, 2020
There's no doubt that owners and the league will suffer losses this year, but the financial losses occurred will pale in comparison to the long-term damage that will be done, should the sides not come together. When asked when the last time the two sides met face to face, Manfred admitted that it had been a little over a week, acknowledging that there had been email communication since that time. The sides cannot continue to negotiate this obstacle via the media and social media, which is about what it's boiled down to at this point.
No business owner wants to incur losses, but that's part of the risk you take when you own a business. MLB wanted players to share in the losses that the sport has suffered, and they have – to the tune of billions, collectively. The players have now made enough concessions, and it's time the league and owners step up to the plate.
The players aren't asking for extra compensation, nor due they want 'hazard pay' for the risks they're taking by playing. They only want the opportunity to play as many games as possible for the salaries that each was contracted to play for.
Tell us when and where! We are ready!

— Anthony Rizzo (@ARizzo44) June 16, 2020
As of now, MLB is the only US professional sport to have not announced a plan for its return. NASCAR just announced that it plans to allow up to 30,000 fans for the race in Bristol, Tennessee next month, yet MLB and the union can't even formulate a plan to get spring training started again. Truly sad.
The fans are ready to watch us play, the world is ready to watch us play, the coaches are ready to coach, the players are ready to play and I'm ready to play. Put a time and a place; we will all be there. Let's play ball!!!! #When&Where pic.twitter.com/0TPvRuPSw3

— Francisco Lindor (@Lindor12BC) June 15, 2020