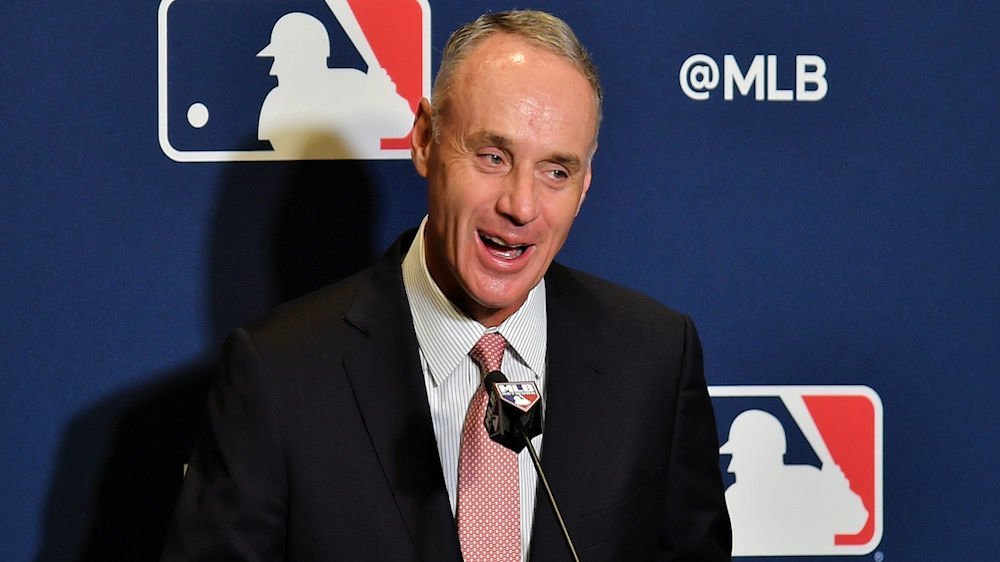 | | |
| --- | --- |
| Commentary: MLB and Union continue to grow further apart | |
---
| | | |
| --- | --- | --- |
| Friday, May 29, 2020, 6:04 PM | | |
Things have gone from bad to worse for MLB this season.
First, the COVID-19 pandemic, and now, what appears to be a labor dispute. In short, MLB has reneged on a deal made with the players in April, now wanting them to play for what amounts to pennies on the dollar. The players are standing firm, but MLB is raising the ante on the stakes.
It seems the more the union refuses to bend, the tougher the teams are making it on the minor league players. You know the old saying, "**it flows downhill."
Most if not close to all players believed — right or wrong — that financial issue was settled with March 26 agreement at prorated basis (meaning salary per game stays same). Owners believe prorated pay was predicated on fans attending. Sides need to resolve different belief. https://t.co/NFfei8TcLo

— Jon Heyman (@JonHeyman) May 28, 2020
Mets, Reds and other teams are releasing minor leaguers today. "Literally a war zone out there," one agent called it. @ByRobertMurray 1st mentioned mets releases

— Jon Heyman (@JonHeyman) May 28, 2020
In addition to the Reds and Mets, the Orioles recently cut 37 minor league players. The Mariners have cut 30-plus guys, and at the current time, their salary is only $400 per week, and that's only if teams wish to pay them, as they had the option to furlough players. The Oakland Athletics have stopped paying their minor leaguers altogether, saving the franchise an estimated $1M to $1.2M.
MLB's latest proposal would slash hundreds of millions from the MLB player payroll as well. Jeff Passan had a breakdown of the salary cuts, then took it a step further to show what the same players would make on a pro-rata salary basis.
Potential salary cuts in MLB plan, sources tell @JesseRogersESPN and me:

Full-year Proposal

$563.5K $262K
$1M $434K
$2M $736K
$5M $1.64M
$10M $2.95M
$15M $4.05M
$20M $5.15M
$25M $6.05M
$30M $6.95M
$35M $7.84M

— Jeff Passan (@JeffPassan) May 26, 2020
Seen another way: 82-game prorated salaries vs. MLB's proposal

Full Proposal
prorated

$285K $262K
$506K $434K
$1.01M $736K
$2.53M $1.64M
$5.06M $2.95M
$7.59M $4.05M
$10.1M $5.15M
$12.7M $6.05M
$15.2M $6.95M
$17.7M $7.84M

— Jeff Passan (@JeffPassan) May 26, 2020
Owning a business will always come with unpleasantries, no matter what that business may be. Losing money – sometimes a lot of it – due to unforeseen circumstances, is all part of that game. If every business were profitable 100% of the time, then just about everybody would own one. To put it another way, this boils down to risk versus reward. The owners aren't offering up extra millions to the players when times are good. Hence, they shouldn't want to take away from the players, any more than necessary, when times are bad.
In addition to demanding their full prorated salaries, players are willing to offer a season of at least 100 games. Granted, that extra 19 games also means being paid for 19 additional games, but it gives MLB that much more of an opportunity to recover some of their losses, even if that means pennies at a time.
MLB's players union plans to respond to #MLB's latest proposal by:

? Insisting players receive their full prorated salaries
? Proposing a schedule of longer than 82 games

More from @Ken_Rosenthal & @EvanDrellich ??https://t.co/EA36MPebF6

— The Athletic MLB (@TheAthleticMLB) May 28, 2020
Even beyond the payroll issues, the union says that the payers and MLB are also still far apart on the issue of health and safety protocols. With empty stands and proper testing of players, coaches, umpires, and TV personnel, the risk of catching the virus would be greatly mitigated. None of that will matter, however, if the sides can't come to terms with the salary issue.
I'll admit, there have been times over the past decades that I thought the players were a little greedy, but this isn't one of them. No matter how safe the league tries to make the playing field, there remains a risk of catching the virus. In addition, every player who takes the field signed a contractual deal to play for "x" amount per game, and they shouldn't be expected to play for a penny less.
The owners knew damn well that there wouldn't be fans in the seats when baseball resumed, yet they agreed (in April) to a deal that would allow full per-game play. If MLB's bean counters and other advisors didn't paint an accurate picture of revenue loss before that deal was made, then shame on them, but the players have been willing to uphold their end of the deal and should be paid accordingly.
I want baseball back as badly as anyone else does, but for now, I'm standing with the player's union on this one.