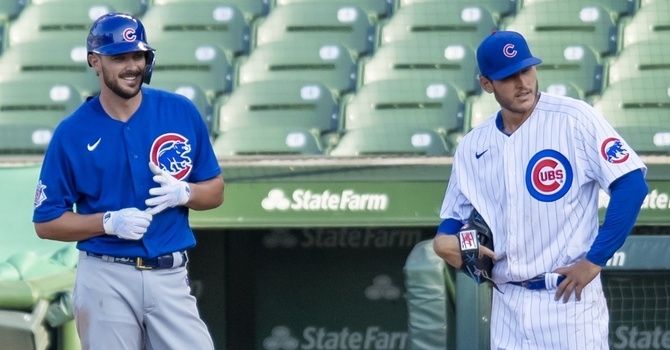 | | |
| --- | --- |
| Commentary: My take on the Cubs' 40-man roster - Infield | |
---
| | | |
| --- | --- | --- |
| Sunday, July 19, 2020, 8:45 AM | | |
Here we are, on the brink of the second attempt to launch baseball in 2020. Baseball (sort of) starts again tomorrow, with the Cubs first preseason game. They'll host the White Sox at Wrigley Field, but the stands will be silent.
As I thought about the Cubs' roster, their strengths, weaknesses, and so on, I decided to give you my player synopsis in bullet points. Whether or not you agree, this is how I see it.
The Infield
Kris Bryant: Bryant has the ability to produce both offensively and defensively for the Cubs. Despite David Ross' plan to use KB at the leadoff spot in the order, I strongly disagree. If he must keep Bryzzo batting back-to-back, then KB needs to be dropped to second, with Anthony Rizzo batting third. Bryant is literally too hit and miss, and he won't likely produce what the Cubs need at the leadoff spot.
It may be all for naught, however, as I think Bryant's name hits the trade rumor mill early in the season. The Cubs need help in other areas (think pitching, pitching, and then more pitching), and KB's trade value may help to secure some of that. Bryant is not likely to re-sign with the Cubs (you can thank his agent and Tom Ricketts for that), so they may as well trade him now, cut future losses, and get what they can get.
Javier Baez: Baez looked good in recent video during scrimmage games, but he must quit chasing those low and outside breaking balls if he's to put up the kind of offensive numbers the Cubs need all season long.
If @javy23baez home runs are your thing: pic.twitter.com/TOl1KQGIQZ

— Chicago Cubs (@Cubs) July 15, 2020
Anthony Rizzo: Rizz trimmed way down this winter, somewhere in the neighborhood of 20-25 pounds; yet his back remains an issue. Rizzo has already spent time off the field this summer, and now an MRI has revealed "rib-head inflammation" on the left side of his back. Thus far, Rizz doesn't think he'll earn a trip to the IL, but he was quoted as saying, "I don't think so. I've been able to manage it before. I'd rather miss a couple of games early if necessary than a big chunk."
When he's played, he looks good, both offensively and defensively, and his bat swing has quickened. The Cubs need their unofficial captain healthy, especially with the shortened 60-game schedule. Rizz was out a total of nine games last year with back issues. If Rizzo does go down, Victor Caratini (more on him later) is waiting in the wings.
Caratini excited about opportunity to play first but knows it's Rizzo's spot

— Mark Gonzales (@MDGonzales) July 18, 2020
Now playing second…: Take your pick as the Cubs now have more second basemen than they do hot dog vendors. Jason Kipnis, Nico Hoerner, Daniel Descalso, David Bote, and possibly even Robel Garcia.
Kipnis was invited to camp and now has now made the roster. A veteran presence is good, but isn't that why they have Descalso? While Danny D hit an astonishing .173 last year, Kipnis was much better, batting .245, but the Cubs would like to see at least .280 out of the second baseman's bat. Kipnis is now 33, Descalso is about to turn 34. Quite frankly, I'm both surprised that they signed Kipnis and that the Cubs didn't just release Descalso, and eat the $2.5M ($925,926.00 adjusted salary).
Then you have David Bote. Bote could take Bryant's slot at third, should KB be dealt this summer, but he can also play a reasonably good defensive game at second. No, he's no Javier Baez or Addison Russel (that ship has long since sailed), but even with average fielding abilities, the Cubs could use his bat in the lineup. Bote needs to quit seeking only the home run pitches and instead focus on putting the ball in play. The kid has power. He has potential.
Ah, Nico Hoerner, the talented shortstop from Stanford. I've been all about this kid since the day the Cubs drafted him (1st round, 24th overall, June 2018), and I'm not changing my view now. Hoerner rose like Phoenix last fall, and all he needs to excel at the MLB level is playing time.
Much like Hoerner, I expected to see some quality appearances from Robel Garcia, when the Cubs swayed him away from playing in Italy. After what looked to be a promising start, Garcia faded fast, with his batting average plummeting to .208 before he was optioned to Triple-A Iowa. Once he hit the roster in Des Moines, Garcia was able to jack his slash line to .284/.369/.586 but continued to fan a bunch with 120 strikeouts in 388 plate appearances (30.93%). Garcia has a ton of potential but needs to learn how to take his walks until he can figure out to hit consistently. He's defensively sound, but oh brother, those plate appearances.
Backstops galore: If the number of second basemen are representative of the number of hot dog vendors, then the Cubs list of catchers mirror a small military platoon.
Willson Contreras is the top-dog and will remain that way – unless… gulp… he gets traded. There has been talk about it, and extension talks have stalled. In the interim, Killer Willy has looked great this spring/summer and continues to make consistently good contact at the plate.
Hurts so good. pic.twitter.com/S2RSYJBJYl

— Chicago Cubs (@Cubs) July 15, 2020
Meanwhile, Victor Caratini continues to mature, both behind the plate and alongside it. Caratini also plays well at first, giving the Cubs another strong option to replace Rizzo if necessary. Caratini will remain a Cub, as he's under team control. With Rizzo's time possibly running short, will he be the first baseman of the future?
Then there's rookie PJ Higgins. The 27-year-old shows potential behind the plate, but like Caratini, he has a bat that can create advantages in clutch situations. Opposite of Higgins, are the veteran backstops Josh Phegley and the recently signed Josh Lobaton, who received a minor league deal with an invite to camp. I'm not even getting into Lobaton, as that move – two days later – still has me scratching my head.
On the other hand, Phegley was impressive during the spring, but I've not seen a ton of footage on him this summer. Despite his previously low offensive numbers, Phegley was making consistent (and hard) contact during Spring Training 1.0.
The Mystery Man: No one has been harder on Ian Happ than I have, but dear Lord, has he improved after his stint in Iowa. Tons of options for Happer, including second and third, though he's probably best suited in center, much to Albert Almora Jr.'s dismay. Happ also gets my vote for leadoff man, as that bat has found unparalleled magic.
Tune in next time(s), as I examine the outfielders, starting rotation and the Cubs' bullpen. Baseball is coming tonight, Cubs Vs. White Sox. Don't miss it!

Tags: Chicago Sports Baseball
,
Kris Bryant
,
David Ross
,
Anthony Rizzo
,
Victor Caratini
,
,
Daniel Descalso
,
David Bote
,
Robel Garcia
,
Willson Contreras
,
Ian Happ
,
Albert Almora