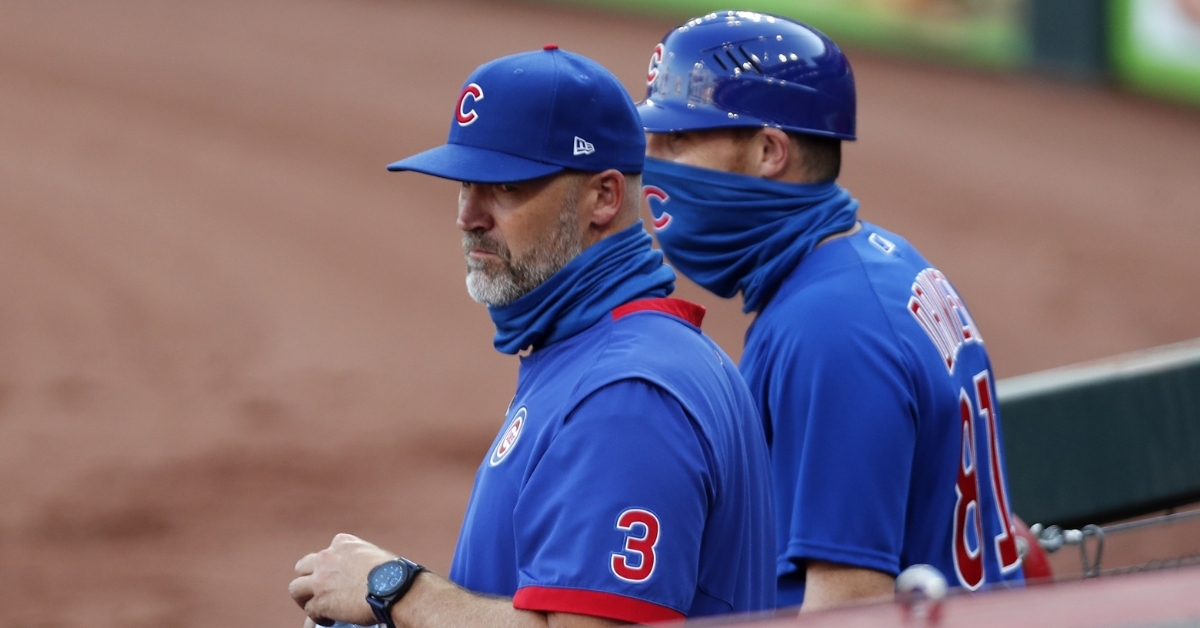 | | |
| --- | --- |
| Commentary: Sizing up the Cubs at the midway point | |
---
| | | |
| --- | --- | --- |
| Wednesday, August 26, 2020, 10:40 AM | | |
I don't know about you, but for me, this whole season has been just wacky. It isn't just the Cubs going kind of back and forth, it's everything. It's the seven-inning doubleheaders, the empty seats, and that ridiculous, automatic runner on second base rule. Much to my surprise, I have come almost to embrace the three batter minimum and the universal DH.
The Cubs got off to fantastic start this season, but suddenly it seems like they're back to earth's atmosphere. After taking a beating from the White Sox this past weekend, they rebounded quickly to beat Detroit handily on Monday, only to get crushed by the Tigers last night.
Now that Chicago's bullpen is finally doing a little better job, it seems as though the starting rotation is faltering, and the offense has been sporadic again. Jon Lester got rocked his last time out, and now Tyler Chatwood has been clobbered twice. Unlike two seasons ago when Chatwood couldn't hit the broadside of a barn with a cannonball, he's putting the ball over the plate these days - and they're crushing it.
I predicted over the winter that the Cubs would be battling for third place with the Milwaukee Brewers, and it's starting to look as though that may be the case, as the Cubs continue to drop toward the .500 mark. At this point, Chicago holds just a three-game lead over the St. Louis Cardinals, and if the Reds can get it figured out, they may create problems as well.
Javier Baez has finally started to heat up, as have Jason Heyward and Willson Contreras, but the flip side is that Anthony Rizzo, Kyle Schwarber, Ian Happ and others have cooled way down. Between the offense, starting rotation, and bullpen, baseball is sort of a three-legged table, unable to stand without each of those legs functioning. For some reason, the Cubs can never seem to get more than two of those legs working at the same time, and it's been that way for three seasons.
What changed? When the season began, the team was on fire. True, the bullpen looked awful, but when you have quality starts about 90% of the time with an on-fire offense, the bullpen doesn't need to get a lot of time. The trade deadline looms, and for the most part, it looks like the Cubs may stand pat.
I did find it interesting that David Ross gave Hernan Perez a start the other day. Was that because maybe they're looking at shopping him, or was it to see if he performed well, which might allow them to shop someone else? The timing of Kris Bryant's IL stint is a bit intriguing as well.
And what about Jose Quintana? He looked good last night, considering his extended, extended break from pitching. The Cubs are heavy with right-handers in the rotation, with only Lester pitching from the south. I had figured Chicago w9ould either trade Q or put him in the bullpen - based on the way Chatwood and Mills had been performing, but who knows what they may do now. Interestingly enough, both Chatwood and Quintana are in their walk years, so the Cubs have some decisions to be made.
The same would hold true for Bryant. If they don't trade him this week, what do they do with him, so far as offense is concerned? Despite a recent slump, Ian Happ has shown that he should be the leadoff man, as stats don't lie. Happ is only one man, however, so unless Anthony Rizzo, Schwarber, Javy, and the rest get heated up again, it's all for naught.
Ross is doing a phenomenal job, in my opinion. The only thing I have really taken issue with is having Bryant continuing to lead off. This team should have never started the way they did this year, but yet they did. Things seemed to be great until that series got canceled with the Cards, and ever since then, it's been a grind. I can't imagine a few extra days off could have hurt Chicago that badly, leading me to wonder if there's been internal talk about impending trades. If so, they've kept it tight-lipped, as I haven't seen anything of any substance - perhaps a plus to not having the media intermingling with the players.
The team (ownership) looks to be content with the hand they have, which isn't surprising when you consider how thrifty Tom Ricketts was this winter. They should be selling, they need to be buying, and yet all is quiet in Wrigleyville. There are only five days left before the trade deadline comes and goes. With the way the team has been of late (5-5 over their last 10), I think Ricketts and Theo Epstein need to start making some calls if the Cubs want any shot at October ball this year.
At this stage, I don't believe the Cubs could get past a lot of teams as they vie for the NLCS title, most of all, Los Angeles. It's time for some changes, as this window is about to slam permanently shut.

Tags: Chicago Sports Baseball
,
Jon Lester
,
Tyler Chatwood
,
Jason Heyward
,
Willson Contreras
,
Anthony Rizzo
,
Kyle Schwarber
,
Ian Happ
,
David Ross
,
Hernan Perez
,
Kris Bryant
,
Jose Quintana
,
Theo Epstein