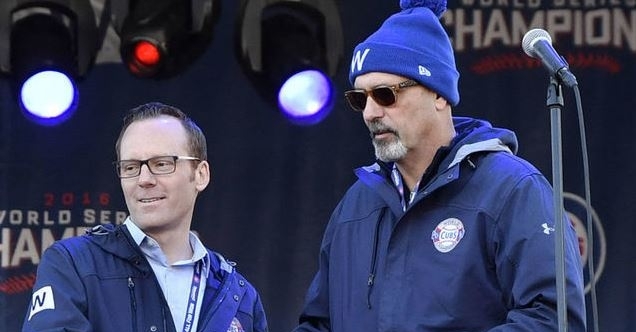 | | |
| --- | --- |
| Commentary: Thanks for the memories Len Kasper | |
---
| | | |
| --- | --- | --- |
| Friday, December 4, 2020, 11:30 AM | | |
Man, the hits keep coming for the Cubs as this has been a rough offseason thus far. A week after Theo Epstein no longer was running things, the Cubs non-tendered some players that played huge roles in the team's success the past six years. Both Kyle Schwarber and Albert Almora are now free agents, along with Ryan Tepera.
Almora wasn't necessarily a surprise, but Schwarber sure, especially when you consider that the Cubs picked up Bryant's 18-million-dollar tender. There was another departure within the organization this week, and this one came as a huge shock. Cubs games are certainly going to look different next season as Len Kasper is leaving Marquee Network for the South Side of all places.
Not only is Kasper leaving the Cubs TV booth but leaving the TV booth altogether as he will be joining the White Sox Radio network. This is undoubtedly a surprising departure considering Kasper was given a contract extension last season to be part of the Marquee Network after working with WGN, NBC Sports Chicago, and ABC 7 for a long-time covering Cubs games.
Kasper joined the Cubs in 2005 and has been a mainstay as the teams play by Play voice the past 16 years. After starting with Bob Brenly in the booth, Kasper has been teaming up with Jim Deshaies, and the duo seemed to have great chemistry. Well, that chemistry no longer will be on display as Kasper will be teaming up with Darrin Jackson in the White Sox radio booth this season. Jackson will be entering his 13 seasons as the radio color analyst and 22nd overall season with the team.
Not only has Kasper been a mainstay in the Cubs play-by-play side of things, but he has been a massive part of the organization since they hired him in 2005. Kasper was the voice of the Cubs, did plenty of events during the season and offseason, ran a podcast, and played huge roles during the Cubs conventions. His voice is one of those voices Cubs fans will have in their heads forever along the lines of both Harry and Chip Carey.
For some reason, many people didn't like it when he called games, but I certainly wasn't one of them. Kasper ranks in my top three in terms of MLB play by play men, but that could be because I am a bit bias. Kasper always had a way to keep fans engaged during a game, even if it was a one-sided affair. Not only did he do a great job of remaining progressive, but his analysis of the sport itself was often spot on.
Perhaps the best thing about listening to his calls is what often goes unnoticed. I loved it when a game was going on, and he would start telling stories about other things that tie into the game itself. Whether from past players or talking about his partners' playing days, Kasper had a way of making the game his own. I also loved it when he read tweets from fans during the game to keep them as actively involved as possible. That was especially important this season when no fans were allowed in the park.
Not only will the Cubs look different both on paper and in the field next season, but they will also sound different when watching. Kasper and his calls will be missed, and they're certainly will never be another announcer like him from an energy side of things.
Replacing Kasper won't be easy, and as much as I hate to say it, J.D. did have a lot of health-related issues this past season, so I wouldn't be as surprised to see him be out in the coming weeks. Don't get me wrong, the two of them made a great team. Still, Kasper had a rotating door of partners on the Marquee Network, and Ryan Dempster, to me, did as good of a job if not better job than almost any color analyst out there.
I am sure there will be many people lining up to interview for Kasper's post in Chicago, and realistically how can they not want to call games full-time at Wrigley. From the crowd to the fans to the tradition, Wrigley is a place that can't be matched. Every former player that has ever played there has said the same thing, and there is just something extra special about Wrigley.
Right now, it appears that Chris Myers is the leading candidate to take over, but we should know more in the coming months. Should he or anyone else get the job, I do expect J.D to stay in the booth at least for this season, but I personally would not be opposed to seeing Dempster transition to the booth full-time. He is a natural for that position.