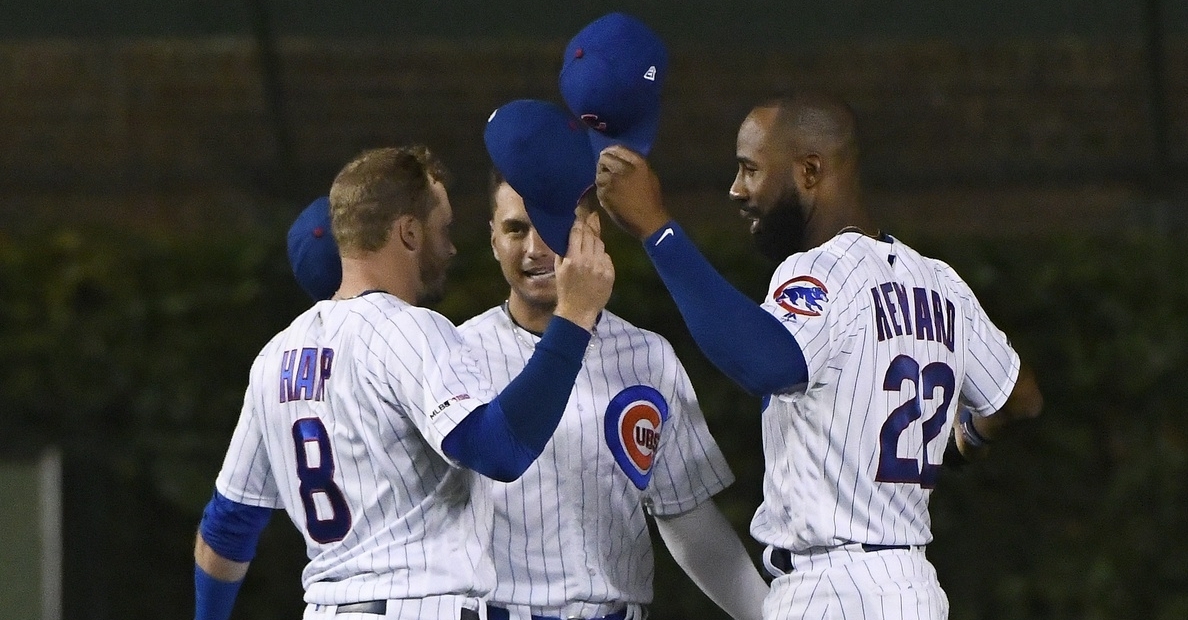 | | |
| --- | --- |
| Commentary: What should Cubs do at center field? | |
---
| | | |
| --- | --- | --- |
| Monday, December 23, 2019, 12:24 PM | | |
In the second installment of this four-part feature, we dive into another one of the Cubs' biggest roster questions going forward, which happens to be the void in center field. Ever since Dexter Fowler left for St. Louis, the Cubs have been looking for not only that spark at the top of the lineup but a stable horse in center that could patrol the outfield long term.
It appeared that the Cubs might have had their man in Albert Almora Jr., as he put together a solid 2018 season despite not being able to hit righties consistently. Looking to improve and run away with the job last season entirely, Almora got off to a decent start, only to see his average, defense, and just overall mental fall off a cliff the final three months of the season to the point where he was demoted to AAA late in the year.
Now with another season less than 100 days away, the Cubs find themselves looking at center field as a position they may need to focus on going forward. As of now, Chicago does have several options for that position and the least likely, but maybe most successful outcome is dependent on one free agent signing. In case you haven't figured it out, Nicholas Castellanos could alter the Cubs offseason plans about what to do with center field.
By now, it is no secret that both Castellanos and the Cubs share a mutual interest of him coming back if the money fits. Should Chicago figure out a way to get that done, Castellanos would move to right field which would push Jason Heyward to center. Ideally, you want Heyward to remain in right field, but given the lack of production the Cubs received from center field last season, this wouldn't be the worst move in the world as Heyward has plenty of experience in center.
Most people don't believe the Cubs will have enough funds to land Castellanos meaning they would have to look within to fill center. If that is the case, get used to the 2017 platoon we saw where both Almora and Ian Happ see significant time in center. Yes, the Cubs would love for either one of them to take the next step and run with the job, but given both have struggled in their own right, it doesn't seem plausible that that will happen at least not right away.
From a defensive standpoint, Almora without question is the best centerfielder on the team, and that alone has kept him in the lineup at times longer than he should have. For his career, Almora has crushed lefties where his average is around 130 points higher than what he hits against righties. From an offensive standpoint, Happ is the way to go as he has 30 homer potential with a more consistent role.
Happ may not hit the cover off the baseball average wise from either side of the plate, but he will hit better against righties, making him a logical shoo-in for right-handed hurlers. I honestly feel this is the route the Cubs will take early next season as they will let both see significant time, hoping one can run away with the job. Almora was the first draft pick of the Theo Epstein regime, so you can bet he will do whatever it takes to keep him on this team.
Let's say neither one of them looks ready to take the next step and be the center fielder of the future, then what happens? Well, insert the possibility of Nico Hoerner, whose name has been discussed for that position. With little to no experience in center, if Hoerner is undoubtedly an option, look for him to see time this spring to impress the Cubs in case this is the decision they need to make. Outside of him, Chicago doesn't have anyone in the minors that would make sense as an everyday player in center field.
Stepping away from the in-house options and moving to the trade market, Whit Merrifield and or Starlin Marte makes some sense, but the price may be too much to nab either of them. That is what makes the Kris Bryant grievance hearing so crucial at this stage in the game. Right now, it looks as if the Braves may be the top target to trade for Bryant. Should this happen, I wouldn't be shocked to see Ender Inciarte packaged in that deal which would give the Cubs not only their center fielder, but a leadoff hitter to boot.
As far as free agent options go, the Cubs have been linked to Japanese center fielder Shogo Akimora for some time, even though it doesn't seem like they are close in terms of money. I thought he would be a great pickup, especially since you could have him for cheap, but it doesn't seem the Cubs agree. Another name that has been coming up recently is former Diamondback CF Steven Souza Jr.
Saddled with injuries the past two seasons that threatened his career, Souza would be a low risk-high reward pickup for the Cubs should he remain healthy. Not only does he bring the same type of defense that Almora brings to the table, but his offensive game is more well rounded as he has turned himself into a very good hitter. This is the type of deal that could be beneficial more than it would hurt the franchise.