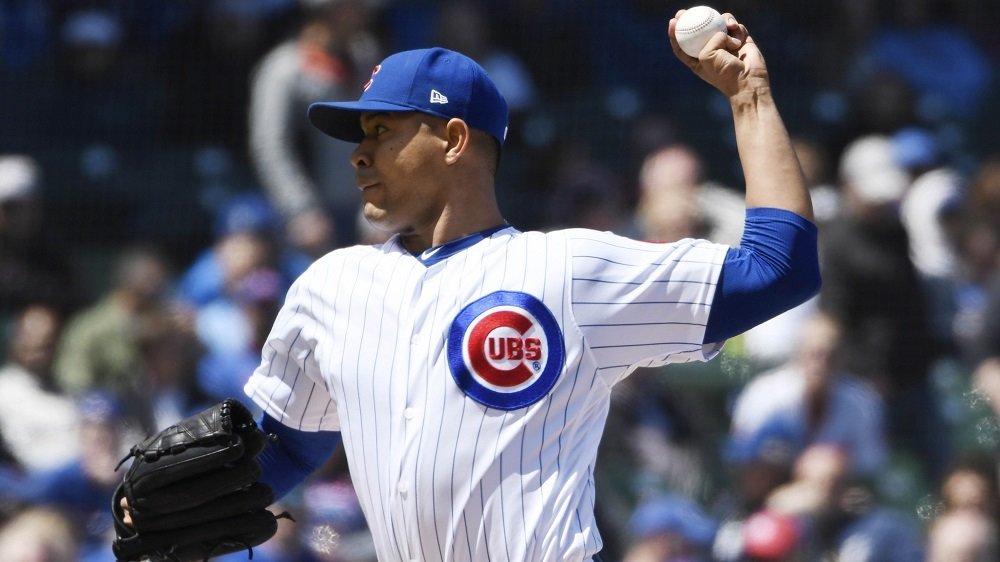 | | |
| --- | --- |
| Commentary: What will the Cubs do with Jose Quintana? | |
---
| | | |
| --- | --- | --- |
| Friday, August 7, 2020, 8:39 AM | | |
I have to admit that I bailed out on the Cubs game last night when the score was nine to nothing early. Since I'm finally over the stomach bug that's had a hold of me for the last week and a half, I figured it was time to sit down and get something written. As I watched Tyler Chatwood struggle last night, I began to think about the return of Jose Quintana.
Yes, Kyle Hendricks had one rough outing, as did Yu Darvish, and now Chatty has had one. That only totals three in 13 games and the Cubs still have one of the best starting rotations in all of Major League Baseball; that is without Jose Quintana being involved. With the trade deadline nearing, one can only wonder if Q may become trade bait.
Quintana is currently in the last year of his deal with Chicago, in short of using him out of the bullpen, I see no use for him in the starting rotation. That is, as long as the current five continue to perform as they have been. The problem is, he has little to no trade value based on a rough last couple of seasons. If the Cubs elected trade Quintana, they won't get much in return, as his ERA over the previous five years with the Cubs sits at an average 4.23, while his WHIP (as a Cub) is running 1.386.
Q was just what the Cubs needed when they acquired him back in 2017, and no, I don't have to remind anyone what the Cubs gave up to get him. I always defined him as quietly solid, although that seems to have slipped by the wayside over the past year. He is a workhorse, though, making 32 starts for Chicago in 2019 well throwing 171 innings. Hia 4.68 ERA leaves a lot to be desired, especially when you compare him to the starting rotation for the team in the 2020 season.
It's no secret that the Cubs bullpen needs some help, and Q (alone) isn't going to fetch any brand name arms that are suddenly going to transform Chicago's bullpen. A package deal, maybe? Only time will tell. Quintana is still relatively young, as he'll only be turning 32 in January, so there is that aspect for potential buyers. For his eight-year career in the majors, he has posted a career ERA of 3.72, while notching a win/loss record of 83-77 (.519).
It may be one of those cases where a change of scenery will do him well, while possibly benefiting Chicago in terms of what they may be able to get back in trade, should they bundle him. After severing a nerve in his pitching thumb a few weeks back, the big question that looms is whether or not he will be able to return to 100%. He has been throwing, and by all accounts is doing well enough to reenter the Cubs starting rotation. I can't see it as long as the current starters continue to do what they've been doing. You know Jon Lester, Kyle Hendricks, and Yu Darvish aren't going anywhere. Alec Mills had been more than impressive, and except for last night, Tyler Chatwood has looked phenomenal. There really is no room for a return to the rotation by Quintana.
I still can't help but think that the Cubs will be dealing at least someone from their core before the month ends, and to be honest, Kris Bryant resonates as the name most likely to be dealt. With Tom Ricketts and Theo Epstein, who knows? Let's face it. Anything could happen at this point. As I've repeated time and time, I don't believe that Bryant will ever sign another contract with the Cubs, you can blame his agent, Scott Boras, for that. Boras is merely doing his job, but he is pricing his ballplayers away from teams that desperately want to hang on to them.
Surprisingly enough, there have been many articles that I've seen regarding potential trade targets, but the ones that I did read recently suggest that neither Kris Bryant nor Francisco Lindor would be traded this August.
If there is any benefit to holding on to Q, it would be that now that Alec Mills and Tyler Chatwood herbal for the starting rotation, the Cubs are a little short as far as a swingman is concerned. Q may very well prove to be a valuable asset out of the pen, especially considering the lack of consistency with nearly everybody out there. Jeremy Jeffress has been strong, Casey Sadler has shown some promise, and I still hold out all the hope in the world for Rowan Wick, Brad Wick, and Kyle Ryan – all of whom are controllable for a while.
Craig Kimbrel? I have no clue anymore. Dirty Craig has struggled since shortly after becoming a Cub, then entered a couple of IL stints and hasn't been the same ever since. The Cubs forked out $43 Million to hang on to Kimbrel until the year 2022, however, this is beginning to appear somewhat like the Brandon Morrow project – the exception being that Morrow was always on the IL. Kimbrel isn't old enough to be considered over the hill yet, put his pitches as of late look more like he's throwing a batting practice session than pitching in a game. At this point, I have no idea what David Ross is supposed to do with him. Kimbrell could have earned a save the other night, and instead, Rossy bypassed him altogether.
The August 31st trade deadline is now only 25 days away. Rumblings are bound to start happening, that I suppose the answers to a lot of questions will be answered within the next few weeks. For right now, though, it looks like the Cubs are playing more like the 2016 team than any team since then. There's little doubt that they would advance very far in a playoff scenario with the current bullpen as it stands, so expect changes to come sooner rather than later.

Tags: Chicago Sports Baseball
,
Tyler Chatwood
,
Jose Quintana
,
Kyle Hendricks
,
Yu Darvish
,
Jon Lester
,
Alec Mills
,
Kris Bryant
,
Jeremy Jeffress
,
Casey Sadler
,
Rowan Wick
,
Kyle Ryan
,
Craig Kimbrel
,
Brandon Morrow
,
David Ross
,
Theo Epstein