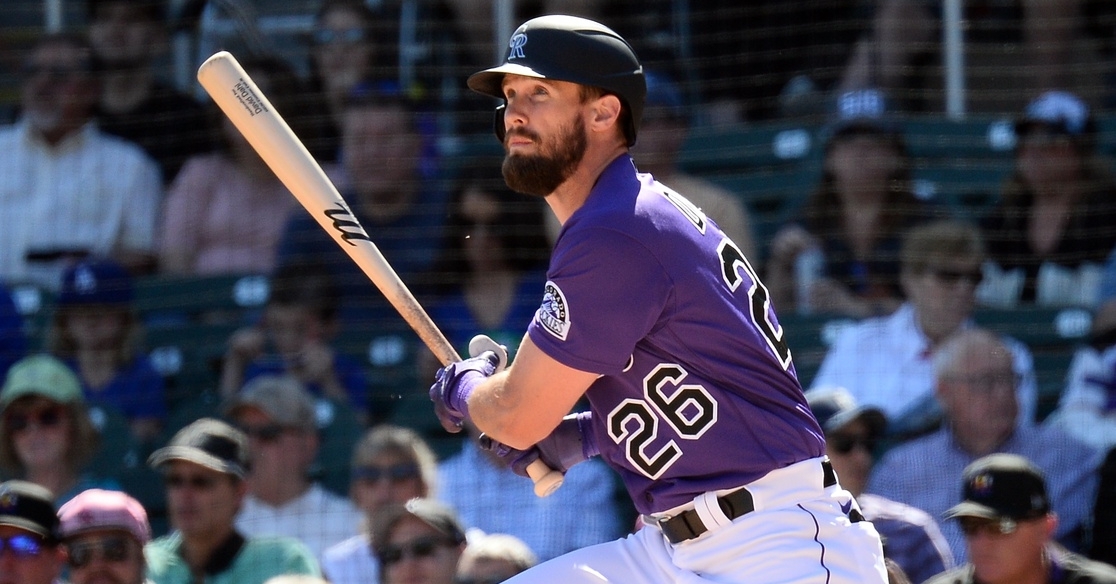 | | |
| --- | --- |
| Could David Dahl be a replacement for Schwarber? | |
---
| | | |
| --- | --- | --- |
| Saturday, December 5, 2020, 10:00 AM | | |
I was surprised when I saw the Cubs electing to let Kyle Schwarber walk this offseason. Sure, he is coming off a down season, but how many stars had a bad year? Given the circumstances that everyone had to deal with this season, I don't think it is fair to judge their performance off of this season.
If you look at Schwarber's body of work over the past seven years with the club, you can see a very inconsistent hitter with max power potential. Taken No. 4 overall in the 2014 MLB draft, Schwarber never lived up to the hype people expected him to have outside the second half of the 2019 season. Still, at eight million dollars, Schwarber was a bargain in terms of what his bat can do when a full season is underway.
The ideal scenario for Schwarber would have been to tender him this season and then potentially trade him for a package down the road but obviously the market was just not there. Now the Cubs are sitting here with the real chance of losing him for nothing. Jed Hoyer did reiterate that there is a chance the sides could reach some deal, but what would a deal look like and for what price since I guess eight million was too steep for them.
For the sake of this column, let's say the Cubs and Schwarber are not able to reunite, leaving a huge hole to fill in left field. Who would some of those potential fits be? Eddie Rosario was listed as one option, as was Cameron Maybin, who isn't an everyday player at this stage in his career. It looks as if another name is hitting the free-agent market, and this player would be the perfect addition to Chicago.
After spending the past four seasons with the Colorado Rockies, outfielder David Dahl is hitting the free-agent market after being non-tendered on Wednesday. Dahl was one of the surprising names to find himself non-tendered, and the Cubs do need outfield help at this point, don't they? That is what seems to make the Dahl a strong fit for this team.
The Cubs and Twins put the most surprising names on the market, but a close third was Dahl. Unlike Schwarber and Rosario, who were scheduled to make between 8-10 million, Dahl was only on the hook for about three million in 2021, which would fit into the Cubs financial strategy. At just 26 years old, there is plenty left in his tank, and many feel he is just starting to come into his own as a player.
2021 was set to be Dahl's second year of arbitration, but he was also under team control through the 2023 season. The Rockies have indicated that the financial side of things is not great within the organization right now, but non-tendering a player set to make just three million with three more years of team control is a shocking decision.
"You're going to find 15-20 teams [that should be interested]. It's a really stunning move."@Mike_Ferrin and @Jim_Duquette break down the #Rockies decision to non-tender David Dahl: pic.twitter.com/g14DglAMbY

— MLB Network Radio on SiriusXM (@MLBNetworkRadio) December 3, 2020
Given the price tag, there has to be a reason why the Rockies didn't retain his services. After all, he is just 26 years old and was taken No. 10 in the 2012 MLB draft. That is only four picks after Albert Almora, who also found himself non-tendered this week. Like many young players, Dahl worked his way up through the Rockies system for four seasons before making his major league debut in 2016. He was a top prospect crushing high-level pitching in his early 20's, which led to the promotion at such a young age.
Those good numbers continued to surface at the major league level, but keep in mind a lot of his success can be attributed to playing at Coors Field most of the year. From 2016-19, Dahl Never hit lower than 273 and posted two seasons with averages above .300. He also hit 38 homers and drove in close to 130 runs while playing mostly a platoon role. He has yet to play more than 100 games in a season.
The best overall season came in 2019 when he played in a career-high 100 games. Dahl hit .302 that season with 15 homers, one shy of a career-high but managed to drive in a career-high 67 runs.
Hoping for a big 2020, Dahl never got going as his averaged fell to .182 with no home runs and just nine RBIs in 24 games.
That is concerning enough when you look at the ballpark he plays in, but when you have a 27% strikeout rate with a 4% walk rate, you can see why the numbers dropped. Dahl has the typical splits you would expect for a left-handed hitter who does hit righties better than lefties. His strikeout rate isn't great, but it is better than the league average. The low walk rate is concerning, so Dahl needs to make up for that by posting a high batting average for balls in play.
Not only does he do that, but Dahl is a line-drive hitter which plays perfectly for windy days at Wrigley. He always is up there in terms of hard contact and possesses some of the lowest soft contact rates in baseball. Dahl is a better overall contact hitter than Schwarber but will never have the on-base percentage or power Schwarber possesses.
The other growing concern is his massive home and road splits, which you would expect from Coors field hitters. Dahl would be a guy you would bring in as a long-term fixture in left field in an ideal world. He may never be a 30 plus homer guy like Schwarber, but he could bring a lot of value to this team. The Cubs need to get more contact-oriented, and if Dahl could hit in the .270s with his line drive approach, that is undoubtedly going in the team contact direction.
At 26, Dahl has a lot of playing time left in the tank, and I am sure someone will give him an everyday role this season. The question is who. If I am the Cubs, Dahl is the perfect player to bring in on a two-year deal for a reasonable price. He is what you could call a place holder and would be the ideal fit to hold down left field until Brennan Davis is ready.