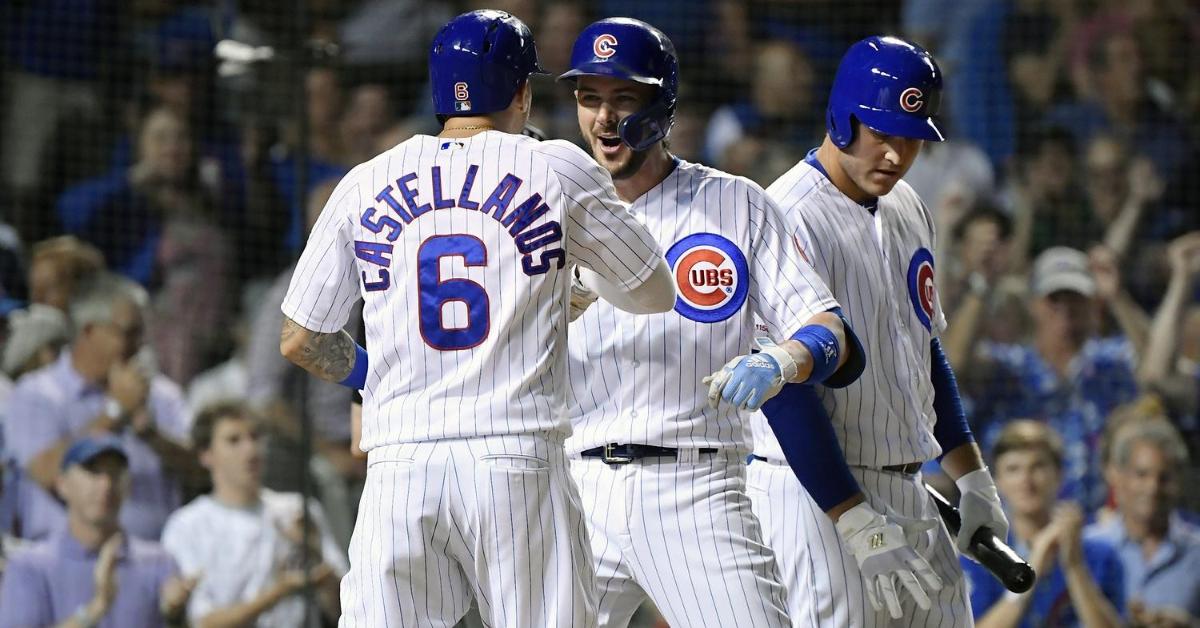 | | |
| --- | --- |
| Cubs News and Notes: Bryant-Castellanos markets, Cubs trade for pitching, No HOF for Sosa | |
---
| | | |
| --- | --- | --- |
| Wednesday, January 22, 2020, 8:21 AM | | |
With a decision on Bryant's grievance expected soon, and Marcell Ozuna now off the board, the markets for KB and Nick Castellanos are about to get flaming hot.
CUBS NEWS AND NOTES
Next Game: Next Game: 32 days – Saturday, February 22, 2020: Athletics vs Cubs (Sloan Park)
Opening Day: 65 days – Thursday, March 26, 2020: Cubs vs Brewers (Miller Park)
Nicholas Castellanos: As we prepare to enter the last week of January, Nicholas Castellanos still hasn't signed with anyone, despite having more than a few suitors. Castellanos may have been partially hindered by Marcell Ozuna, who provided a second option to teams looking for a slugging outfielder, but that option is now off the board, as Ozuna signed with the Braves yesterday.
The #Braves add a big bat https://t.co/TJr1cHAA7y pic.twitter.com/M03db88w1Q

— MLB Trade Rumors (@mlbtraderumors) January 22, 2020
Ozuna will receive $18M – just slightly over the $17.8M qualifying offer that he rejected from the Cardinals in November. I'm sure that the Cards aren't happy, and neither are the Rangers who were also strongly pursuing both him and Castellanos.
The one thing that is likely hindering the Cubs from re-signing Castellanos is a decision on Kris Bryant's grievance. If the Cubs are going attempt to re-sign Nick, they'd better get busy dealing Bryant, or the Rangers are likely to throw down a figure that Castellanos won't turn away from, especially now that he knows what Ozuna was paid.
Is a big trade in the cards for Theo Epstein and the #Cubs before Spring Training starts?

More on their approach to this offseason: https://t.co/Lm96tZqdJ2 pic.twitter.com/YIDYXvKSRZ

— Cubs Talk (@NBCSCubs) January 22, 2020
Along with arthritis, I still feel in my bones that a decision on KB will come within the week, though I have maintained that I thought it would be decided on sometime today. Atlanta is still weak at the hot corner, and the Nationals and Dodgers may also still have an interest.
With Ozuna (and others) already on board, trading for Bryant would potentially make Atlanta insanely powerful at the plate, and more defensively sound in the infield, while allowing them to escape for the cost of what's believed to be Austin Riley and a pair of pitching prospects.
Even with the additions of Ozuna, Cole Hamels, Felix Hernandez, and others, Atlanta's payroll (per Spotrac) is currently sitting at only $158,485,833 before they settle their 17 more of their minor league deals. Even at $1M per prospect – and it won't be near that much – the Braves would be sitting at an average annual salary of just $175.8M, leaving $32.8M before they hit the luxury tax threshold ($208M), which would be plenty of room to accommodate KB.
Is a big trade in the cards for Theo Epstein and the #Cubs before Spring Training starts?

More on their approach to this offseason: https://t.co/Lm96tZqdJ2 pic.twitter.com/YIDYXvKSRZ

— Cubs Talk (@NBCSCubs) January 22, 2020
Stepping away from the possibility of a deal with Atlanta, the Dodgers seem to want KB, but they aren't desperate, as Justin Turner is more than capable of playing third. Los Angeles is rich in prospects – something Epstein wants – and reports have said that L.A. might be willing to slide an aging Turner (age 35) to first base, should they be able to acquire a younger third baseman, such as Bryant.
Not that Theo will make a fire sale out KB, but after trading for what looks to be a young pitching prospect last night (more on that below), Epstein may have a little more wiggle room when it comes to swapping for Bryant.
Cubs trade for pitching: Yesterday afternoon, the Cubs acquired RHP Travis Lakins from Boston; The Red Sox will receive either cash or a player to be named later. Chicago's 40-man roster now stands at 40.
You can click here for the Cubs' press release, otherwise, here are the highlights.
Lakins is a 25-year-old righty who made his MLB debut last season with Boston. For 16 appearances (23.1 innings), Lakins pitched to a 3.86 ERA (10 ER). The righty made 13 relief appearances and served as an "opener" on three occasions – for those that may not know, an "opener" is a reliever who starts a game for an inning or two before the starter comes in. The theory is that you can get more innings out of the starter if he starts by facing the middle or bottom of the order by coming in during the second or third innings.
The #Cubs today acquired RHP Travis Lakins from the Red Sox for a player to be named or cash consideration. pic.twitter.com/vZRj2rxPK9

— Chicago Cubs (@Cubs) January 21, 2020
During his 23.1 innings of work, Lakins managed to fan 18 while striking out ten and limited left-handed batters to a .231 average and a slugging percentage of just .282. Half of his 16 MLB appearances lasted more than one inning.
Lakins spent most of his time at triple-A Pawtucket last year, where he posted worse numbers than he did in the majors. In the minors, Lakins posted a 4.60 ERA (23 ER/45.0 IP) over 40 appearances – all but one in relief – while walking 23, striking out 42 and allowing just four dingers over 201 batters faced.
This continues the Cubs' trend toward restocking the farm system while acquiring a younger look for the roster.
I went back and watched Lakin's first appearance as an opener (September 7, 2019, vs. the Yankees), and let me tell you, this kid shows a bunch of promise. He compiled a 12-pitch first inning (7 strikes, five balls) and finished his day with a 17-pitch second (9 strikes, eight balls). All told, Lakins fanned three, issued no walks, and didn't allow a hit, much less a run. His cutter has good movement, and his four-seam fastball dances at around 95 mph.
In the first, he retired DJ LeMahieu on a two-pitch flyout to center, followed by a five-pitch K to get Aaron Judge on a nasty cutter, then finished the frame with a 5-pitch flyout to get Didi Gregorius. In the second inning, Gary Sanchez fanned on the sixth pitch he saw, chasing a pair of nasty cutters to retire himself after being up in the count 3-1. Edwin Encarnacion lasted six pitches, finally being retired on a loud fly out to Betts in center, then Gleyber Torres fanned on Lakins fifth' offering to him.
I'll eventually go back and watch more of this kid's outings, but I wanted to see him as a starter (opener), as the Cubs will need either a fifth starter or a swingman, should Tyler Chatwood, Alec Mills or Jharel Cotton earn the fifth spot in the rotation.
Hey Chicago, what do you say? @javy23baez and the @Cubs are on the cover of MLB The Show 20 today!
Order NOW: https://t.co/MLsBFufHlg #MLBTheShow #MLBTheShow20 #NewEra #TheShow20 #TheShow @NewEraCap pic.twitter.com/PR0cYgj6mT

— MLB The Show (@MLBTheShow) January 19, 2020
Missed again: Sammy Sosa saw a slight rise in Hall of Fame votes this year, but is still well short of what it takes to be elected to the HOF.
Cubs' Birthdays: Celebrating yesterday were ex-Cubs (48), Mike Krukow (68), and posthumously, Dave Smith (65).
Happy Birthday to @LenKasper the All-Time #Cubs webcast Guess The Attendance Champion! Plus a fantastic dude on top of that

— Mick Gillispie (@BroadcasterMick) January 22, 2020
Baseball Quotes: "Some days you tame the tiger. Sometimes the tiger eats you for lunch." -Tug McGraw
Haywood leads the league in most offensive categories, including nose hair. When this guy sneezes, he looks like a party favor -Major League pic.twitter.com/Mv8AVDHxKh

— Baseball Quotes (@BaseballQuotes1) January 12, 2020
MLB and the Hot Stove
NL Central News:
Brewers: After clearing waivers, the Brewers say that they will hang onto RHP Jake Faria. Milwaukee recently designated him for assignment.
Wrigley North still sounds better. https://t.co/M11cmbYYMZ

— Cubs Talk (@NBCSCubs) January 22, 2020
From the Rest of MLB:
Phillies: The Phils have signed RHP Drew Storen.
Rockies: The contract of Colorado 1B Roberto Ramos has been purchased by the LG Twins of the Korea Baseball Organization (KBO).
Also happening in Denver, things are likely to get ugly if the team doesn't trade Nolan Arenado this winter. I posted earlier that Arenado feels the team has disrespected him, and he's made it clear that he wants out. Jeff Bridich (Rockies GM) came out yesterday and said the team was closing its door to potential suitors for Arenado, after not receiving a worthwhile offer for the star third baseman.
Life in Los Angeles: Some of the politics that go on in California are enough to make anyone laugh, but this one outdoes them all.
Never mind poverty, murders, gang-related shootings, and other atrocious crimes; Los Angeles wants to be given the 2017 and 2018 World Series Championship title. The city has now passed a resolution attempting to do just that.
Approved by LA City Council this morning: A resolution urging MLB to give the Dodgers the 2017 and '18 championships. ... https://t.co/9pb7HnCIRL

— Alden Gonzalez (@Alden_Gonzalez) January 21, 2020
The political think tank in the City of Angels has forgotten just one little detail here – the Dodgers aren't the only ones to have lost to the Astros during those two years, so they weren't the only ones affected by the scandal.
Happy Birthday to @LenKasper the All-Time #Cubs webcast Guess The Attendance Champion! Plus a fantastic dude on top of that

— Mick Gillispie (@BroadcasterMick) January 22, 2020
White Sox: The sox have outrighted RHP Dylan Covey to triple-A Charlotte.