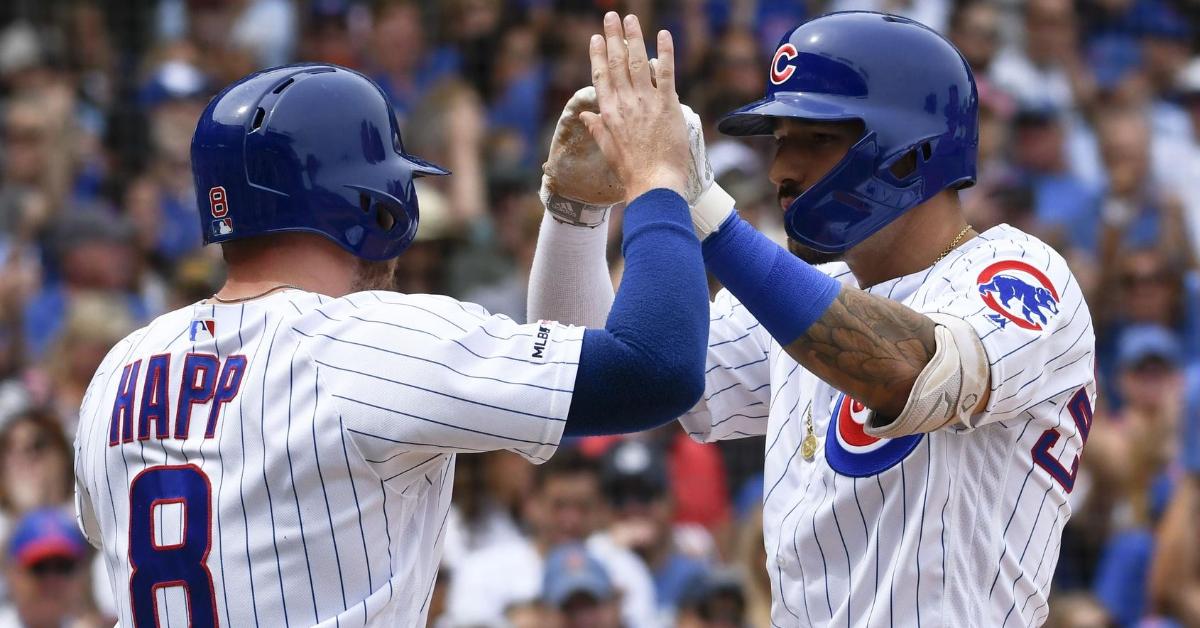 | | |
| --- | --- |
| Cubs News and Notes: Castellanos decides, Stagnate Cubs, Mic'd umps, Hot Stove, more | |
---
CUBS NEWS AND NOTES
Next Game: Next Game: 26 days – Saturday, February 22, 2020: Athletics vs Cubs (Sloan Park)
Opening Day: 60 days – Thursday, March 26, 2020: Cubs vs. Brewers (Miller Park)
Castellanos decides: Well, it was a good ride while it lasted, but Nicholas Castellanos won't be returning to help the Cubs. Just 24 hours after Jon Morosi reported the Cincinnati to be the frontrunner, Castellanos accepted their offer. This is reportedly a four-year deal worth $64M.
Bad enough that the Cubs couldn't swing a deal, but now Castellanos will be playing for a divisional rival in a ballpark that will suit his style. Kind of makes for a double gut punch.
A first-year opt-out gives Nicholas Castellanos quite the palette of choices:

- If he has a monster 2020, he'll opt out at 29 and hit FA jackpot
- Worst-case scenario in the opt out: Gets QO'd at ~$18M for 2021, FA at 30
- Poor year: Doesn't use opt-out, gets his full $64M

— Jeff Passan (@JeffPassan) January 27, 2020
The division gets tougher: For the last few years, the Cubs, Cards, and Brewers have been the top three teams in the division, but the Reds have come out of nowhere this year to build what looks to be an impressive and competitive roster.
#Reds' offseason additions: Castellanos, Moustakas, Akiyama, Miley. First to report that Cincinnati was front-runner for Castellanos: @jonmorosi.

— Ken Rosenthal (@Ken_Rosenthal) January 27, 2020
Don't look for the Reds to be a fourth-place team next season. With the addition of Castellanos, this is now a team that could legitimately contend this year if the pieces all fall into place.
Signing Castellanos and dealing Senzel for a prominent name on the trade market could make the Reds an easy fan-pick for 1st or 2nd in the NL Central (depending on an STL trade).

— Jake Covey (@JCovey18) January 27, 2020
The team made several additions and changes last year, but the roster never seemed to come together enough to win consistently (hmm, sounds familiar). Much like the Cubs, they'd show bursts of power and promise, but couldn't keep things held together for long periods.
They've improved their offense, starting rotation and bullpen, and they may not be done yet. In the wake of the Castellanos signing, the Reds are now reportedly looking for a trade partner so that they can deal CF Nick Senzel out of what's now a very overcrowded outfield (again, sounds very familiar).
In his rookie season, Senzel racked up a .256/.315/.427 slash line, while accumulating a WAR of 0.6. The kid shows a lot of promise, and at age 24, he's got a lot of shelf life, and he's controllable. Senzel is the kind of player that fits the Cubs' new look, but a trade between the Reds and Cubs would be unlikely. But a three-way deal could land him. Not the big name the Cubs wanted, but a substantial addition for someone.
Scooter???: The Cubs may never get Senzel, but new reports have surfaced, which say the Cubs are now showing interest in former Reds' second baseman, Scooter Gennett. After suffering a bad groin injury with the Reds in early 2019, Gennett was dealt to the Giants; SF then released him a month later.
Cubs Reportedly Interested In Scooter Gennett https://t.co/j6yEIUnOoq pic.twitter.com/4ap2e9lC8g

— MLB Trade Rumors (@mlbtraderumors) January 27, 2020
Batting at or above .300 in 2017 and 2018, Gennett never rebounded from his injury, batting only .217 for the Reds last year. A change of scenery didn't help much, as he hit just .234 in SF. Not a good move for the Cubs.
Third base watch: As the Cubs continue to wait on a decision regarding Kris Bryant, the Rockies and their issues with Nolan Arenado issues have gotten even worse. Insiders now say that an Arenado trade is inevitable, but the Cubs remain hogtied until they can deal Bryant.
A Nolan Arenado trade is reportedly "inevitable." https://t.co/jdMwjuG58Q

— 12up (@12upSport) January 27, 2020
Hello? Tom? The Cardinals didn't really gain or lose enough this winter to affect their roster, and the Brewers have rebounded nicely after what looked to be the start of a teardown. The Reds won't settle for the bottom 40% of the division this year, and now the Cubs have remained even more stagnate than anyone could have dreamed.
We're at the point where even video game style trades wouldn't save the offseason. What a terrible winter. pic.twitter.com/PrclR9YusU

— Michael Cerami (@Michael_Cerami) January 27, 2020
I had every bit of confidence that the Cubs could be a second-place team this year, but after losing Brandon Kintzler and now Castellanos, the Cubs may have to claw their way into the top three.
Who will be the Cubs' toughest opponent in the division this year?

— Cubs Talk (@NBCSCubs) January 27, 2020
Mic'd umps: MLB has made another change to the upcoming baseball season, as the umpires will now wear microphones. The idea is to be able to announce to fans and TV viewers whether or not replay reviews were upheld or overturned. They will also be allowed to explain rules when necessary.
The #1 problem w/the DH debate (it's not even close)-those who hate the DH want to puke thinking about it & those who like it think the NL is living in the far past. So having both exist in the same world is the correct resolution. Both sides win something & lose something. Life!

— Len Kasper (@LenKasper) January 27, 2020
Cubs' Birthdays: Celebrating yesterday, were ex-Cubs Jessie Hollins (50), Bob Borkowski (94), Bob Barrett (121), and Otis Clymer (144).
Baseball Quotes: "I used to get made fun of in the minor leagues. I'd be 0 for 2, and then in my last at-bat, I'd hit a chopper that wouldn't even reach the shortstop, and I'd get a hit out of it. The guys would be all over me, but a hit's a hit. I'll take 3,000 of 'em." -Mike Trout
Ahh, Jesus, I like him very much, but He no help with curveball.

Are you trying to say Jesus Christ can't hit a curveball? -Major League pic.twitter.com/Sv0StZy6bE

— Baseball Quotes (@BaseballQuotes1) January 11, 2020
NL Central News:
Brewers: Milwaukee has signed RHP Shelby Miller to a minor league deal.
Pirates: The Pirates have traded Starling Marte to the Diamondbacks in exchange for prospects.
The Starling Marte trade makes sense for the Diamondbacks, and the Pirates got two solid prospects back, writes @keithlaw. But the deal raises questions about what kind of team Pittsburgh will field this year. https://t.co/8nfgLliGmQ

— The Athletic MLB (@TheAthleticMLB) January 27, 2020
MLB and the Hot Stove
With Nicholas Castellanos heading to Cincinnati, Josh Donaldson to Minnesota and Marcell Ozuna to Atlanta, the top free agents are now all signed. The best remaining? Outfielder Yasiel Puig and utilityman Brock Holt.

— Jeff Passan (@JeffPassan) January 27, 2020
With the list now cleared, it's time to put the Hot Stove section oh hold again. I'll still bring you noteworthy trades and news from around the league, though.
With Nick Castellanos now signed, the Top-50 free agents are all off the board. Trades will still occur, but otherwise, Hot Stove is now pic.twitter.com/FbwPhe7UED

— Ken Allison (@KenAllison18) January 28, 2020