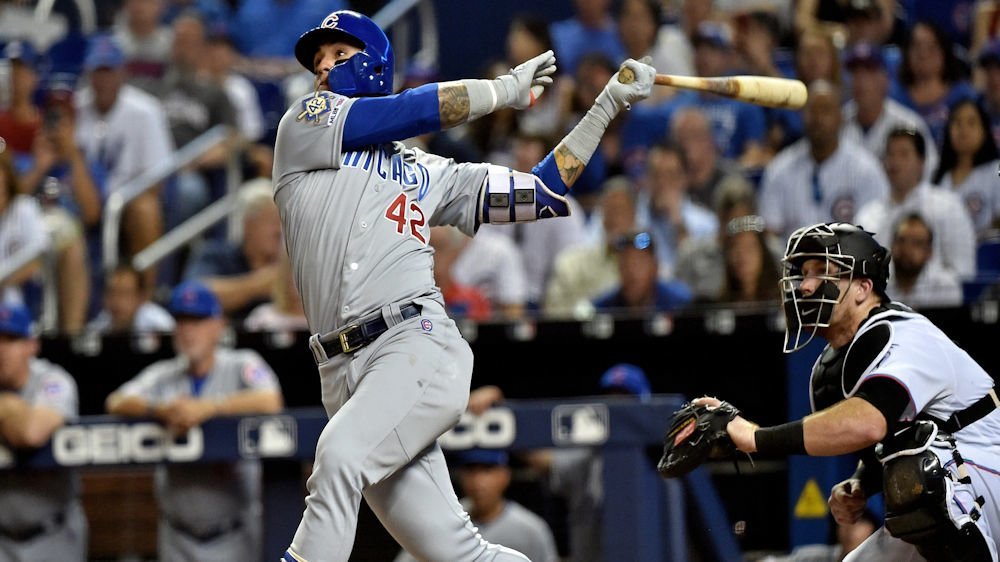 | | |
| --- | --- |
| Cubs News and Notes: Contract renewals, El Mago's birthday, Theo on Hot Stove, more | |
---
Are you recovering from your turkey hangovers?
Hot Stove calendar for December: The non-tender deadline is tomorrow night (December 2nd), followed by the Winter Meetings in San Diego, which will run from December 9th through December 12th. Also, on the agenda for this month, the Rue-5 Draft will occur on December 12th, as the Winter Meetings conclude.
Contract renewal time: After a slow-news holiday weekend, this week will start off with a bang as all 30 teams must either get contracts signed or non-tender players. Several Cubs make the list of those with expired contracts (many of whom will get arbitration), including Javier Baez, Albert Almora Jr., Kris Bryant, Kyle Schwarber, Willson Contreras and Victor Caratini, among others.
For Javier Baez, a long-term extension is still in the works, though the Cubs will probably have to settle for getting a one-year deal in place by the deadline. There's still plenty of winter left, and I think an extension will be in place before the start of spring training, assuming all goes well. For the rest, it'll be business as usual, with one-year deals being signed as the Cubs weed through who'll stay (long-term) and who'll be dealt.
FYI: Happy 27th birthday to El Mago!
Happy 27th Birthday to @javy23baez #EverybodyIn pic.twitter.com/x2NUgbUL5P

— CubsHQ.com (@ChicagoCubsHQ) December 1, 2019
Happy 27th birthday to @javy23baez!

Join us in celebration by sharing your favorite Javy GIFs from 2019. pic.twitter.com/mUJ2OBfb9r

— Chicago Cubs (@Cubs) December 1, 2019
Addison Russell: Monday night will decide Addison Russell's future with the Chicago Cubs, as the non-tender deadline arrives. Without rehashing everything that Russell has been through – most of which he brought upon himself – the Cubs will need to decide if he is worth keeping around; my guess would be "No."
Fortunately, Russell is the only Cub to make the list of suspected non-tender candidates.
Free agent target: The Cubs are said to have interest in Josh Donaldson, but he's going to be expensive, and unless Kris Bryant gets dealt, there really isn't a roster spot for him.
Could Josh Donaldson be returning to the organization that drafted him, this offseason?

More on how that could happen: https://t.co/xbSUa74de2#FAFocus pic.twitter.com/mWPj6yzWdf

— Cubs Talk (@NBCSCubs) November 30, 2019
You can read more about Addison Russell, Josh Donaldson and the Top-25 trade targets of 2019 in my latest
href="https://www.cubshq.com/story/Cubs-Odds-and-Ends-Russells-future-Josh-Donaldson-Top-25-trade-candidates-16172">Odds and Ends article.
"It almost seems like everything has shifted back four to six weeks," [meaning the bigger signings occur after the holidays]. "I think there are several factors that contribute to that. One is that it's a new breed of GMs in the game now, from different backgrounds and different ways of looking at the game, a little more analytical, I think. They're placing a greater value on sort of every dollar and every decision, and wanting to find value in every transaction, as opposed to — and I can speak firsthand [to] this — 15 years ago or so where teams were more apt to fill in holes and didn't care as much about value. There weren't as many methods to discern exactly how much impact you were getting for each dollar. "Now, you can quantify it a lot more. It's made the whole process a little more methodical, I'd say. No doubt, it's tough on players." – Theo Epstein on the Hot Stove
Dealing prospects: According to an article on MLB.com (written by Jim Callis, Mike Rosenbaum, and Jonathan Mayo), Cubs' outfield prospect, Brennen Davis, could be the one prospect that the Cubs would consider dealing this winter.
Davis has potential and swings a mean bat, but despite wanting to hang onto him, the Cubs will need to find pieces to include in trades, so that they can secure the much-needed pitching help that they seek. One prospect isn't going to be enough to do it, though, so Davis would only be the tip of the iceberg if Chicago wants any noteworthy names.
December 1, 2019
Cubs History: I've known for a long time that Ronald Reagan was a man of many talents, but I had no idea that he was ever affiliated with the Cubs.
Ronald Reagan was a WHO Radio Announcer in Des Moines, 1934. As part of his broadcasts, he would call Chicago Cubs and White Sox games. pic.twitter.com/PQ4uIeEzaB

— History Lovers Club (@historylvrsclub) November 29, 2019
And although it's more recent history, who remembers this?
Anyone else thinking about Jon Lester's first career home run today?

No? Just me? pic.twitter.com/NUFaoHoy1V

— Corey Freedman (@CFCubsRelated) November 29, 2019
Cubs' Birthdays Celebrating this weekend, were ex-Cubs Rich Harden (38), Francis Beltran (40), Matt Lawton (48) Howard Johnson (59), Dan McGinn (76), and posthumously, Luis Valbuena (34), Steve Hamilton (85), Ed Mayer (88), Irv Noren (95), Carter Elliott (126), Elmer Koestner (134), Tom Hughes (141), Jake Weimer (146), Frank Killen (149) and Harry "Shadow" Pyle (158).
Let's also not forget Cubs' righty, Alec Mills, who turned 25 and Cubs mental skills coordinator, Bob Tewksbury, who turned 59.
Happy birthday, @ATMills37! pic.twitter.com/BRgEugxK19

— Chicago Cubs (@Cubs) November 30, 2019
Baseball Quotes: "You know, I was once named Minor League Player of the Year... unfortunately, I had been in the majors for two years at the time." -Bob Uecker
Success isn't given, it's earned. You have to want it more than anyone else. -Mike Trout pic.twitter.com/JNEe5kjqKe

— Baseball Quotes (@BaseballQuotes1) November 7, 2019
MLB and the Hot Stove
Yankees: NY is reportedly seeking a (post) Black Friday deal, as they attempt to work a deal for A's reliever, Blake Treinen.
Phillies: The Phillies are shopping the free-agent market this winter. In addition to showing interest in veterans like Cole Hamels, the team has also put out feelers for rookie righty (free agent) Dellin Betances (Yankees). Not that JT Realmuto doesn't have the catching job secured, but Philly is also making inquiries about catcher/1B Austin Romine, most likely to serve as a backup for Realmuto.
Twins: I've always believed that where there's smoke, there's fire, and there's an awful lot of smoke coming out of Minneapolis concerning signing Zack Wheeler. MLB Trade Rumors says that it's only a matter of time before Minnesota makes an opening bid on the Mets' right-handed ace.
Tayler Scott: Former Cubs' draftee, Tayler Scott (5th round, 2011 MLB June Amateur Draft) is packing his bags for Japan. After a failed 2019 campaign, which was split between Baltimore and Seattle, Scott has now signed with the Hiroshima Carp if Japan's Nippon Professional Baseball. Scott, who is expected to serve in middle relief with the Carp, will receive a $525K salary and a $175K signing bonus.
White Sox: The Sox have already been surprising this winter, first by signing Yasmani Grandal, then by extending Jose Abreu, but according to Paul Sullivan of the Chicago Tribune, they may not be done yet.
Upgrade Your Account
Unlock premium boards and exclusive features (e.g. ad-free) by upgrading your account today.
Upgrade Now

Tags: Chicago Sports Baseball
,
,
Albert Almora Jr
,
,
Kyle Schwarber
,
Willson Contreras
,
Victor Caratini
,
Addison Russell
,
,
,
Cole Hamels
,
Theo Epstein