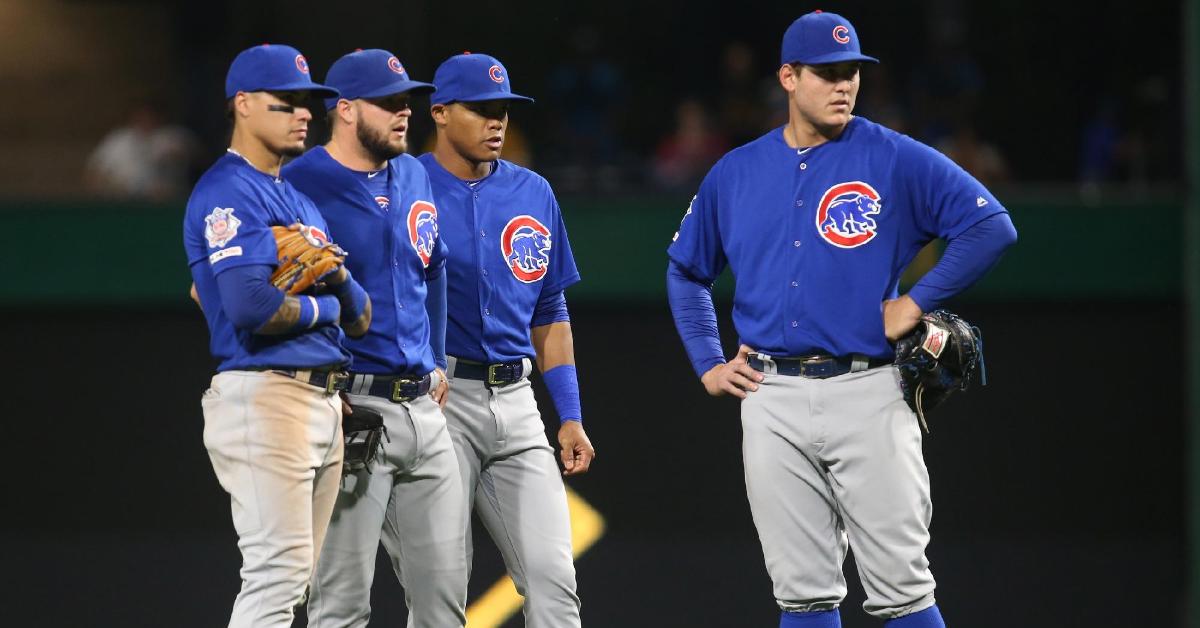 | | |
| --- | --- |
| Cubs News and Notes: Coronavirus and MLB, Marquee Network, Steve Martin, more | |
---
CUBS NEWS AND NOTES
Opening Day: Postponed.
Could teams play in Arizona? We're still a ways from baseball returning in the US, but MLB may have to look for alternative playing locations. Obviously, the big cities and the more densely populated states aren't going to be an option for quite some time.
I did some research this morning concerning coronavirus and which states are being affected the least. Arizona currently ranks 29th out of the 50 states in terms of total cases, and no new cases have been reported in the last 24 hours. In 2019, Arizona had a population of 7.28M, with only 104 cases of the virus reported.
The national average is now 89 cases per million people, or .0089% of the population (sad that it was only one per million less than a week ago). Arizona's current infection rate (104 cases) equates to .0014% of the population in the state, or about 85% less than the national average.
There are plenty of states with lower averages than Arizona, but not many would be equipped to host at least part of an MLB season for 30 teams.
Florida – home of the Grapefruit League – is also well below the national average for cases (763 out of 21.48M residents), but they rank seventh in terms of overall cases in the country.
Any attempt to start the season in a more isolated place would have to include playing in empty stadiums. The players would all need to be tested and would have to undergo a brief isolation period to ensure no one had contracted the disease before it was advanced enough to show up on a test.
Remember when MLB suggested that games could be played in empty stadiums? Here's a look at the Nippon Professional Baseball league doing just that.
Japanese baseball league playing in an empty stadium today.....but what a play by Gerardo Parra. ??

pic.twitter.com/QxFD3Opk2R

— #TodayInSports (@TodayInSports3) March 21, 2020
I'm not sure when baseball returned to action in Japan, but that video is new. Gerardo Parra just went to Japan this season, after spending 11 seasons playing in the US.
Japan currently ranks 23rd in terms of total cases throughout the world (1,054). They're presently dealing with only 783 active cases but have not been tested in general as much as other countries.
If you'd like to track the virus (US or worldwide), this is an excellent site, updated several times a day.
Cubs in 8mm: The Cubs have released another new video on their YouTube channel, this time showing the team in spring training, but in quite a different format. Made to look like an old 8mm movie, the video makes it seem as though baseball has been gone forever but drives home the point that baseball will return.
Marquee Network: For all of the issues with the launch of the Cubs' Marquee Sports Network, there may have been a blessing in disguise. Most of those who wanted access were certainly interested primarily in being able to watch the games, although I was equally as interested in the ancillary programming, documentaries, etcetera.
With baseball at least temporarily canceled, I doubt very seriously that Marquee will be offering any refunds. Still, their distribution issue may have saved more than a few people from spending additional bucks.
With a little luck, Marquee will have more carriers by the time the season does begin, but in the interim, I wouldn't look for full or even partial refunds due to games being canceled. It would seem as though Marquee is providing its subscribers with a lot of content during this troubled time, which may be the next best thing to baseball.
Unfortunately, MLB TV isn't showing historical games, but they do have a video section of short clips from all 30 teams. As a subscriber, I do have the ability to go back and watch any spring training games for the Cubs from this year, and they also carry the entire schedule for all 30 teams from the 2019 season (no blackouts, now that the games have been played). Unfortunately, last year the Cubs didn't have a season that was worth watching again, but I suppose I could always pick and choose from the brighter moments.
Flashback: And to think they intentionally walked Coghlan to be able to face Miguel Montero. Mistake.
Where were you when @miggymont26 hit the biggest home run in Wrigley Field history? pic.twitter.com/0UpzXnzvLZ

— Chicago Cubs (@Cubs) March 22, 2020
MLB Termination pay: "Termination Pay." That's a pretty strange-sounding term when taking about professional baseball players, but that's exactly what the league is issuing right now.
According to a tweet from Bob Nightengale (USA Today), MLB and the players' union have reached an agreement regarding non-roster invitees. Those players will receive 45 days of termination pay, providing that they don't make the team's 40-man roster. "Clubs will have a deadline of 1 day before the anticipated start of the season, and five days before the season on retention bonus decisions." The amount of pay is still unknown.
Travel Ban: I read an article this morning that talked about a possible "political obstacle" once baseball resumes. Jorge Castillo of the LA Times says that with the current travel ban – the result of coronavirus – many of the players who returned home to their countries of origin may find it challenging to get back to the US.
Castillo says that although players were told to stay in the United States, many Latin players – especially minor leaguers – returned to their native countries, not knowing about MiLB's announcement on Thursday that they would support minor league players until April 8th.
South America has become the new hot zone for coronavirus, which may cause players from that area to face even more problems while trying to return to the US.
Comedian Steve Martin playing the banjo:
This. Amazing. Calming. Beautiful. https://t.co/grPnjEIoCK

— Len Kasper (@LenKasper) March 22, 2020
Cubs' Birthdays: Celebrating yesterday, were ex-Cubs Shawon Dunston (57), Bill Plummer (73), Tommy Davis (81), and posthumously, Len Church (78), Owen Friend (93), Jim Hughes (97), John Sullivan (130), and Oscar Bielaski (173).
Baseball Quotes: "As a kid before I could play music, I remember baseball being the one thing that could always make me happy." Country Singer, Garth Brooks
Roberto Clemente could field the ball in New York and throw out a guy in Pennsylvania. -Vin Scully

pic.twitter.com/QNx54xntBe

— Baseball Quotes (@BaseballQuotes1) March 22, 2020