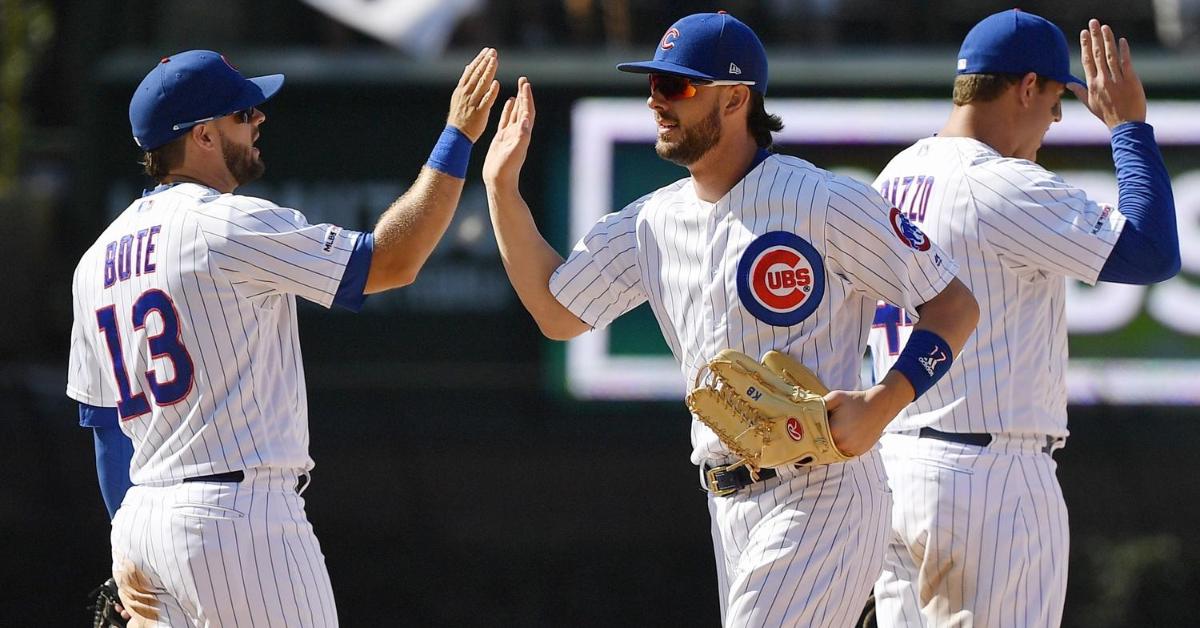 | | |
| --- | --- |
| Cubs News and Notes: Cubs Spring Training roster released, Bryant trade rumors continue | |
---
CUBS NEWS AND NOTES
Next Game: Next Game: 21 days – Saturday, February 22, 2020: Athletics vs Cubs (Sloan Park).
Opening Day: 49 – days – Thursday, March 26, 2020: Cubs vs. Brewers (Miller Park).
Spring training roster: here's your first look at the Cubs' 2020 Spring Training roster:
Here's the Cubs 2020 Spring Training roster... pic.twitter.com/niqVjrS9j9

— Ken Allison (@KenAllison18) February 5, 2020
The Cubs have announced the following non-roster invitees:
The #Cubs have invited 21 non-roster players to Spring Training: pic.twitter.com/4uXxv6uVJr

— Chicago Cubs (@Cubs) February 5, 2020
Guess who made it to Mesa. About that time of the year!!! pic.twitter.com/ZKSPOcq6dW

— Will Skett (@SCHittingZone) February 5, 2020
Trade talk takes off: On the heels of the trade involving Mookie Betts, the Red Sox, Dodgers and Twins, the Kris Bryant trade talk has started heating up again. David Kaplan was reporting yesterday that multiple teams have now contacted the Cubs.
"With Betts now traded I have confirmed multiple NL teams have contacted Cubs about Bryant offering packages of prospects/young players," Kaplan posted on Twitter. "Unsure if a deal gets done before Opening Day. If one doesn't, Cubs probably hang on to him until July trade deadline." – David Kaplan
Is this going to be another false alarm, or will Theo Epstein finally get the offer he needs to pull the trigger? In his most recent podcast, Kaplan says of the Cubs' mindset, "They feel like, 'We have got to get a justifiable haul back to make the trade.' But some of the people that I get to talk to in the game say '[Bryant is a] good player. You want what for him? And we're supposed to take on all $43 million of his arbitration awards for the next two years? No, not going to happen.'"
Kaplan goes on to say, "Some of these guys on other teams are telling me 'Hey, we like Kris, but he's not the violent, offensive impact guy he was in 2015 and '16. Yeah, we're good. If you want to trade him, we'll make you a fair deal. If you think you're going to get a haul that will restart your organization, not going to happen.'"
The Cubs appear ready and willing to trade Bryant, for whatever reason you choose to believe. As Kaplan pointed out, teams are interested, but they aren't going to leverage the farm for a third baseman who – like it or not – hasn't been able to put up the same kind of offensive numbers he did in 2016. Far be it for me to give Epstein business advice, but he seems to be forgetting one basic premise: Something is only worth what someone is willing to give for it.
The Cubs don't have to trade Bryant right now, but I do think it would behoove them. His trade value is only going down from here (based on controllable time), and unless he decides to start hitting .325, it'll only continue to decrease. Epstein's mission seems clear; break up a core that hasn't performed well together for the last two years, while restocking the farm system for his successor. Thus far, he's done neither.
Number swap: Now that David Ross has claimed jersey #3, Daniel Descalso has taken on #33. (I, really, really thought they'd have gotten rid of him.) Craig Kimbrel now has #46 again, now that Pedro Strop is gone, and Jeremy Jeffress will now take over #24, worn by Kimbrel last year. Are you writing all of this down?
For the number nerds out there, here are the uniform numbers for players rostered by Cubs this offseason:

20 Rea
21 Souza
24 Jeffress
29 Megill
43 Winkler
45 Cotton
52 Tepera
65 Sadler
72 Miller
75 Amaya
76 Short
77 Rodriguez

— Jordan Bastian (@MLBastian) February 5, 2020
Cubs' Birthdays: Celebrating yesterday, were ex-Cubs Mark Zagunis (27), Lee Thomas (84), and posthumously, Roberto Rodríguez (79), Don Hoak (92), Dewey Williams (104), Max Flack (130), and Harry Smith (164).
Baseball Quotes: "I don't know whether you know it, but baseball's appeal is decimal points. No other sport relies as totally on continuity, statistics, the orderliness of these. Baseball fans pay more attention to numbers than CPAs." -Jim Murray
Lenny Randle once blew a ball foul! Talk about creativity! ???? pic.twitter.com/tWTcttbB6X

— Baseball Quotes (@BaseballQuotes1) January 28, 2020
MLB News and Notes:
Reds: The Reds have announced their one-year/$1.825 deal with Pedro Strop. To make room, they've designated RHP Sal Romano for assignment.
Yankees: The Yanks are starting early for their IL bids. LHP James Paxton will be out, following back surgery. Yesterday, Paxton underwent a microscopic lumbar discectomy with the removal of a peridiscal cyst. Dr. Andrew Dossett performed the surgery in Dallas, Texas. His approximate timeline to return to Major League action is 3-4 months.
Braves: Atlanta has won their arbitration case against righty reliever Shane Greene. He'll now earn the $6.25MM salary figure submitted by the Braves rather than the $6.75MM salary for which he filed. (OK, so there's $500k more than they can pay Kris Bryant.)
Upgrade Your Account
Unlock premium boards and exclusive features (e.g. ad-free) by upgrading your account today.
Upgrade Now