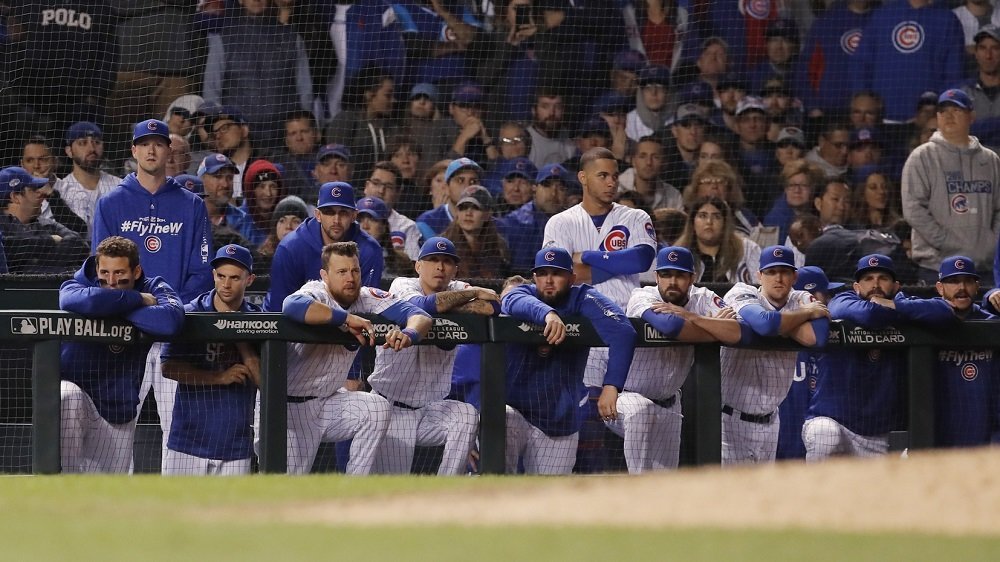 | | |
| --- | --- |
| Cubs News and Notes: Cubs Week 1 Preview, Cubs sign catcher, Quintana on the mend, more | |
---
| | | |
| --- | --- | --- |
| Thursday, July 16, 2020, 6:03 PM | | |
CUBS NEWS AND NOTES
Countdown to Baseball: This is it, the weekend of Opening Day – well, at least as far as exhibition games are concerned. The Cubs will host the White Sox on Sunday night (7:05 Central) for the first three exhibition games. On Monday, the two teams will square off again at U.S. Cellular Field (7:10 PM Central), then after an off day on Tuesday, the Cubs will welcome the Twins on Wednesday, the 22nd at 6:05 PM Central.
The Cubs will enjoy one more off day on Thursday the 23rd, then the 60-game grind starts on Thursday the 24th, as the Cubs host the Brewers for a three-game set. From there, it's off to Great American Ballpark for a four-game set with the Reds, who honestly look to be in a position to challenge for the N.L. Central pennant this season.
Get ready @Cubs fans... pic.twitter.com/ys4uFRJEzD

— Ken Allison (@KenAllison18) July 16, 2020
Following the Cincinnati series, the Cubs will then return to Wrigley to host the Pirates, led by new manager Derek Shelton, for a three-game set. By the time that series concludes, the Cubs will have already played 10 of their 50 games against divisional opponents (20%).
Week-1 around the N.L. Central: As I said, the Reds will be a team to look out for this season, and the fact that they always play the Cubs hard will make things interesting. Before hosting the Cubs, the Reds will open at home with three against the Tigers, followed by a trip to Detroit for three more, before heading to Cleveland to square off against the Cleveland "whatever they're called now." The Tigers didn't improve much this winter and spring, so the Reds have a shot at stacking up some quick wins.
Meanwhile, the Cardinals should also likely show some strength. They are now without Jordan Hicks (opt-out) and John Brebbia (Tommy John surgery on 6/24), but they didn't need much improvement from last year. Even without Marcell Ozuna and Jose Martinez, who've left the team, Harrison Bader, Dexter Fowler, Tommy Edman, and Tyler O'Neil should be able to step up.
John Brebbia will start on IL because he had Tommy John surgery this past month, in May. Had it in St. Louis. #Cardinals confirmed to media on Zoom conference call.

— Derrick S. Goold (@dgoold) June 24, 2020
The Redbirds' infield is stacked, boasting Paul Goldschmidt, Paul DeJong, Matt Carpenter, Kolten Wong, while Yadier Molina and Matt Wieters will man the catcher's position.
The Card will start with a three-game homestand against the Pirates, followed by a pair of games in Minnesota and then a three-game set in Milwaukee.
Finally, the Brewers (yes, I know, I didn't cover the Pirates, but they're of no concern). Milwaukee has the three at Wrigley, the travels to PNC Park for three against the Bucs, before heading back home to face the Cards.
The Brewers seemed to stay neutral this season, scrapping a ton of players (including Mike Moustakas, who's now with the Reds), but then added a few key elements, including pitcher Eric Lauer, as well as catcher Omar Narvaez. I think the Crew finishes in the third to fourth place range this season.
Then there's this… Christian Yelich booed by a virtual crowd… Listen to his reaction…
July 16, 2020
The standings in the N.L. Central, as well as other divisions, are going to change by the minute, but after the first couple of weeks, I'd almost suggest that you'll see some wide gaps open up, separating the wheat from the chaff.
Cubs add catcher: OK, this move baffles me beyond all belief. Yesterday, the Cubs signed free agent catcher, Jose Lobaton. With Willson Contreras, Victor Caratini, Josh Phegley, and PJ Higgins, I have no idea what possessed them to add a fifth backstop.
Cubs Sign Jose Lobaton https://t.co/qeXx6CTfDI pic.twitter.com/H73orFTiSd

— MLB Trade Rumors (@mlbtraderumors) July 16, 2020
According to multiple reports, the Cubs latched onto Lobaton yesterday. He was inked to a minor league deal but will be added to the summer camp roster. Lobaton is now 35 years old, relatively ancient by catcher standards, and wasn't ever much of an offensive threat, slashing a career .215/.293/.319 during his few stints in the majors.
Last year, Lobaton went from being a part of the Mariners organization to playing for the Dodgers, but never appeared at the Major League level. Recently released by L.A., Lobaton posted a .236/.310/.427 slash line with 14 home runs over 374 PA in Triple-A ball a year ago. He is a switch hitter, but even if he were to improve drastically, he still seems miles behind the rest of the Cubs backstops. Possible acquisition to be used as trade bait? Maybe but probably just depth at the minor league level.
Q making progress: After a recheck on his lacerated then surgically repaired left thumb, Jose Quintana is progressing well according to reports.
"Jose Quintana's checkup went well, his stitches came out, and he'll start tossing tomorrow, via N.L. sources," MLB insider Jon Heyman posted on Wednesday. "Team will know more once he ramps up. Quintana suffered the cut thumb injury washing his dishes, specifically his wine glasses."
Cubs' Birthdays: Chris Denorfia (40) and posthumously, Bob Will (89), Bruce Edwards (97), and Eugene "Bubbles" Hargrave (128).
Baseball Quotes: "One of the beautiful things about baseball is the history." - James Anthony Abbott
Bo Jackson was a STRONG man ???? pic.twitter.com/7uzm8KL5Lq

— Baseball Quotes (@BaseballQuotes1) April 11, 2020
MLB NEWS AND NOTES
No scouts: According to Ken Rosenthal, MLB has determined that scouts will not initially be allowed in stadiums. The plan is to steadily integrate them after 2020 regular season games begin.
Major League Baseball has decided not to allow scouts in ballparks initially, but will revisit the policy after games start, sources tell The Athletic.

— Ken Rosenthal (@Ken_Rosenthal) July 16, 2020
This becomes important, as the trade deadline – moved from July 31st to August 31st this year – is quickly approaching (45 days). Players can trade anytime between now and then, so look for rumors to start flowing and maybe even some swaps to occur soon.