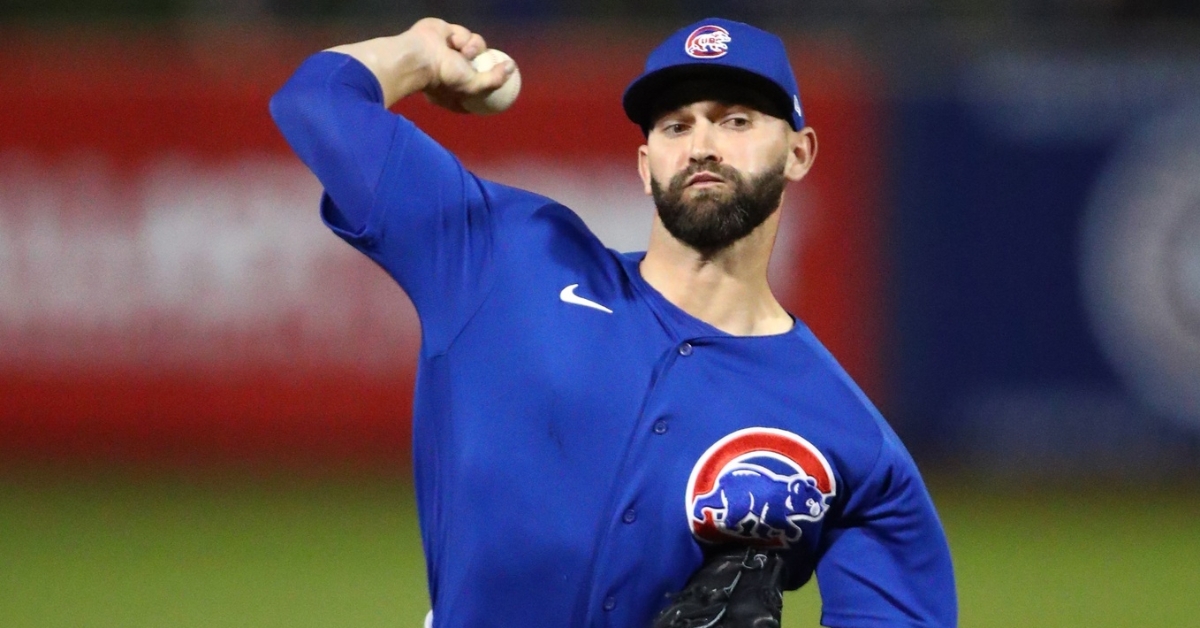 | | |
| --- | --- |
| Cubs News and Notes: Cubs demolish Giants, The 26th man mystery for Cubs, KB's defense | |
---
| | | |
| --- | --- | --- |
| Wednesday, March 11, 2020, 11:40 AM | | |
CUBS NEWS AND NOTES
Next Game: Tonight, 8:05 PM: Padres @ Cubs from Sloan Park.
Opening Day: 15 days- Thursday, March 26, 2020: Cubs vs. Brewers (Miller Park).
Tuesday's Game Recap: After a day off on Monday, the Cubs (6-12-1) resumed action yesterday afternoon, visiting the Giants (8-8) at Scottsdale Stadium. Chicago, behind another great performance by Tyler Chatwood, compiled a 16-run effort, demolishing San Francisco by a final of 16-3.
Of the Cubs starters (all regulars), only Kyle Schwarber was left without a hit, while Wilson Contreras went 3 for 3 with a blast, and Javy Baez went 3 for 4 with a monster homerun of his own. All told, Chicago tallied 21 hits in their all-out blitz.
Willy ??

Where does he rank amongst all-time #Cubs catchers? https://t.co/HDERTNL5lt pic.twitter.com/1rki5FTF8i

— Marquee Sports Network (@WatchMarquee) March 10, 2020
Singles and doubles and dingers, oh my! pic.twitter.com/RzjUlwQXMB

— Chicago Cubs (@Cubs) March 10, 2020
The 26th man: According to an NBC Sports Chicago article, Chicago is strongly considering promoting Josh Phegley as their 26th man. While I originally thought there'd be no way they'd carry a third catcher all year, Tim Stebbins' article makes sense.
By carrying Phegley, the Cubs could utilize Caratini's bat in pinch-hitting situations, without depleting the roster of catchers, should Contreras need to come out. Caratini will probably continue to catch Yu Darvish each start, as well as serving as the team's backup first baseman if Anthony Rizzo needs rest or becomes injured. Obviously, Caratini would also get spot starts to ensure Contreras's legs stay healthy as well.
Caratini was a quiet beast at the plate last year, slashing .266/.348/.447 with 11 homers and a 108 wRC+ in 95 games (total 59 starts). While those numbers may not seem stellar, consider for a minute that as a pinch-hitter, he went 8 for 19 (.421) with 11 RBIs.
So far as Phegley is concerned, he's never been an overly solid hitter, posting a lifetime MLB slash line (7 seasons) of just .227/.269/.383 with a .652 OPS. He has, however, had a dynamite spring, slashing .350/.381/.700 with a 1.081 OPS. Phegley has gone 7 for 20 this spring, but included in those seven hits are a pair of doubles and as many homers ( 5 RBI). Phegley has made consistently good contact, striking out only twice (10% strikeout rate), while drawing no walks and taking one base as the result of an HBP.
Fans have mixed opinions on who'll get that final spot on the roster, but Phegley and Ian Miller seem to pique my interest the most. The Cubs' outfield is packed, but by adding miller, David Ross could have an all left-handed outfield vs. righties (Kyle Schwarber, Miller, Ian Happ, or Jason Heyward), while also being able to platoon an all right-handed batting outfield (Albert Almora Jr. Happ, Steven Souza Jr.) against left-handers.
"He's an exciting player."

Ian Miller's red-hot spring has placed him on the #Cubs radar. https://t.co/mcjwrD6aSE pic.twitter.com/4ig8O2Rzqy

— Marquee Sports Network (@WatchMarquee) March 11, 2020
Bryant's defense: Mark Simon, formerly of ESPN/MLB, says of Kris Bryant's defense, "I don't want to call anybody mediocre, but He's below average." I know some of the readers will hate me, but I've been saying this for about two years now. Bryant has made some stellar plays – that I will never deny – but he's not that "great" defensively.
During his MLB career (five seasons), Bryant has logged 4930.1 innings at third base. He's committed a total of 70 errors at the hot corner in 1422 chances, giving him an error rate of 4.9%. Nolan Arenado has logged seven MLB seasons, logging 8807.2 innings while committing 88 errors (2.86% error rate). Josh Donaldson has logged nine seasons, carrying an error rate of 4.23% as a third baseman, and Anthony Rendon (seven seasons) has earned himself an error rate of 2.9%.
Looking at the Cubs only, David Bote has logged 808 innings at third with a 5.9% error rate, Javier Baez has a 4.9% error rate at the hot corner (629.1 innings), and Happ has logged three errors at third (184 innings) for a 4.88% error rate. Cubs' hopeful Hernan Perez has logged 1241 innings at third, committing 17 errors in 387 chances (4.39% error rate).
Despite Bryant's past MVP and All-Star statuses, he's not emerged as a stellar defender over the last five seasons.
I still think that barring some miraculous record, the Cubs will look to deal him in July.
Cubs' Birthdays: Celebrating yesterday were ex-Cubs Donnie Murphy (37), Darcy Fast (73), Joe Campbell (76), Bill Heath (81), and posthumously, Gene DeMontreville (147) and Ed Lytle (158).
Baseball Quotes: "I am convinced that God wanted me to be a baseball player." - Roberto Clemente
Baseball is dull only to dull minds. -Red Barber pic.twitter.com/8Hs44PFsZu

— Baseball Quotes (@BaseballQuotes1) March 9, 2020

Tags: Chicago Sports Baseball
,
Tyler Chatwood
,
Kyle Schwarber
,
Javy Baez
,
Yu Darvish
,
Anthony Rizzo
,
Ian Miller
,
David Ross
,
Ian Happ
,
Jason Heyward
,
Albert Almora
,
Kris Bryant
,
David Bote
,
Hernan Perez