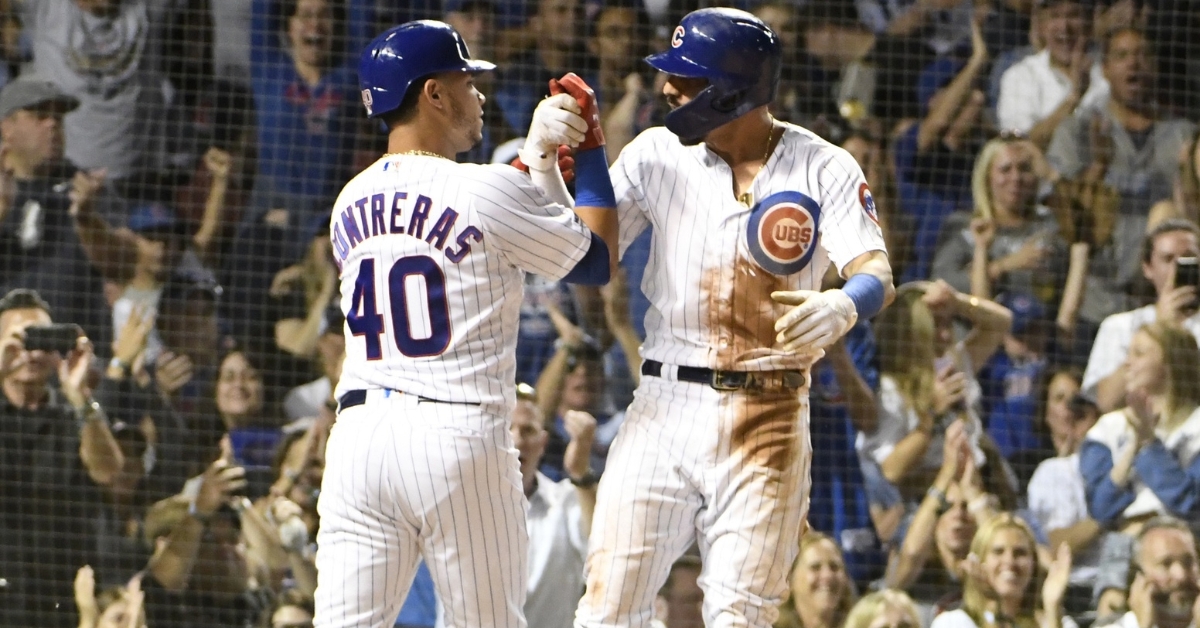 | | |
| --- | --- |
| Cubs News and Notes: Cubs fall in extras, Russell to IL, Kyle Boddy, Rizzo's ride, more | |
---
| | | |
| --- | --- | --- |
| Thursday, September 19, 2019, 9:40 AM | | |
Next Game: Thursday: RHP Kyle Hendricks (11-9, 3.26 ERA) vs RHP Jack Flaherty (10-8, 3.05 ERA). Game information: 6:15 PM CDT; Televised on FOX.
Wednesday's Game Recap:
The Cubs entered play last night with the what must have seemed, the weight of the world on their shoulders. The Brewers caught up to Chicago again on Tuesday, and the Cardinals had beaten Washington hours before the Cubs ever took the field last night for their finale against Cincinnati. Before the end of the Cubs game, the Brewers fell to San Diego, leaving the Cubs a chance to make some progress.
Jon Lester and Tyler Mahle battled for three innings before the Reds hit pay dirt with a Eugenio Suarez home run in the fourth, putting the Reds up 1-0. At this point, Mahle had a no-hitter intact.
The Cubs would pull even in the fourth beginning with Nicholas Castellanos' 56th double, which ended with a Javy-esque slide. The Reds had him dead to rights, but a little swim move allowed Castellanos to avoid the tag being applied by Blandino. Castellanos took third on a wild pitch, delivered to Kris Bryant, then scored on Kyle Schwarber's sac-fly to the right. Aquino rocketed the ball home, and there would be a play at the plate, but Aquino's throw was a little off, and Castellanos was able to avoid another tag- this time from Casali. Game tied 1-1.
Who's got two thumbs, likes hitting doubles and hates getting tagged out? pic.twitter.com/HjXTQxgs6v

— Chicago Cubs (@Cubs) September 19, 2019
Lester would last five innings, Mahle would go six innings allowing just one hit. The teams would stay deadlocked at 1-1 until the seventh when the Reds took their second lead. Pedro Strop would give up two hits before Joe Maddon yanked him, but the table was already set for Cincinnati. Kyle Ryan would finish the inning, but a sac-fly would score the go-ahead run (charged to Strop). Reds lead 2-1.
The Cubs would even it up again in the seventh, this time on Willson Contreras' solo-shot to the left. Game tied at two.
Skyline Willy. #EverybodyIn pic.twitter.com/AeAxFgHVfP

— Chicago Cubs (@Cubs) September 19, 2019
Pitching the eighth, Tyler Chatwood would fan the side, but the Cubs couldn't produce a run to earn Chatty the win. Game tied at two after eight. After Rowan Wick pitched himself out of a jam in the ninth, the Cubs failed to produce again, sending it into extras.
James Norwood would take the mound in the tenth, but he couldn't get himself out of a jam that resulted in Reds scoring a run. 3-2 Reds.
Victor Caratini doubled in the tenth to make it exciting, but the Cubs' offense stalled again. Credit to the Reds for great pitching in this one. Reds take this game 3-2, leaving the Cubs and Brewers tied for second in the division, but not 3.0 games back. The Cubs better play well this weekend, or it could be over very soon.
CUBS NEWS AND NOTES
Cubs/Cardinals Probable Pitchers: Friday: LHP Jose Quintana (13-8, 4.37 ERA) vs. RHP Michael Wacha (6-7, 4.76 ERA). Game information: 6:40 PM CDT; Televised on FOX. Saturday: LHP Cole Hamels (7-7, 3.92 ERA) vs. RHP Dakota Hudson (16-7, 3.35 ERA). Game information: 1:20 PM CDT; Televised on WGN, SAP WGN, MLB Network (out of market only). Sunday: RHP Yu Darvish (6-7, 4.02 ERA) vs. Miles Mikolas (9-14, 4.29 ERA). Game information: 1:20 PM CDT; Televised on NBC Sports Chicago and TBS (out of market only). The Cubs will have a day off on Monday, September 23, before making the final push against the Pirates and Cardinals (again), in a pair of away series.
Cubs/Pirates Probable Pitchers: Tuesday: LHP Jon Lester (13-10, 4.51 ERA) vs RHP Joe Musgrove (10-12, 4.52 ERA). Game information: 6:05 PM CDT; Televised on NBC Sports Chicago. Wednesday: Pitchers TBD. Game information: 6:05 PM CDT; Televised on WGN. Thursday: Pitchers TBD. Game information: 6:05 PM CDT; Televised on NBC Sports Chicago.
NL Wild Card race: The Cubs had another opportunity to advance last night, but they couldn't pull it off. At this rate, the Cubs and Brewers will have a game 163 to decide the who earns the second NL Wild Card spot.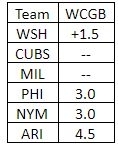 Russell placed on Concussion IL: In what is already becoming a very controversial move, the Cubs have placed Addison Russell on the concussion IL. Some say the Cubs did this to save a little money. Read more about this (and more) in my most recent Odds and Ends feature.
Cubs reportedly interview Boddy: According to Sahadev Sharma (The Athletic), a source tells him that the Cubs have interviewed Driveline founder and owner, Kyle Boddy, for an unspecified player-development position. Boddy is the founder of Driveline, which specializes in player development programs and software.
Kimbrel's almost there: Craig Kimbrel went through his typical pre-game workout yesterday afternoon, though the Cubs have still not activated him. The plan has been to activate him for the St. Louis series, and hopefully, Dirty Craig will perform if needed.
Updates from Maddon:

• Kimbrel doing well. On target for activation in coming days (likely Thursday or Friday)
• Russell still in concussion protocol, but going through full pregame workout today

— Jordan Bastian (@MLBastian) September 18, 2019
Brennaman's last Wrigley game: After 46-years in the broadcast booth, Marty Brennaman, the often-controversial Reds announcer, is calling it quits. Last night marked his final game at Wrigley, and fellow broadcaster, Pat Hughes, honored him with the number "46" from the iconic Wrigley scoreboard. Best wishes to Marty for a long and happy retirement.
Rizzo's new ride: After injuring himself, Anthony Rizzo got a new ride to help him compensate for his bum ankle. Nope, not a wheelchair van with a lift, and not some lower-riding car that he can slip comfortably in and out of… He went cheap, efficient, and eco-friendly with this bad boy. I'm guessing KB helped with the accessories, and maybe Stroppy helped with picking out the bling… Please note: There does appear to be an ambulance on standby in the background, as Rizz navigates the streets of Chicago…
Your First Baseman could never pic.twitter.com/m3LBwI4pQb

— Sam Fritz (@SFritz730) September 17, 2019
Kintzler doing better: He's still nursing a sore oblique, but Brandon Kintzler seems to be doing better. He was scheduled to throw a bullpen yesterday, and there was some video of him loosening up in preparation for some pitching.
Kintzler testing his oblique before bullpen session pic.twitter.com/GuxopM4JIL

— Mark Gonzales (@MDGonzales) September 18, 2019
Yu on Tuesday's loss: "I'm in a pretty good place. But still, we lost today. We only need wins at this point. So, I'm so frustrated." Darvish managed to strike out 13 in that game, including eight-straight, setting a Cubs record for most consecutive K's.
Can I get a volunteer? Definitely something I need to take part in when the Cubs lose… I'll even let you go first…
Just guys being dudes @kfcradio pic.twitter.com/RdiNYU0yQ6

— Barstool Sports (@barstoolsports) September 18, 2019
Baseball Quotes: "I have a message for the young kids. Life is about obstacles; endeavors in life are not to be overlooked. -Wade Boggs
The thing I like about baseball is that it's one-on-one. You stand up there alone, and if you make a mistake, it's your mistake. If you hit a home run, it's your home run. -Hank Aaron pic.twitter.com/G4sh5HRMEi

— Baseball Quotes (@BaseballQuotes1) September 18, 2019
Cubs Birthdays: Celebrating yesterday, were ex-Cubs Brent Lillibridge (37), Jody Gerut (49), Ozzie Timmons (49), Ryne Sandberg (60), and posthumously, Paul Gillespie (99), Ed Hanyzewski (99), and Bob Collins (110).
#23 turns 6??0?? today! Happy Birthday, Ryno ?? pic.twitter.com/Zw0us6qk7c

— Cubs Talk (@NBCSCubs) September 18, 2019
THIS WEEK'S NL CENTRAL SCHEDULE:
(Wins in green, losses in red)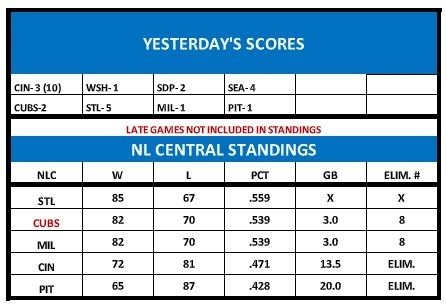 Tags: Chicago Sports Baseball
,
Kyle Hendricks
,
,
,
Kyle Schwarber
,
Pedro Strop
,
Kyle Ryan
,
Willson Contreras
,
Tyler Chatwood
,
Rowan Wick
,
James Norwood
,
Victor Caratini
,
Jose Quintana
,
Cole Hamels
,
Yu Darvish
,
Addison Russell
,
Anthony Rizzo
,
Brandon Kintzler
,
Joe Maddon