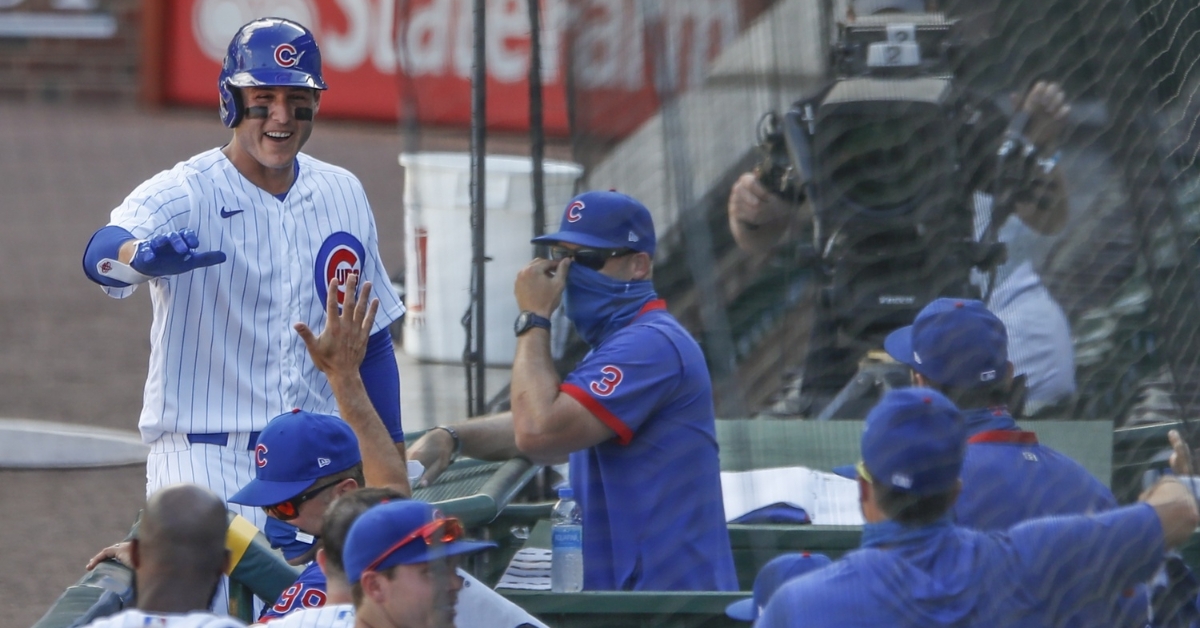 | | |
| --- | --- |
| Cubs News and Notes: Cubs hanging to first place, trade acquisitions, Strop's back, more | |
---
CUBS NEWS AND NOTES
Next Game: Tonight, 6:08 p.m. Central. Cardinals vs. Cubs at Wrigley Field. Starting pitchers: RHP Dakota Hudson (1-2, 2.77 ERA) vs. LHP Jon Lester (2-1, 5.11 ERA).
Cubs lead dropping: Just a week ago today the Cubs were enjoying a 3.5 game lead over St. Louis, with Cincinnati and Milwaukee both 5.5 games back; but the landscape is changing.
While the Cubs are still ahead in the National League Central, St. Louis is on the move, as are the Brewers. After winning by a final of 4-1 on Friday, the Cubs dropped both games of yesterday's doubleheader with the Cards (finals of 4-2 and 5-1), cutting their lead to just 2.5 games over St. Louis and just 4.0 games over the Brew Crew.
The reality of the 60-game season is finally upon us. The Cubs only have 20 games remaining (1/3 of the season), the Cards have only played 31 games, meaning they have almost a half-season still to play.
The changes the Cubs made at the deadline haven't yielded much of anything yet (see below), and injuries haven't helped. Tyler Chatwood is out with a forearm strain (10-Day IL), Ian Happ was out for a game (foul ball to the face), and now Jose Quintana has joined Chatty on the IL with a lat issue. While you expect injuries to come during this time of the year, teams have usually already played 140 games – not just 40.
There is only 24 days left in the season, and Chicago has only two more off days before it's over.
Assessing the Cubs trade acquisitions: While I didn't see half of the trades that I thought for sure were coming, the Cubs did finally get busy toward the final minutes of the trade deadline this season. Altogether they picked up a total of four new players, equating to a pair of lefty relief pitchers and a pair of outfielders. Not that they didn't need southpaws in the bullpen, as Kyle Ryan has been acting as a solo performer, but what the hell were they supposed to do with another pair of outfielders?
Jose Martinez: J-Mart (RF/1B) was the Cubs first pickup of the trade season, with this move occurring on August 30th. What did the Rays get in return, you may ask? The infamous player to be named later along with some cash. To make room on the roster, the Cubs ended up designating catcher Josh Phegley for assignment, which was quite surprising in my opinion. Not that Phegley was doing much at the plate, but it appeared that the Cubs wanted to take on a third catcher this year, and Phegley definitely had experience over catching prospect JP Higgins.
Martinez has had a bit of a down here, but he is hell on left-handed pitchers. There is absolutely no mistaking that man when he stands at the plate, with all of the twisting, twitching and rocking. Not that Martinez would ever teach a young better too swing as he does, but it has certainly worked for Martinez in the past.
I absolutely love watching Jose Martinez bat, and he seems to do pretty well at Wrigley Field, which is another plus. Whether or not it looks a little goofy, I absolutely love the energy that he brings to the game, playing with the same sort of intensity that Willson Contreras does, albeit in a much different way, so far as optics are concerned.
Thus far, Martinez is hitless in 13 at-bats as a Cub, but give him time, he'll come around. One interesting note, Martinez is under club control until the end of the 2022 season, making me wonder what the long-term plan for him may be. Rizzo has already expressed some concern that he may not be there next year, and obviously J-Hey is pretty much a lock in right field. Without Phegley anymore, the Cubs may have a big problem if Rizzo and Contreras (gasp) were both go down at the same time.
Cameron Maybin: The Cubs originally picked up Maybin from the Tigers in exchange for another one of those players to be named later, however, within just a day or so, shortstop Zach Short became that player. They picked him up near the deadline on August 31st.
Maybin got his inaugural appearance as a Cub while acting as a pinch-runner versus the Pirates this week but quickly earned a start in right. Maybin is now 3 for 15 (.200), but there may be another reason Chicago snatched up Maybin, who just last week contributed to the Tigers' blowout of the Cubs: They wanted some additional speed. No, Cameron hasn't swiped many free bases this season - just one, but he snagged 11 last year.
Between the Cubs picking up both Martinez and Maybin, I find it interesting that they didn't package Albert Almora Jr. into some sort of deal for one of the two outfielders, or for that matter, even for one of the two relievers. Almora will never mature fully at the plate unless he gets regular playing time, and he's just not getting it with Ian Happ on fire. The Cubs did, however, demote Almora to the taxi squad, the alternate site, baseball's equivalent of Area 51. To further make room for the incoming pitchers, Chicago also DFA'd both 2B Hernan Perez and much to my surprise, OF Ian Miller. I held out a little hope for Perez, but Miller will be a solid player one day.
Josh Osich: Since coming to Chicago from the D-Backs, Osich has had only one appearance, but worked a perfect inning, while striking out one. He did allow an unearned run in that outing (sac-fly). The Cubs will need Osich to be strong, healthy and available down the stretch. Although Osich is 32 years old, he is controllable through the end of 2022.
The Cubs have also made some other additions and subtractions.
Pedro's home: For those missing Pedro Strop, you no longer have to. After being DFA'd by the Reds, Strop has re-signed a minor league deal with the Cubs.
ICYMI: #Cubs reportedly sign Pedro Strop: https://t.co/boeD0Qo1Vs pic.twitter.com/ETbKtDX0Xa

— CubsHQ.com (@ChicagoCubsHQ) September 5, 2020
Sadler DFA'd: I had high hopes for the kid, but the Cubs ended up designating righty-reliever Casey Sadler for assignment the other day. It didn't take long for Seattle to pick him up.
Thank you Chicago @Cubs for the amazing Pizza, an even better team atmosphere and for a reason to name our adopted cat Wrigley but I am excited to go home.
#freshstart #seattle @Mariners pic.twitter.com/eUZr6Kluu3

— Casey Sadler (@sadler_squared) September 5, 2020
Souza DFA'd: Steven Souza Jr. got bit by the injury bug in Arizona and missed 2019. The Cubs were hoping that the rehabbed outfielder could prove to be a low-risk, high-reward type of player, but Souza could just never find his groove in the batter's box. Souza played the first game of yesterday's doubleheader and went 0-2. Following that game, he was DFA'd.
Steve Souza designated for assignment, #Cubs recall pitcher: https://t.co/vu3lJcQrDP pic.twitter.com/SgmRvN8anf

— CubsHQ.com (@ChicagoCubsHQ) September 6, 2020

Tags: Chicago Sports Baseball
,
Jon Lester
,
Tyler Chatwood
,
Ian Happ
,
Jose Quintana
,
Kyle Ryan
,
Willson Contreras
,
Albert Almora
,
Hernan Perez
,
Ian Miller
,
Pedro Strop
,
Casey Sadler
,
Jharel Cotton