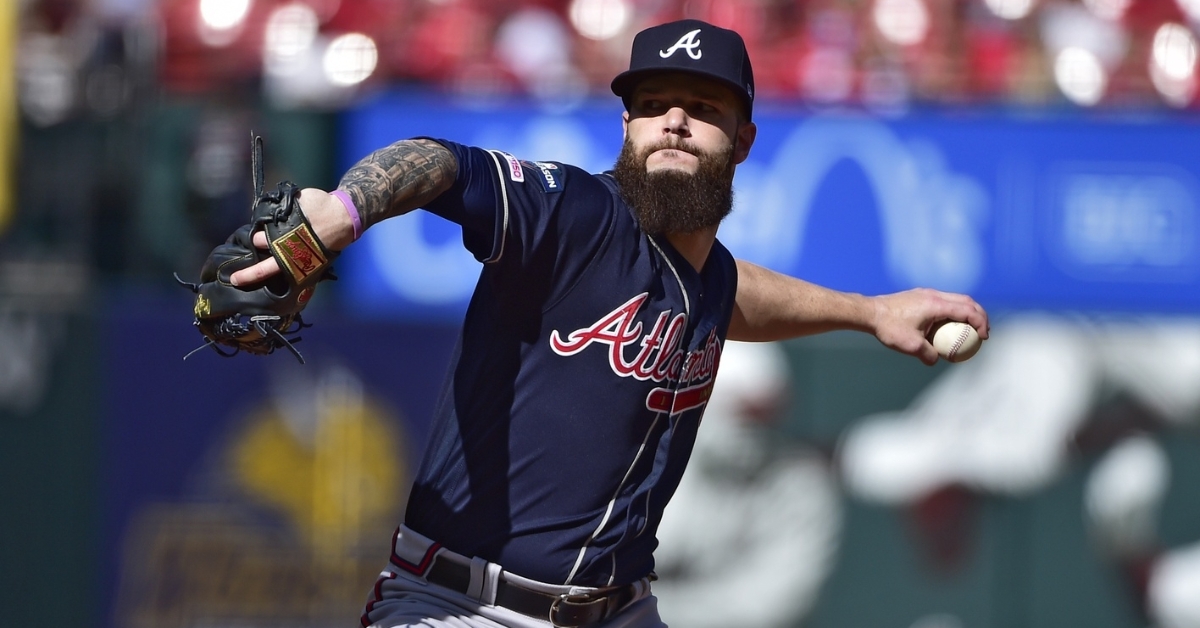 | | |
| --- | --- |
| Cubs News and Notes: Cubs linked to Keuchel, Third base market, Hot Stove, more | |
---
CUBS NEWS AND NOTES
Dallas Keuchel: Just a couple of weeks ago the Cubs' interest in Dallas Keuchel seemed to be dead in the water, but new reports have emerged which are stating the Cubs are still in.
As Tim Stebbins of NBC Sports Chicago writes, "He'd give the Cubs another reliable, durable veteran arm — behind Yu Darvish, Kyle Hendricks, Jon Lester and José Quintana — to help offset the loss of Cole Hamels.
Signing Keuchel to a multi-year deal would also give the Cubs rotation more certainty moving forward. Quintana is a free agent after 2020 and Lester could join him, if the latter's option doesn't vest (he must pitch 200 innings in 2020)."
May the Schwarbs be with you this weekend. #StarWarsRiseofSkywalker pic.twitter.com/4OfsCUwC6H

— Cubs Talk (@NBCSCubs) December 20, 2019
Ryan Tepera: The Cubs may be chasing Keuchel, but Theo did manage to sign another reliever this afternoon: Friday, the Cubs announced that they'd signed right-hander Ryan Tepera to a one-year deal. The Cubs didn't disclose terms of the contract, but according to The Athletic's Sahadev Sharma, it's a split deal worth $900K if Tepera is in the big-leagues and $300K in the minor-leagues.
Third base market: Once thought to be a possible landing spot for Kris Bryant, Texas has now announced that they are throwing their hat in the ring for Nolan Arenado. Texas has reportedly "stepped back" from the race to sign Josh Donaldson. According to Ken Rosenthal, the Dodgers and Cardinals also have interest in Arenado.
Executives are expecting Donaldson decision soon. Feels like mostly an NL East battle. Belief is Nats are in big — likely at 4 years — but JD is expected to give Braves a last chance. Twins, Rangers, Dodgers have been linked but seem like longer shots (LA already has a great 3B)

— Jon Heyman (@JonHeyman) December 19, 2019
There are now reports that both the Nationals and Twins may be willing to go four years on Donaldson, and although the Braves and Dodgers are still in, they're said to be hesitant about a deal for that many years.
Dr. Bryant? Baseball Quotes managed to uncover some footage of Kris Bryant from back in his high school days. Bryant says that if things didn't work out with baseball, he was thinking about going into dentistry.
Kris Bryant in High School wasn't fair ???? pic.twitter.com/CUK8Ph7hQR

— Baseball Quotes (@BaseballQuotes1) December 20, 2019
"… But for the second offseason in a row, the Cubs are unable to aggressively improve a club that has clear flaws but high potential. Instead, they're left waiting out a market that's beginning to pass them by. It just doesn't seem like the way a team like the Cubs should be operating." -
Sahadev Sharma, The Athletic
Yadi's party: Yadi Molina hosted a softball event in San Juan, which included a charity home run derby between Puerto Rican and Dominican Republic players. In attendance were Juan Soto, Vladimir Guerrero Jr., Fernando Tatis Jr., Javier Baez, Francisco Lindor and others.
Javy. Soto. Lindor. Tatis Jr. Vlad Jr.

The guest list for Yadier Molina's charity HR Derby was insane.

Full video: https://t.co/xUJTVcozjh pic.twitter.com/0DTfWB0DD9

— MLB (@MLB) December 19, 2019
Cubs' Birthdays: Celebrating today, were ex-Cubs David DeJesus (40), Augie Ojeda (45), Fernando Ramsey (54), Peter Moskau (66), and posthumously, Oscar Gamble (70), Marv Felderman (104), Charles "Gabby" Hartnett (119), Fred Merkle (131), and John "Herm" Doscher (167).
Baseball Quotes: "I sign every autograph I can for kids because I remember myself at that age. I think it's ridiculous that some guys won't sign for a kid." -Jim Thome
Rob Dibble: NOT a fan of bunts pic.twitter.com/AKRqVCGUv8

— Baseball Quotes (@BaseballQuotes1) December 14, 2019
MLB and the Hot Stove
Jacoby Ellsbury: As expected, the MLBPA has filed a grievance against the Yankees with regard to the team's plan to withhold Ellsbury's salary for the 2020 season.
Ellsbury has been sidelined for most of the last two years after signing an enormous, seven-year/$153M deal. The Yanks contend that Ellsbury sought medical care for his injuries that was neither approved by the team, nor provided by one of their doctors. The Yankees finally released Ellsbury last month, with $26,142,857.15 still remaining in the last year of his deal — his guaranteed salary, and the $5MM buyout of his club option for the 2021 season.
Rangers: The Rangers have also announced that they've reached minor league deals with RHP Edinson Volquez, RHP Ian Gibaut and catcher Tim Federowicz. All three will receive invites to Spring Training.
Kris Bryant in High School wasn't fair ???? pic.twitter.com/CUK8Ph7hQR

— Baseball Quotes (@BaseballQuotes1) December 20, 2019
Mariners: The Mariners are reportedly now showing interest in RHP Taijuan Walker.
Padres: San Diego has signed RHP Chih-Wei Hu to a minor league deal.
Alex Wood: Former Dodgers' starter, Alex Wood, says that the team had heard whispers about the Astros cheating during the 2017 World Series and that he took "extra precautions" to safeguard against it.
We probably should have [won] – if they didn't cheat. I say that half-kidding." -Alex Wood
Blue Jays: The Toronto Blue Jays and infielder Edwin Encarnacion are said to be showing mutual interest in one another. The Jays missed out on both Justin Smoak and Yoshitomo Tsutsugo, but think they'll have a good shot at landing Encarnacion.
Indians: According to reports, the Indians have told any interested teams to put together their "best and final" offers for Francisco Lindor. The Tribe may or may not end up dealing the coveted infielder, but they're certainly listening.
Yankees: The Yanks have signed catcher, Erik Kratz to a minor league deal.
Twins: Minnesota has signed RHPs Tyler Clippard ($2.75M) and Sergio Romo to one-year MLB deals. Romo's deal will include a club option for 2021.
Ian Kinsler: SD Padres' second baseman has announced his retirement. Now age 37, Kinsler said simply that it was "time to move on."
Ian Kinsler is retiring, but will remain with the #Padres in front-office capacity, sources tell The Athletic. Kinsler is still owed $4.25M on his contract, and will work out a financial settlement with the club. Full story coming shortly.

— Ken Rosenthal (@Ken_Rosenthal) December 20, 2019