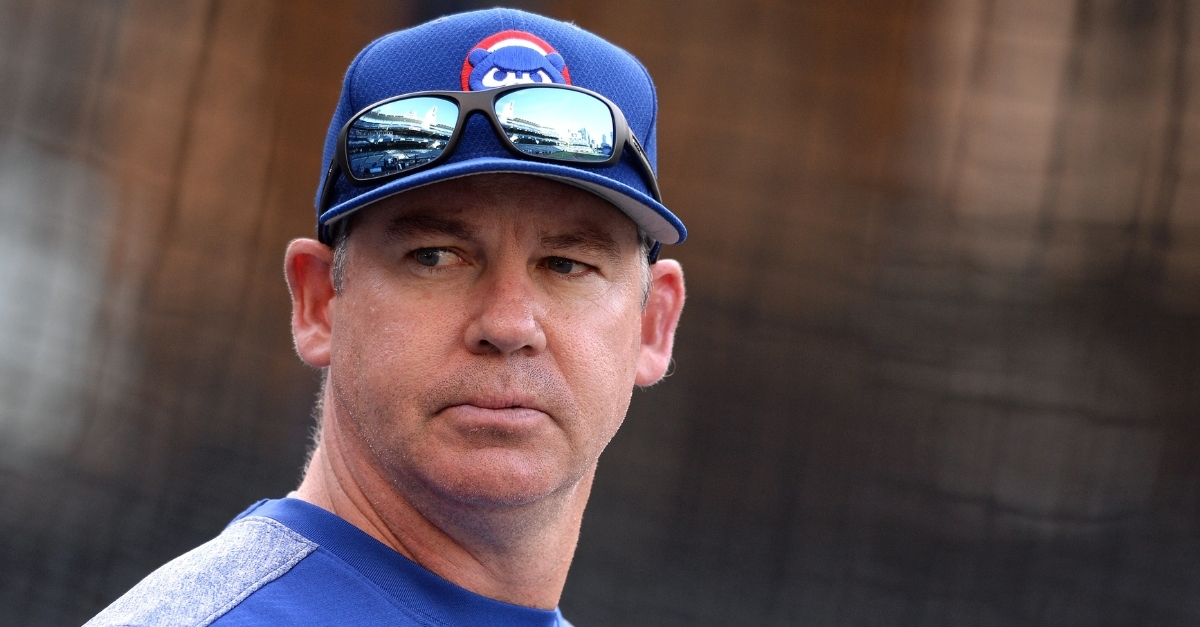 | | |
| --- | --- |
| Cubs News and Notes: Cubs manager talk, Joe Maddon, Playoffs, Hotstove, more | |
---
| | | |
| --- | --- | --- |
| Tuesday, October 8, 2019, 6:00 PM | | |
MLB Postseason
NLDS
Atlanta vs St. Louis: Series tied at two. Next game: Tomorrow, 4:02 PM Central (FS1); Flaherty vs Foltynewicz, from SunTrust Park.
Nationals vs. Dodgers: Series tied 2-2. Next Game: Tomorrow, 7:37 PM Central (TBS); Strasburg vs. Buehler, from Dodger Stadium.
ALDS
The Yankees became the first team of 2019 to punch a ticket to a league championship series, completing their sweep over the Twins with a 5-1 win on Monday.
The Astros and Rays are just getting Game-4 started in Tampa (Astros lead the series 2-1).
CUBS NEWS AND NOTES
Loretta's plan: Cubs' managerial prospect, Mark Loretta, broke down his plan:
"We have three or four areas where we need to improve," Loretta said. "We certainly had trouble in the bullpen early and late in the season. The defense, for sure, I think it could have been much better. On the offensive side, we struck out way too much. So those three areas for me are big concerns. I don't think it's an edge or concentration issue. I think we should look at how we practiced, check what our game planning was, and things like that. We maybe need to make adjustments in those areas. I don't think it's about concentration or having an edge. This is not like football or basketball, where you say you are going to get emotional and use that as an edge. It's a fine line and hard to define."
I had a chance to play with Mark during winter ball in Puerto Rico and against him for years in the big leagues. There is no doubt he will make a great manager one day." -Doug Glanville
Read more in Cole Little's article on Loretta on CubsHQ.com.
Maddon and the Angels: By all accounts, Joe Maddon is expected to be announced as the next Los Angeles Angels' manager "very soon." Isn't that sort of ironic: You were worried about Maddon finding a job. Meanwhile, he's almost employed already, and the Cubs are still without a skipper.
Put a halo on it? https://t.co/ReJlhNZaGO pic.twitter.com/F04zJMPwwx

— MLB Trade Rumors (@mlbtraderumors) October 8, 2019
Orioles/Cubs trade? The Orioles may be shopping a pair of good middle infielders, namely, Jonathan Villar (.274/.339/.453) and Hanser Alberto
(.305/.329/.422). Both guys play a combination of second, third, and short, with a good mixture of time at each position for Alberto and a more steady diet of short and second for Villar. Here's the beautiful part- the O's need just about everything and anything that someone (ahem, I mean Chicago) might be willing to trade.
Alberto (age 27) remains under team control for another year and played for just $578k in 2019. Villar (age 28), played for a much higher $4.83M this season but could be an alternative to Alberto.
Cubs manager poll Cubs' radio announcer, Mick Gillespie, asked the question: Who will the next Cubs' manager be? It would appear, at least in the eyes of the fans, that David Ross is gaining ground.
Who's the next #Cubs manager? #EveryBodyIn

— Mick Gillispie (@BroadcasterMick) October 8, 2019
Cole or Rendon? Cubs fans (and perhaps even the team) have their eyes feasted on two players this winter: Gerrit Cole and Anthony Rendon. There's no way the Cubs can get both (if they even get one), and it now looks as though the pair will be competing for who gets the biggest payday in 2020.
Cole or Rendon? Which star is getting the bigger payday? https://t.co/puJ9WYXJwh pic.twitter.com/g5xppv2oAD

— MLB Trade Rumors (@mlbtraderumors) October 8, 2019
Happ's pad: Ian Happ decided to share a tour of the luxury apartment he has in downtown Chicago. I'm not impressed with the building's yoga room, but I'd be all about the view.
Cubs' Birthdays: Celebrating yesterday were ex-Cubs Sandy Martínez (49), Mike Morgan (60), and posthumously, Rick Stelmaszek (71) and George Metkovich (99).
Baseball Quotes: "Life will always throw you curves, just keep fouling them off... the right pitch will come, but when it does, be prepared to run the bases." -Rick Maksian
Don't forget to swing hard, in case you hit the ball. -Woodie Held pic.twitter.com/oj6e2GfeD4

— Baseball Quotes (@BaseballQuotes1) September 26, 2019
MLB and the HOT STOVE
Padres: As the Padres consider candidates for their own manager's vacancy, they've begun closely looking at former Rangers' manager (and now Braves' coach), Ron Washington.
Dallas Keuchel: "This whole draft-pick compensation thing went from a throw-in for a team losing a player, to is he really a free agent now? How can you be free if there is a draft pick attached to you? And why do they value draft picks so much when the percentage of picks who make the league, and are better than you, are what, like .01 percent? There are so many things wrong."
Phillies: The Phils are still up in the air about Gabe Kapler, but here's something to consider: If they choose to fire Kapler, his replacement is not likely to be a David Ross or Aaron Boone type with no experience.
If #Phillies make managerial change, remember that club president Andy MacPhail was #Cubs CEO when they hired Dusty Baker, and #Orioles president when they hired Buck Showalter; if Philly moves on from Gabe Kapler, his replacement is likely to have @MLB managerial experience.

— Jon Morosi (@jonmorosi) October 8, 2019
Charlie Morton: Two words: Insanely filthy.
Charlie Morton, 94mph Fastball and 80mph Curveball Spin, Overlay pic.twitter.com/ooI111DvAf

— Rob Friedman (@PitchingNinja) October 7, 2019