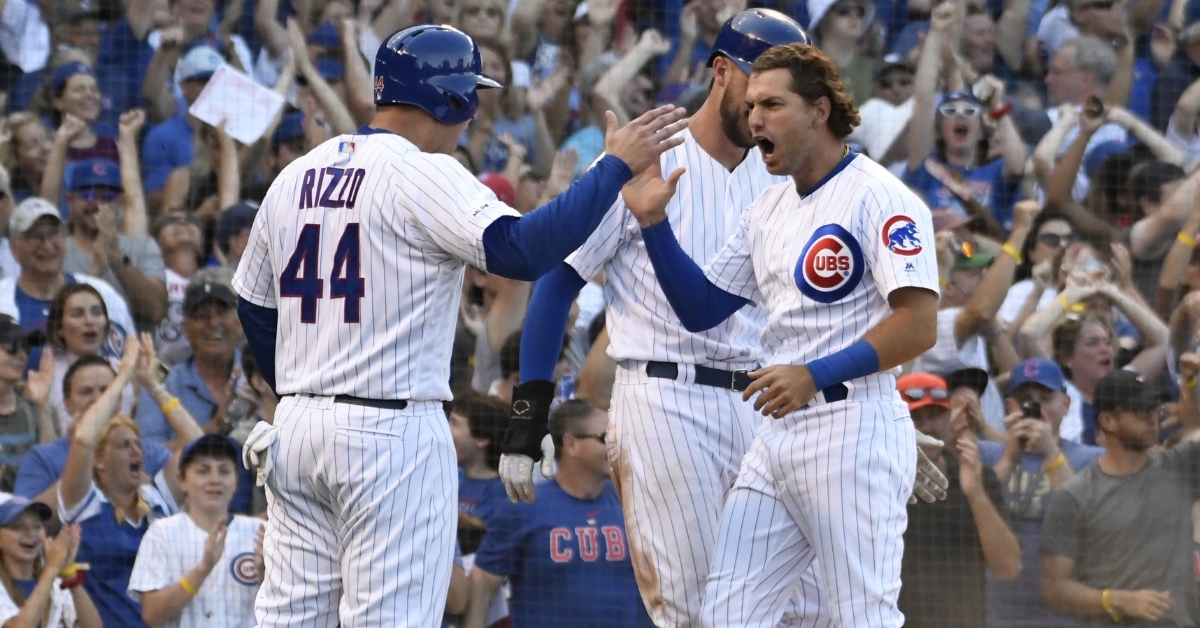 | | |
| --- | --- |
| Cubs News and Notes: Cubs roster talk, ESPN All-Access for Cubs-Angels, Hot Stove | |
---
| | | |
| --- | --- | --- |
| Saturday, February 8, 2020, 7:55 AM | | |
CUBS NEWS AND NOTES
Next Game: Next Game: 14 days – Saturday, February 22, 2020: Athletics vs Cubs (Sloan Park).
Opening Day: 47 – days – Thursday, March 26, 2020: Cubs vs. Brewers (Miller Park).
Implications of a slow offseason: Throughout the last several weeks, I've moaned and groaned with a lot of you about the slow offseason for the Cubs. This winter wasn't just about signing a big free agent or two, nor was it even so much about compiling a winning roster for 2020- though that's always a plus. This winter was about securing the Cubs' future as a contender.
Most people look at the roster and worry about winning this year, but in reality, the Cubs' failure to achieve their goals this winter will have severe implications for the next two to three years.
The Cubs have a handful of specific goals for this winter, but nothing has gone right. In no particular order, they were: (1) Get under the luxury tax threshold; (2) Sign players – specifically Javier Baez to a long term extension; (3) Prepare to be able to add larger salary burdens for next year; (4) Restock the farm system and; (5) Compile a roster which could compete in 2020.
Can someone do a well being check on Cubs FO. Extensions, nope. FA signing, nope. Trades to build or improve team, nope. Carriage deals with comcast, youtubetv etc, nope. I'm just wondering.....

— James wolfsmith (@jameswolfsmith) February 5, 2020
Except for #5 above, every one of those missions hinged on trading from the core. A trade before Opening Day is still possible (I'll even say most likely), though the odds seem to decrease with each passing day.
Right now, the Cubs estimated payroll (including their 30% tax bill for going over the threshold) sits at $212,525,666.00. Without the taxes, the Cubs are sitting at $211.48M, which is still north of the $208M ceiling. Tom Ricketts doesn't seem so concerned about the luxury tax issue, but not getting under it means that the Cubs will likely have another slow winter next year, as they'll have to focus solely on trying to lock players down to extensions.
If you take the Bryzzo factor out and being a like able guy, his production has been mediocre since 2016-17 and he's gonna want $300 million and his agent will make sure he gets it. Get some prospects and sign Javy to a big extension. I'm not so sure he really wants to be in CHI.

— Ryan T (@rstrilk) February 7, 2020
After this season, Tyler Chatwood and Jose Quintana could walk as free agents, and the Cubs would have to choose whether to exercise options on Anthony Rizzo ($16.5M) and Daniel Descalso ($3.5M). Descalso will be a no-brainer, but it will be interesting to see how they approach Rizzo's future. Keeping Rizz on board seems to be almost a must for his leadership ability, but after being held down to a team-friendly deal for the last several years, he's going to want big money – and rightfully so.
The Cubs have other options for first base – most notably Victor Caratini – who deserves to be an everyday player. As it stands now, Victor will never get an opportunity like that with Chicago, barring either a trade or a catastrophic injury to either Rizzo or Willson Contreras.
After the 2021 season, the Cubs could lose Jon Lester. Javier Baez, Kris Bryant, Kyle Schwarber, and Anthony Rizzo to free agency. Lester would most likely retire, as he'd be 38 that year, but the remainder has plenty of shelf life left in them. After 2022 Willson Contreras and others hit free agency.
It's highly unlikely – let's say nearly impossible – for the Cubs to keep this group together beyond the 2021 season. With no extensions signed this winter, that remote possibility becomes even less possible. Nobody wants to see their favorite player traded, but without a major trade, the Cubs could be in trouble for the next several years.
ESPN "All-Access": As part of it's "All-Access" series of broadcasts, ESPN will air the Cubs/Angels preseason game on March 2nd. ESPN will document the complete game day experience for the clubs and will include mic'd up players, in-game interviews, features, essays, and other content leading up to the game, as per a press release.
ESPN to televise "All-Access" #Cubs spring training game: https://t.co/KOJrie85k2 pic.twitter.com/3dLMbWNXNw

— CubsHQ.com (@ChicagoCubsHQ) February 7, 2020
This will also be an excellent opportunity to see David Ross pit his strategies against those of former Cubs' manager, Joe Maddon. The only downside is that being an exhibition game, and you'll not likely see a lineup similar to what a regular-season lineup would look like.
Casey Sadler: Here's a little more from Casey Sadler on the behind the scenes life of an MLB player. A lot of people don't realize that they're just regular people who deal with the same everyday issues that the rest of us do. Here, Casey talks more about being the father of a two-year-old.
Take it from @Sadler_squared, the life of a baseball player isn't always as glamorous as it seems ??@Cubs | #Cubs | #TheOtherSideofBaseball pic.twitter.com/WMkU8ojNWo

— MLB Network Radio on SiriusXM (@MLBNetworkRadio) February 7, 2020
Sadler has a fantastic personality and should welcomes with open arms into the Cubs' bullpen.
Cubs' Birthdays: Celebrating yesterday, were ex-Cubs Scott Feldman (37), Jon Leicester (41), Burt Hooton (70), Juan Pizarro (83), and posthumously, Matthew "Dummy" Lynch (94), Earl Whitehill (121), Pat Moran (144), Tom Daly (154), and Ted Kennedy (155).
Baseball Quotes: "I looked for the same pitch my whole career, a breaking ball. All of the time. I never worried about the fastball. They couldn't throw it past me, none of them." -Hank Aaron
Work? I never worked a day in my life. I always loved what I was doing, had a passion for it. -

Ernie Banks pic.twitter.com/5rKNYGdc0y

— Baseball Quotes (@BaseballQuotes1) February 5, 2020
MLB News and Notes:
Astros: The sign-stealing scandal continues to get more and more intriguing. Now it looks like an intern in the front office masterminded this whole scheme.
EXCLUSIVE: A January letter from Rob Manfred to Jeff Luhnow reveals the Astros "dark arts" and "Codebreaker" — the operation behind the Astros' sign-stealing scandal.https://t.co/wrh3EJCICy

— Jared Diamond (@jareddiamond) February 7, 2020
Take a few minutes to watch this interview with AJ Hinch.
"I'm gonna watch as many games as I can because that's what I am: I'm baseball 24/7."

A.J. Hinch discusses his plans for the next year and his future in baseball with Tom Verducci.

Full: https://t.co/LQH8iAWcyb pic.twitter.com/p23OBsDu3P

— MLB Network (@MLBNetwork) February 8, 2020
Kendrys Morales: After 13 seasons, veteran slugger Kendrys Morales has decided to hang up his cleats.
Giants: SF has signed OF Hunter Pence to a major league deal. One-year/$3M, with another $2.5M in incentives. The Giants have also signed speed demon, Billy Hamilton, to a minor league deal with an invite to camp.
Red Sox: Boston has reportedly planned to name Ron Roenicke to serve as their manager this season.
As if there weren't enough odd stories going around today ... #RedSox may or may not be closing in on a new skipper: https://t.co/W3jk2RxTox pic.twitter.com/e7OqyLaU7k

— MLB Trade Rumors (@mlbtraderumors) February 7, 2020
Blue Jays: The Jays have signed RHP Jake Petricka to a minor league deal.
Indians: Cleveland is on the verge of a deal to sign outfielder, Domingo Santana. The Tribe has also signed catcher Cameron Rupp to a minor league deal.
Joc Pederson: Although the Mookie Betts trade I still in limbo, Joc Pederson will go to the Angels if the deal gets worked out and is completed. In the interim, Joc Pederson has lost his arbitration case. Pederson asked for $9.5M, and the dodgers offered $7.75M, which is what he'll now receive, no matter where he plays.
Red Sox are still seeking a top-10 #MNTwins prospect in addition to Graterol. Thus far, Twins are saying no. #Mookie

— Jon Heyman (@JonHeyman) February 7, 2020

Tags: Chicago Sports Baseball
,
,
Tyler Chatwood
,
Jose Quintana
,
Anthony Rizzo
,
Daniel Descalso
,
Victor Caratini
,
Willson Contreras
,
,
,
Kyle Schwarber
,
David Ross
,
Joe Maddon