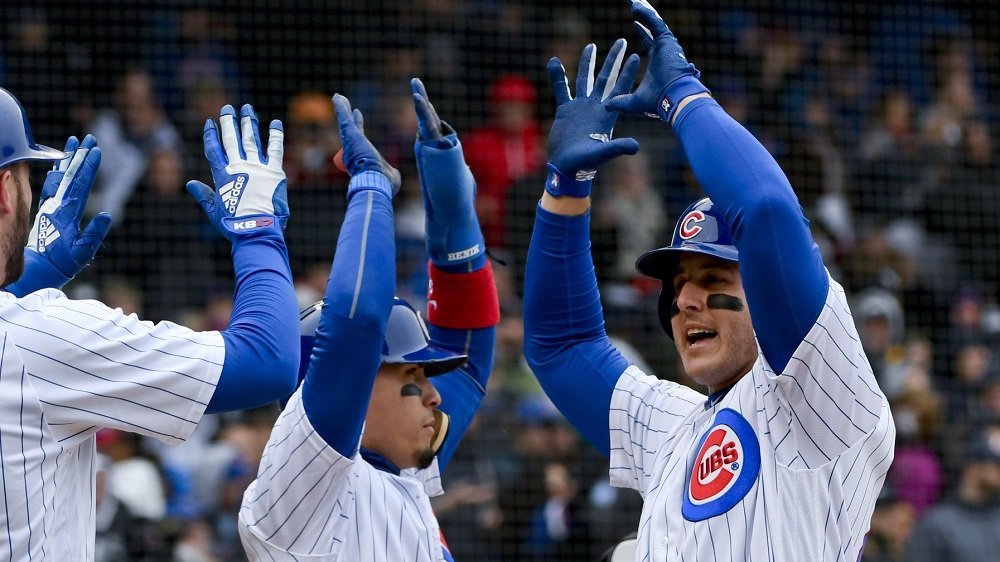 | | |
| --- | --- |
| Cubs News and Notes: Cubs schedule breakdown, COVID-19 testing, Bryant concerned, more | |
---
| | | |
| --- | --- | --- |
| Tuesday, July 7, 2020, 3:18 PM | | |
CUBS NEWS AND NOTES
2020 Schedule: When I saw the new schedule, I just about ran around waving it while screaming, "The new schedule is here, the new schedule is here! I'm somebody now!" a la Steve Martin in The Jerk. (That's a 1979 movie that most of you probably don't even know about…). I digress.
The breakdown is interesting and different, all at the same time. The Cubs will play a total of just 12 series, with six homestands and a half-dozen road trips. The series will consist of 40 games vs. NL Central opponents and 20 games against their AL Central counterparts.
There will also be three exhibition (preseason) games leading up to the July 24 Opening Day game. The Cubs will host the Chicago White Sox at Wrigley Field on Sunday, July 19 at 7:05 p.m.; will play at the Chicago White Sox on Monday, July 20 at 7:10 p.m.; and will host the Minnesota Twins on Wednesday, July 22 at 6:05 p.m.
18 days until @Cubs baseball is BACK@WContreras40 // @javy23baez pic.twitter.com/uQ7hpruzht

— Ryan Lane (@designs_rl) July 6, 2020
The schedule breaks down as follows for the regular season:
The Cubs open at home vs. the Brewers from July 24 through the 26th. That'll be a 6:10 PM start on Friday the 24th (aired on Fox), followed by the weekend games, which will begin at 12:05 PM and 1:20 PM, respectively.
Chicago will then travel to Great American Ball Park to face the Reds for four games (July 27 through the 30th), before going back to Wrigley.
In their second homestand, the Cubs open with three against the Pirates (July 31 through August 2), then they welcome the Royals for a two-game set to be played on August 2nd and 3rd.
From there, it's a short flight to Kansas City for a two-game set with the Royals on August 5th and 6th, and then they hop a plane to set sail for St. Louis to face the Red Birds on August 7th, 8th, and 9th. The Cubs are off on the 10th after 17 straight days of play. From there, the Cubs fly to Cleveland for two against the Indians – or whatever they're called by that time – on August 11th and 12th.
Next, it's back to the Friendly confines for a four-game set against the Brew Crew (August 13 – August 16), then the Cards are in town from August 17 through the 19th, before another off day for the Cubs. Starting on August 21, the Cubs will host the White Sox for a three-game set, ending the homestand.
The experts have put the final touches on our 2020 schedule. pic.twitter.com/e9xaU6LxF8

— Chicago Cubs (@Cubs) July 6, 2020
From August 24 through the 26th, the Cubs will be in Detroit, then another off-day before flying to Cincinnati for three against the Reds (August 28 through the 30th).
Chicago will get yet another off day on August 31, before flying to Pittsburg for three against the Bucs on September 1 through the third.
Back to Chicago to face the Cards four a four-game set (September 4 through the 7th), then the Reds are in town from September 8 through the 10th.
Next, it's back to Milwaukee for three games (September 11 through the 13th), then a day off again on September 14.
The Cubs open their final homestand on September 15, facing Cleveland for two games (September 15th and 16th), then, believe it or not, another off day. Finally, Minnesota comes to Wrigley for a weekend set (September 18 through the 20th).
The final games of the season will be on the road, beginning with four in Pittsburgh (9/21 – 9/24), then the team finishes against the White Sox, playing on the southside from September 25 through the 27th.
Here's the 2020 Cubs slate with times included... pic.twitter.com/r8RcHO8xOA

— Jordan Bastian (@MLBastian) July 6, 2020
"This season will be all about depth and keeping a positive environment, so your guys don't want to opt-out. ...I certainly hope we can keep guys comfortable to avoid anyone feeling like they don't want to be part of this." – Jed Hoyer
Overall, playing against a bad schedule, especially when you consider that the Cubs' opponent's average winning percentage (2019) is only .478. Save for Minnesota and perhaps Cleveland, the Cubs should walk all over the AL Central, but I wouldn't expect them to do much better than .500 against their own division.
The Cardinals didn't need much to improve for this year, and the Reds will be hot. Quite honestly, my money is on the Reds to take the division, assuming their new additions all gel with one another. The Brewers lost a ton of players this winter but also made some additions/improvements. They'll still be a third to fourth place team this season. And for Pittsburgh? Well, they're Pittsburgh.
New skipper Derek Shelton has a ton of work to do to regain control of a cancerous clubhouse. They're without Starling Marte this year, who begged to be traded after the horror unfolded last season. He has to overcome the nice publicity shiner that the team received after (1) Clubhouse brawls (Crick and Vazquez); (2) A manager (Clint Hurdle) who walked out on the team on the final day of the season, and; (3) pitcher with over 20 child pornography charges in Florida (Felipe Vazquez). Not good optics to have to work with.
COVID-19 Testing: As the mess with the COVID-19 testing procedures continues, the Major League Baseball issued a Press Release yesterday.
In part, it reads, "As of today, more than 95% of the tests under the Intake Screening period have been conducted, analyzed, and shared with all 30 Clubs. All of the individuals among the 95% have now moved on to the phase that will test them every other day. The remaining number of outstanding tests are expected to be completed today."
Testing has been a mess, especially when those in charge of the tests fail to show up at the old ballpark to do their jobs. Other teams like the A's had tests sitting in limbo, rather than to be shipped and analyzed. The Blue Jays had to leave a dozen players behind in Dunedin, Florida, as one player tested positive and exposed a dozen others.
Bryant nervous: With all of the testing errors, Kris Bryant is now among those who no longer feel as though they're being protected.
I spoke with another player who was tested even earlier and then not again until yesterday.

The testing issues are real.

They're also fixable.

MLB has a short window to remedy them before players lose faith in the process -- and this is before games and travel have started. https://t.co/0P0t4Gp9FT

— Jeff Passan (@JeffPassan) July 6, 2020
Bryant made his feelings and concerns known to reporters during Monday's media session.
Kris Bryant's full answer on testing issues we're seeing throughout baseball right now, which includes this quote, "I wanted to play this year because I felt that it would be safe and I would be comfortable. Honestly, I don't really feel that way." pic.twitter.com/1BdbHrPWWJ

— Sahadev Sharma (@sahadevsharma) July 6, 2020
Whether you believe this virus to be "the flu," or even "just a bad cold," as I've heard it called, players have a right to be concerned. The testing procedures aren't going as planned or promised, and guys are getting sick. Baseball better get this fixed, or the season is going to be screwed.
Cubs' Birthdays: Happy birthday to ex-Cubs Billy Herman (111), George Moriarty (135), and Willard Mains (152).
Baseball Quotes: We came out of the dugout for opening day and saw a fan holding up a sign saying, "Wait 'Till Next Year." – Moe Drabowsky, on the late 50's Cubs.
Baseball is supposed to be hard. If it wasn't hard, everyone would do it. -A League Of Their Own pic.twitter.com/iwq5FhGJiO

— Baseball Quotes (@BaseballQuotes1) April 5, 2020