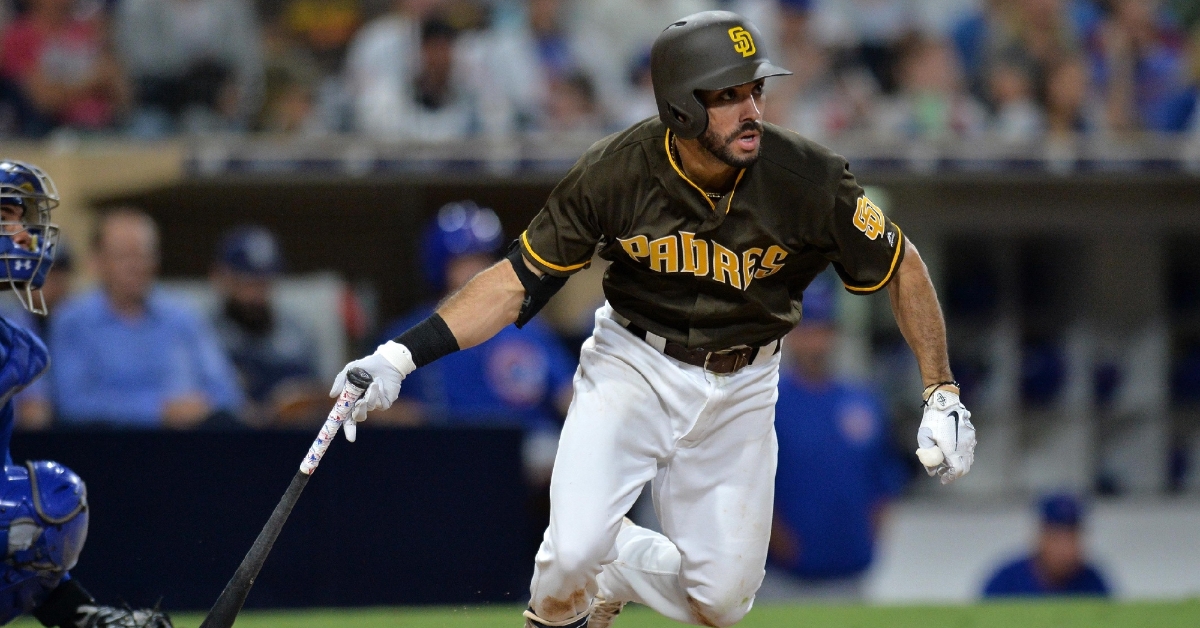 | | |
| --- | --- |
| Cubs News and Notes: Cubs sign infielder, Castellanos, third base watch, Hot Stove, more | |
---
CUBS NEWS AND NOTES
Next Game: Next Game: 46 days – Saturday, February 22, 2020: Athletics vs Cubs (Sloan Park)
Opening Day: 79 days – Thursday, March 26, 2020: Cubs vs. Brewers (Miller Park)
Another MiLB deal: Before you get too excited, it's only a minor league deal, but hey – at least it's something to show there's still a pulse at 1060 W. Addison. Yesterday, the Cubs signed infielder Carlos Asuaje to a minor-league pact, with an invite to Spring Training, according to Sahadev Sharma of The Athletic.
Cubs have signed infielder Carlos Asuaje to a minor league deal. He has a chance to make the team as their 26th manwith a solid spring. Lefty hitting second baseman with an option remaining.

— Sahadev Sharma (@sahadevsharma) January 6, 2020
The 28-year old has had limited MLB time, playing 175 games, all with the Padres, and is a career .240 hitter. During the 2017 campaign, Asuaje did manage a .270 average in 89 games, while smacking four homers and tallying 21 RBI.
All and all, this amounts to another low-rent, low-risk move for the Cubs, but if there is an upside, Asuaje is controllable through 2024.
Goodbye, Nick? According to Jon Morosi, Nick Castellanos had "a good meeting" with the Texas Rangers, and they are now among the finalists to sign him. If there's any encouraging side to this story, I guess it would be that the word "finalists" is plural. Are the Cubs still in?
#Rangers pushing for one of the best players left on the market https://t.co/6QinokPtzH pic.twitter.com/Y4yiyGN2t8

— MLB Trade Rumors (@mlbtraderumors) January 6, 2020
Not disputing this of course, but Castellanos has been traveling across Europe the past week or two. Wonder when exactly he met with the Rangers. https://t.co/sYMCcXTx8C

— Tim Stebbins (@tim_stebbins) January 6, 2020
Third base watch: As Josh Donaldson's decision looms, it looks like the Atlanta Braves may once again be the frontrunner. Recently, Minnesota was reported to take a step back after learning that Donaldson wanted four years and $110M.
I've maintained that Kris Bryant would be a Brave on Opening Day. Still, with Atlanta's newfound interest in re-signing Donaldson, Theo may have to find another avenue to pursue if he wants to deal KB. The Nationals pulled back when Victor Roble's name was mentioned, but I think they may remain players in the Bryant sweepstakes, especially if Donaldson stays in Atlanta.
The Dodgers and Phillies also had an early interest in KB, but of the two, the Dodgers may be the team that can offer talented prospects to the Cubs. Minnesota still needs a third baseman, but to date, there's been no mention of the Twins vying for KB.
Cubs History: Yesterday marked eight years ago that the Cubs acquired this guy from the San Diego Padres.
#OTD in 2012, the #Cubs acquired @ARizzo44 from the Padres.

...the rest is history. pic.twitter.com/MoO1kAQbxF

— Cubs Talk (@NBCSCubs) January 6, 2020
Cubs' Birthdays: Celebrating yesterday, were ex-Cubs Lee Walls (87) and Clyde Beck (120).
Today, Big Jon Lester celebrates as he hits age 36.
Happy Birthday to one our favorite #Cubs sluggers...

Long Ball @JLester34! ???? pic.twitter.com/Qeg0oGkBB8

— Cubs Talk (@NBCSCubs) January 7, 2020
RIP Mr. Cub https://t.co/ePUB5ksiaF

— CubsHQ.com (@ChicagoCubsHQ) January 7, 2020
Baseball Quotes: "I want productive at-bats. I don't want to just single with two outs and nobody on ... I want to do some damage." -Scott Rolen
It's not how big you are. What matters is how big you play. -Jose Altuve pic.twitter.com/oRxQ2UZznd

— Baseball Quotes (@BaseballQuotes1) January 3, 2020
MLB and the Hot Stove
NL Central News:
Reds: Cincinnati has signed Japanese outfielder Shogo Akiyama to a three-year/$21M deal.
OFFICIAL: The Reds have signed free agent OF Shogo Akiyama to a 3-year, $21-million contract through the 2022 season! ???? pic.twitter.com/wAVfhGsVfY

— Cincinnati Reds (@Reds) January 6, 2020
Then, there's this…
Free agent spending* stragglers this winter:

Cubs: $0
Pirates: $0
Rockies: $0
Mariners: $2.95M
Orioles: $3M
Royals: $3.6M
Indians: $6.25M
A's: $7.5M
Giants: $9M
Red Sox: $9M
Dodgers: $10M
Rays: $12M
Cardinals: $13M
Astros: $15M

* Counts major league contracts, not split deals

— Jeff Passan (@JeffPassan) January 6, 2020
Free agent spending leaders this winter, in which teams have guaranteed just shy of $2 billion:

Yankees: $336.5M
Nationals: $314.8M
Angels: $260.9M
White Sox: $195.5M
Phillies: $132M
Blue Jays: $108M
Diamondbacks: $103.6M
Reds: $100M
Braves: $99.8M

Next highest: Rangers, $49.5M

— Jeff Passan (@JeffPassan) January 6, 2020
From the Rest of MLB:
Giants: SF has signed catcher Tyler Heineman to a minor league deal.
Orioles: Baltimore has signed former Reds' shortstop Jose Iglesias to a one-year/$3M. It includes a $2.5MM salary for 2020, along with a $500K buyout of a $3.5MM club option.
Jose Iglesias will be a good fit for the Orioles, and his deal (1 year/$3M, with a 2021 option that would make the deal worth 2 years/$6M) could give Baltimore a good trade chip this summer.

— Mark Feinsand (@Feinsand) January 6, 2020
Nationals: Washington is finalizing their two-year deal ($11M, another $1M available in performance bonuses) with reliever, Daniel Hudson.
Cross one name off the list of potential bullpen targets for the White Soxhttps://t.co/5ah7uLUc5Z

— White Sox Talk (@NBCSWhiteSox) January 6, 2020
The Nats have also agreed to terms with former Milwaukee slugger and 1B, Eric Thames. It's a one-year, $4MM pact that includes a $1MM buyout on mutual option.
Eat.
Sleep.
Sign free agents.
Sign more free agents.
Repeat? @Nationals | #Nationals pic.twitter.com/hVHoohy5FK

— MLB Network Radio on SiriusXM (@MLBNetworkRadio) January 7, 2020
Angels/Marlins: The Halos have acquired RHP Kyle Keller from the Marlins in exchange for catcher Jose Estrada.
Rockies: Colorado has signed infielder Kelby Tomlinson to a minor league deal. The team has also signed former Pirates' backstop, Elias Diaz to a minor league deal.
Yankees: Manager Aaron Boone says after a disappointing end to 2019, the Yankees will have an "extra edge" going into 2020.
Aaron Boone: the disappointing end to the 2019 season gives the #Yankees an "extra edge" going into 2020. pic.twitter.com/MJvijt56Lz

— MLB Network Radio on SiriusXM (@MLBNetworkRadio) January 6, 2020
Tigers: Detroit has avoided arbitration with RHP Michael Fulmer, as the parties agreed to a one-year/$2.8M deal.