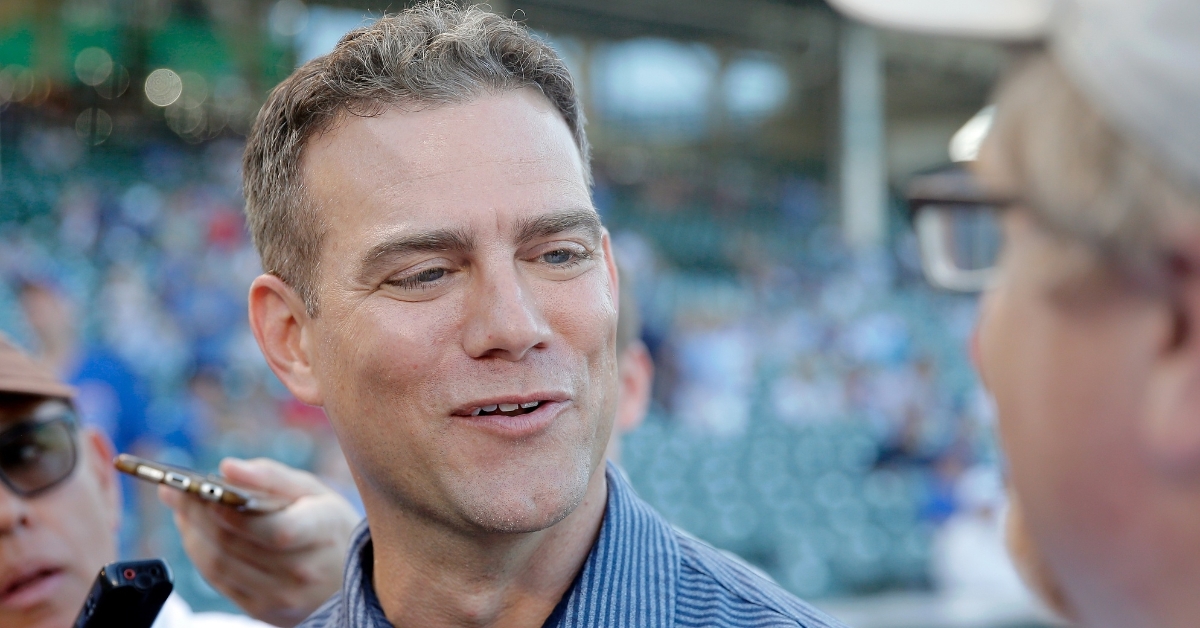 | | |
| --- | --- |
| Cubs News and Notes: Cubs sign reliever, Castellanos Market, Donaldson signs, Hot Stove | |
---
| | | |
| --- | --- | --- |
| Wednesday, January 15, 2020, 7:00 PM | | |
CUBS NEWS AND NOTES
Next Game: Next Game: 38 days – Saturday, February 22, 2020: Athletics vs Cubs (Sloan Park)
Opening Day: 71 days – Thursday, March 26, 2020: Cubs vs. Brewers (Miller Park)
Cubs sign reliever: The Cubs have reportedly signed reliever Jason Adam to a minor league deal worth $800k (can max out at $1.2M). Adam has been given a non-roster invite to Spring Training. The sample size for the 28-year-old is small, but the righty posted a 2.91 ERA in 23 appearances (21.2 innings pitched) last year for the Royals.
Nicholas Castellanos: The longer that Castellanos remains unsigned, the better the Cubs' chances are of re-signing him – maybe. According to Jon Morosi, the Rangers remain in pursuit, and are "among the favorites to land him."
Third base watch: The next hurdle in the third-base market has been cleared: Josh Donaldson has signed with the Minnesota Twins for $84M over four years. Donaldson's deal includes a $16M option for a fifth year ($8M buyout). Not that Donaldson is a lousy player, but this is a ton for a guy his age (34).
Meanwhile, Kris Bryant's service time grievance was filed 1,701 days ago.
And regardless of whether or you agree with idea of Cubs trading KB, the lack of clarity on whether he will have one or two more years of team control remaining has frozen their off-season. If I'm Theo ... there are holes in my office wall.

— Wayne Drehs (@espnWD) January 13, 2020
According to an article by Tony Andracki (NBC Sports Chicago), the Arizona Diamondbacks have now emerged as a possible suitor in a Kris Bryant trade. The Dodgers and Braves are also still reported to be interested in KB, with rumblings of interest by the Nationals hanging around the fringe.
Have heard some rumblings of Dbacks at least exploring a Kris Bryant trade. Could then move Escobar to 2B. Bryant makes 18.6 and is under control for this year and next. Just turned 28 he may be better option than Bradley Jr (1 year control) or Marte, who is 31.

— John Gambadoro (@Gambo987) January 14, 2020
The Cardinals and Rockies are still engaged in talks over Nolan Arenado, and although names have been exchanged, the discussions do not seem to be progressing.
Well-placed source says reports of Cubs asking price + potential landing spots for Kris Bryant are greatly exaggerated. "There'll be no substantive talks until Cubs know the outcome of service time grievance. What's the point of discussing deals if you don't know what you're trading?" -David Kaplan
The year is 2035 and Kris Bryant receives a call that he has been elected to Cooperstown. A few minutes later a report surfaces that a decision on his service time grievance is expected within 1-2 weeks.

— Uncle Jeff (@ebsoftball) January 14, 2020
According to Bob Nightengale (USA Today), the Braves are "expected" to revisit previous talks with the Cubs regarding KB.
Cubs name minor league roles: Yesterday, the Cubs issued a press release naming their Minor League managers and coaching staff. While several (such as Marty Peavey in Iowa) are returning to their same roles, Double-A Tennessee is seeing some new faces.
The #Cubs today announced minor league managers, coaching staffs and coordinators for the 2020 season. pic.twitter.com/g7wmriHntN

— Chicago Cubs (@Cubs) January 14, 2020
The Cubs recognized area scout Steve McFarland as their scout of the year, an award named after the late Stan Zielinski, a longtime scout for the organization. pic.twitter.com/59zDxchD7X

— Patrick Mooney (@PJ_Mooney) January 15, 2020
Baseball Quotes: "A man has to have goals - for a day, for a lifetime - and that was mine, to have people say, 'There goes Ted Williams, the greatest hitter who ever lived." -Ted Williams
Warning: Adult Language in the following video.
Earl Weaver goes OFF on an umpire... in the top of the 1st ????

pic.twitter.com/wK0a6Z7fdb

— Baseball Quotes (@BaseballQuotes1) January 3, 2020
MLB and the Hot Stove
NL Central News:
Cardinals: St. Louis has acquired outfielder Austin Dean from the Marlins in exchange for outfielder Diowill Burgos.
Reds: The Reds have signed righty reliever Nate Jones to a minor league deal.
From the Rest of MLB:
Will be interesting to see how #Astros amid their chaos approach arbitrations with Springer ($22.5M-$17.5M) and Aledmys Díaz ($2.6M-$2M). A monster extension for Springer would change the conversation. But would Springer even be willing with the team facing so much uncertainty?

— Ken Rosenthal (@Ken_Rosenthal) January 14, 2020
Tigers: The Tigers have added rotation depth, signing RHP Ivan Nova to a one-year deal worth $1.5M. The deal also includes another half-million in incentives.
Giants: After recently acquiring veteran infielder Zack Cozart, the Giants have now DFA'd him to make room for righty, Jake Jewell, whom SF claimed off waivers from the Angels.
White Sox: The White Sox have made a deal with Steve Cishek official. To make room on the 40-man, they've designated Dylan Covey for assignment.
Thank you to @srSHREK31 for your time with the Cubs.

Best wishes to the Cishek family moving forward! pic.twitter.com/kTymMxnDuY

— Chicago Cubs (@Cubs) January 14, 2020
Phillies: The Phillies have designated Odúbel Herrera for assignment. The 28-year-old outfielder was suspended the final 85 games of the 2019 season for violating MLB's joint domestic violence policy. Philly has also claimed outfielder Nick Martini off waivers from the Reds.
Angels: The Angels have acquired RHP Matt Andriese from the D-Backs in exchange for minor league prospect (RHP) Jeremy Beasley.
Max-trolling: Well, this didn't take long. A Yankees minor league affiliate is planning to give away mini trash cans when they face an Astros' affiliate, later this year. I can't stand the Yankees, but I'll have to give their affiliate (Staten Island Yankees) an A+ on this one.
Maximum Trolling: Yankees MiLB Team Giving Away "Mini Trash Cans" vs. Astros Affiliatehttps://t.co/ajDbhPU0pe

— Baseball is Fun (@flippingbats) January 14, 2020
Yankees: The Yanks have hired CC Sabathia as a special advisor.
Stealing signs, relaying signs, getting signs...not that easy.

— Alex (@ac13alex) October 17, 2016