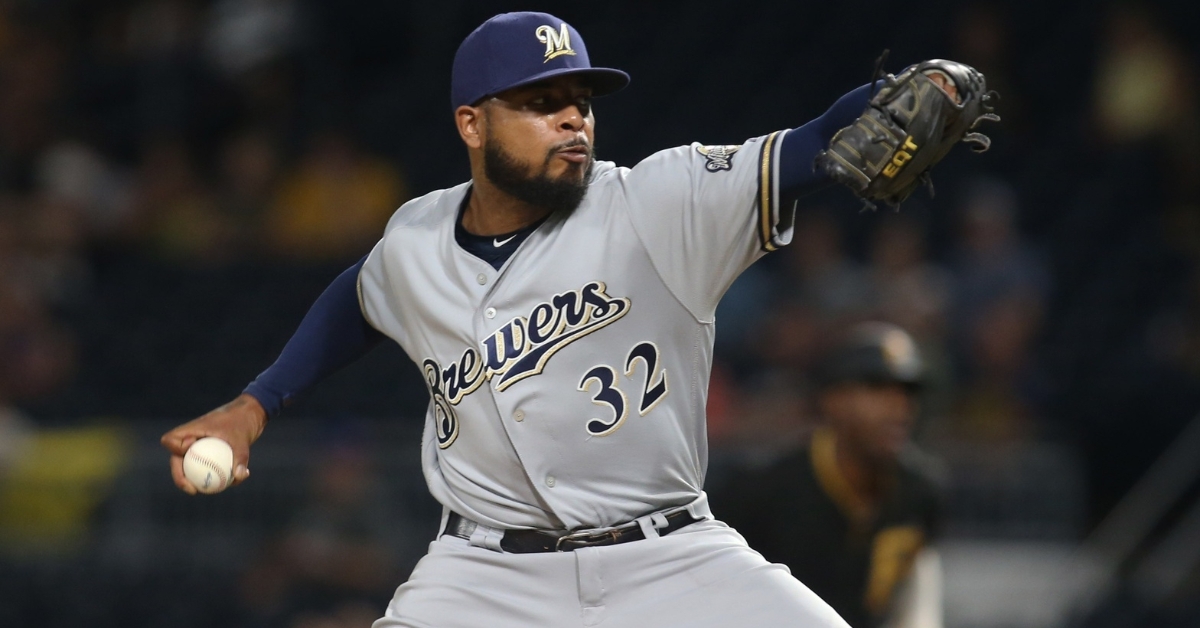 | | |
| --- | --- |
| Cubs News and Notes: Cubs sign reliever, Dusty's back, Scooter Gennett, Len Kasper's plans | |
---
CUBS NEWS AND NOTES
Next Game: Next Game: 25 days – Saturday, February 22, 2020: Athletics vs Cubs (Sloan Park)
Opening Day: 59 days – Thursday, March 26, 2020: Cubs vs. Brewers (Miller Park)
Jeremy Jeffress: Agreeing to only their second Major League deal of the winter, the Cubs signed former Brewers' reliever Jeremy Jeffress to a one-year contract. Jeffress will earn a base salary of $850k, with an appearance bonus of up to $200k. This deal is pending a physical.
Jeffress is now 32 and coming off an injury-filled season that saw him pitch to a 5.02 ERA, netting himself a negative 0.4 WAR. Jeffress only made 48 appearances for the Brewers last season, but over his three-season run in Milwaukee, he was able to pitch to an ERA of just 2.66. If he comes back healthy, he could contribute a lot to the pen, but I suppose we'll have to see what he looks like when the pitchers report in a couple of weeks.
Epstein on recent signings: "We try to find those guys that we can catch lightning in a bottle, and that's been a big part of our strategy."
It's official: The Cubs' deal with OF Steven Souza Jr. is now official. Souza will receive a base salary of $1M, with $1M available in non-IL roster bonuses and another $1M available in performance bonuses.
The #Cubs and OF Steven Souza Jr. have agreed to terms on a 2020 major league contract. pic.twitter.com/Nby7RSDSY2

— Chicago Cubs (@Cubs) January 29, 2020
I'm hoping Souza can get it turned around for Chicago like many others have, but after seeing how the deal was structured, I have some thoughts.
(1) Wouldn't this $3M have kept Brandon Kintzler in Chicago? As I wrote the other day, Kintzler wanted to stay with the Cubs but ended up settling for $3M from the Marlins. Granted, the Fish did give him an option, but it wasn't so expensive that the Cubs couldn't have done the same.
(2) I find it a little concerning that Souza incurs so many injuries, that one-third of his contract value is based on his "attendance." – aka staying uninjured and off the IL. On the one hand, it was smart for the Cubs to structure it that way, on the other, it's alarming that they took a chance.
Gordon has the specific breakdown of Souza's possible roster/performance bonuses... https://t.co/LrGPVBMWP2

— Jordan Bastian (@MLBastian) January 29, 2020
Nicholas Castellanos: Well, best to get it out of the way now. Here's your first look at Nicholas Castellanos as a member of the Reds. I think I may be sick over this…
Dear Opening Day,

Hurry!

Sincerely,

AtReds & friends pic.twitter.com/LeRdnsFLum

— Cincinnati Reds (@Reds) January 28, 2020
Len Kasper: Len will be back as the Cubs enter their first year under the Marquee Network, but he won't be there for every game. Kasper says he'll be doing a little moonlighting.
For those wondering (aside from my parents), I am adding some FOX Saturday work to my schedule this season & will miss a small handful of Cubs telecasts. I also will do some radio games when Pat Hughes takes some off-days just to keep things fresh. Looking forward to the season.

— Len Kasper (@LenKasper) January 28, 2020
CarGo comeback: Former Cubs' OF Carlos Gonzalez is one of few remaining unsigned free agents, but he says that he's intent on playing this season. CarGo's last game was back on June 27th, 2019, when the Cubs hosted (and beat) the Braves.
That was the same day that Craig Kimbrel made his Cubs' debut, and the same game that Anthony Rizzo bailed Dirty Craig out by making a stabbing grab, then sliding to first base just in time to tag the bag for the final out.
Looking for a comeback: https://t.co/FSzsWW1KE6 pic.twitter.com/FG3JExxj0b

— MLB Trade Rumors (@mlbtraderumors) January 28, 2020
Dusty Baker: The Astros' managerial search is over, as the team hired former Cubs' skipper Dusty Baker on Tuesday. During his tenure with the Cubs (2003-2006), Baker went 322-326 (.497), leading the Cubs to a first-place finish in 2003.
Former #Cubs manager hired by Astros as new skipper: https://t.co/kVQtpH7FZa pic.twitter.com/SZe7Fyh7ls

— CubsHQ.com (@ChicagoCubsHQ) January 28, 2020
Baker hasn't managed since 2017 when he finished a two-year hitch with the Nationals. During that run, Baker posted a record of 192-132 (.593), while delivering a pair of first-place finishes. Best of luck, Dusty, there's a ton of damage control awaiting you in Texas, but look on the bright side – at least you can watch TV in the dugout.
Scooter Gennett: The Cubs interest in former Reds' second baseman Scooter Gennett continues to grow, but according to Jon Heyman, they're one of about a half-dozen teams (or 20% of all MLB franchises) who may be interested.
Cubs one of about a half dozen teams considering Scooter Gennett, who's working out for a couple teams this week. Was All-Star in 2018. @MLBBruceLevine 1st linked Cubs/Scooter

— Jon Heyman (@JonHeyman) January 28, 2020
Top prospects: The Cubs now have four of MLB's top prospects in their farm system. While not a huge number, at least it's better than the average of what would be 3.33 top-100 prospects per team if they were evenly disbursed. There is one downside her – none of them are in the top-50.
Making the list: Catcher Miguel Amaya (#98), LHP Brailyn Marquez (#68), OF Brennen Davis (#78), and Nico Hoerner (#51). I'd like to think Hoerner's days in the minors are over, but with the Cubs now looking at Gennett, who knows?
Chicago #Cubs land four in Top 100 Prospect list: https://t.co/GeCAsXUErP pic.twitter.com/AyvV6R94bU

— CubsHQ.com (@ChicagoCubsHQ) January 28, 2020
He said what? Kent Sterling describes himself on Twitter as "Celebrant of sports excellence and a life of mistakes - author of "Oops! The Art of Learning from Mistakes and Adventures;" well Sterling, you've done it again with this Tweet.
Chicago @Cubs will protect fans too stupid or sluggish to avoid foul balls by extending nets https://t.co/IdtSji0QM4 pic.twitter.com/RZUaUYEZPi

— Kent Sterling (@KentSterling) January 28, 2020
Sterling's article includes the quote, "According to a study by ESPN's Outside the Lines, 510 fans required assistance after being hit by foul balls at Wrigley Field from 2015-2019. That's a little bit over one injury per game because fans were looking at their smartphones, talking to each other, or otherwise distracted from the infield action."
While he does make a few valid points about fans putting themselves in harm's way not watching the action, his choice of words in the tweet left a lot to be desired.
Cubs' Birthdays: Celebrating yesterday, were ex-Cubs Wesley Wright (35) and posthumously, Bob Muncrief (114).
Baseball Quotes: "When I got to Double-A, I was sleeping in an air bed. The manager tells me, "Hey, it's a long season. We want you sleeping in a bed. I told him, "Don't worry, I won't be here a long time." Seven days later, they called me up to the big leagues. -Juan Soto
A knuckleball is slo-mo is mesmerizing ?? pic.twitter.com/R2TZLs5ASJ

— Baseball Quotes (@BaseballQuotes1) January 26, 2020
Upgrade Your Account
Unlock premium boards and exclusive features (e.g. ad-free) by upgrading your account today.
Upgrade Now