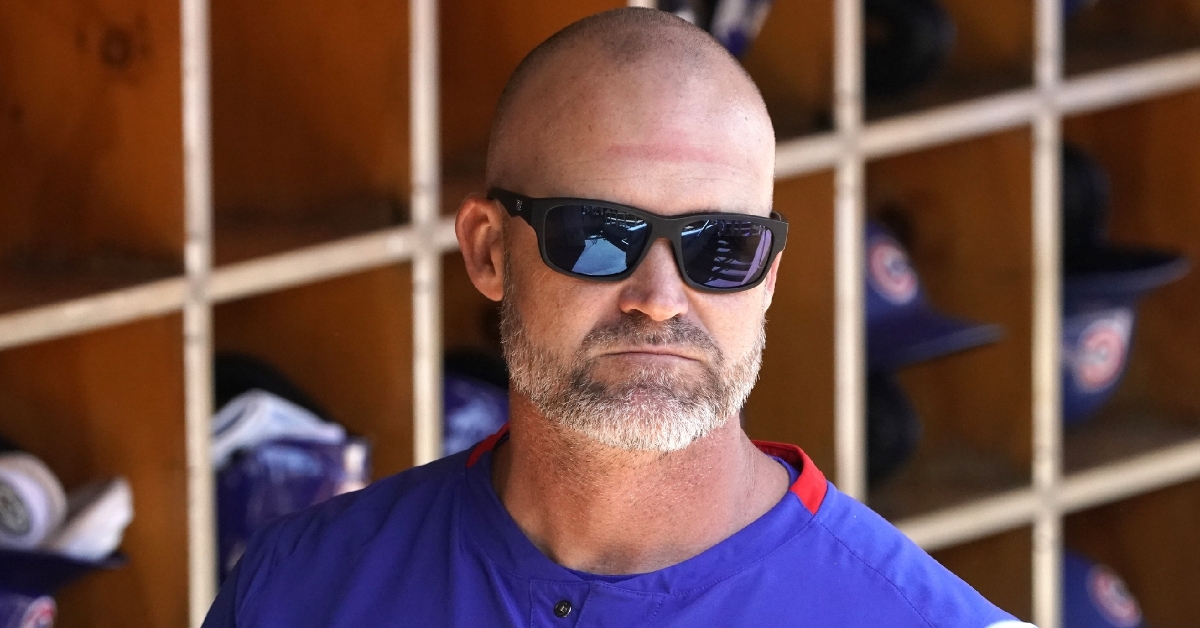 | | |
| --- | --- |
| Cubs News and Notes: David Ross on catchers, Team Rizzo, Olympics postponed, more | |
---
| | | |
| --- | --- | --- |
| Tuesday, March 24, 2020, 5:20 PM | | |
CUBS NEWS AND NOTES
Opening Day: Postponed.
Ross on catchers: David Ross spoke to The Athletic's Patrick Mooney about the Cubs' backup catching staff (subscription-based article).
With regard to Victor Caratini, Ross said, "I've always had a ton of confidence from afar and spoke highly of Vic in all the meetings I've been in. He's gained a ton of trust with the pitching staff. He knows how to call a game. He knows how to run a game. His emotions stay flatline throughout the ups and downs of a season.
He's probably one of the [calmest] at-bats we have on the team, especially from the left side. It's professional. He's in every at-bat. He doesn't need a ton of starts to still have that timing, which is a very powerful thing when you're coming off the bench as a backup catcher. So, yeah, I have a ton of confidence in Vic Caratini."
Rossy also added that although Caratini would like to be a starter, he's come to embrace his role as Willson Contreras' backup.
When speaking about new Cubs' catching prospect, Miguel Amaya, Ross said, "Miggy was great [before being optioned back to the minors]. His poise, his demeanor behind the plate, how he soaked up the conversations with Vic and Willson, he was great. He's going to be another guy you see impact us in the future. I told him, 'You could back up in the big leagues right now with your catching ability. But I think you got higher goals than that.' He's going to be a real impact catcher at some point in the major leagues. I told him, 'I've been in that situation — it really is a foul tip away.' This kid's got a bright future."
Ross was also very impressed with PJ Higgins this spring (as he should have been), and he also took note of new Cubs' catcher, Josh Phegley, whom the Cubs signed as a free agent this winter.
According to Mooney's article, the Cubs have at least considered adding a third catcher as the 26th man, but frankly, I can't see it. Caratini has Contreras 100% covered in the event of injury or the need for rest. In the case where Contreras or Anthony Rizzo both need time off, Ian Happ, Kris Bryant, and others can handle first base, while Caratini would handle catching. In the worst-case scenario with Caratini and Contreras both injured, the
Cubs could (would and should) call Phegley and Higgins up from Iowa.
Chicago would be far better served by using that 26th spot for speed – aka Ian Miller. They can't carry more than 13 pitchers as per the new rules, so that would allow them eight relievers and the standard five-person starting rotation. The infield is full, the outfield is packed, the bench is solid. Take
Miller and use his speed to the team's advantage.
Offseason video: The latest episode of the offseason featuring Cubs second baseman Nico Hoerner going back to finish his degree and spending time with friends and family.
Javy interlude: Nothing like some Javy Baez video to brighten your day…
Where there's @javy23baez, there's magic. #ElMago ??? pic.twitter.com/ZEEubEMLU4

— Chicago Cubs (@Cubs) March 24, 2020
"Blast" from the past: 1980: Cubs' catcher Barry Foote (1979-1981) wasn't about to let Cubs' pitcher Mike Krukow (1976-1981) get attacked. Krukow nailed Winfield with the pitch, and when Winfield started for the mound, Foote collared him and took him down.
1980: Dave Winfield didn't really want to kill Mike Krukow, but Barry Foote wasn't taking any chances. pic.twitter.com/hLphAMFxcy

— Stirrups Now! (@uniformcritic) March 23, 2020
A. Rizzo Foundation: The Anthony Rizzo Foundation usually works with hospitals, families, and patients with pediatric cancer, but like so many other athletes and their respective foundations, Rizz's group is focusing on helping with the issues stemming from the coronavirus outbreak.
We have now served more than 700 meals to staff on the front lines. Thank you to everyone who have supported our efforts. https://t.co/E8WwWHpOou or text Hope44 to 52000 to donate $20 https://t.co/rKbv1IAcoD

— A. Rizzo Foundation (@RizzoFoundation) March 23, 2020
Next up! An autographed jersey.

Text Hope44 to 52000 to donate $20 or https://t.co/AfQLkHgb3o. For every $20 you donate you will receive one entry into the raffle.

All dollars raised will go directly to show our appreciation to the front line medical staff. pic.twitter.com/uXTGXqT8sS

— Anthony Rizzo (@ARizzo44) March 23, 2020
Mexican food commercial with Harry Caray: We know Caray loved beer but I guess he also liked salsa.
Sure, lots of folks remember that Harry Caray was a Bud man. But do you recall Harry's preferred provider of authentic Mexican ingredients? #MLB #baseball #chicago #Cubs #CHI #windycity #Mexican #food #chitown #harrycaray #kitchen #budweiser #bud #nachos #salsa #illinois pic.twitter.com/oCvybukDqq

— Classic MLB vids (@classicMLBvids) March 24, 2020
Happy Birthday today to former Cub Starlin Castro:
Join the Tennessee Smokies as we wish a Happy Birthday to a former Chicago Cub, Tennessee Smokie, and 4X All-Star Starlin Castro!! #BirthdayWishes #Cubs #MiLB #MLB pic.twitter.com/B31gVCE53T

— Tennessee Smokies (@smokiesbaseball) March 24, 2020
Cubs' Birthdays: Celebrating yesterday, were ex-Cubs Joel Peralta (44), Mike Remlinger (54), Pat Bourque (73), and posthumously, Johnny Moore (118), Cy Slapnicka (134), and George "Peaches" Graham (143).
Baseball Quotes: "Little League baseball is a very good thing because it keeps the parents off the streets." - Yogi Berra
There are 3 types of people: those who watch it happen, make it happen, and wonder what happened. -Tommy Lasorda pic.twitter.com/NNvICRv62y

— Baseball Quotes (@BaseballQuotes1) March 21, 2020
MLB News and Notes:
2020 Olympics: Coronavirus has now claimed its next sporting event, as the 2020 summer Olympics (Tokyo) has now been postponed. Currently, the Olympic Committee is hoping to have the games next summer.
KBO/NPB: They're working hard in Asia to get baseball back on track, now that it appears that the worst of the virus has passed. The Korean Baseball Organization is hoping to get their version of spring training games going again within two weeks, but they've had to stop seven different times due to virus scares. Meanwhile, Nippon Professional Baseball in Japan has set a tentative starting date of April 24th.
Bud Black: Rockies' manager Bud Black says that there's been talk of MLB instituting seven-inning doubleheaders to make up games.
Black said, "All of us want to play as many games as possible to keep the integrity of winning a championship or getting into the playoffs. "I've even heard that there might be talk of being creative and making, you know, seven-inning [doubleheaders]. "I'd be up for some sort of doubleheader situation."