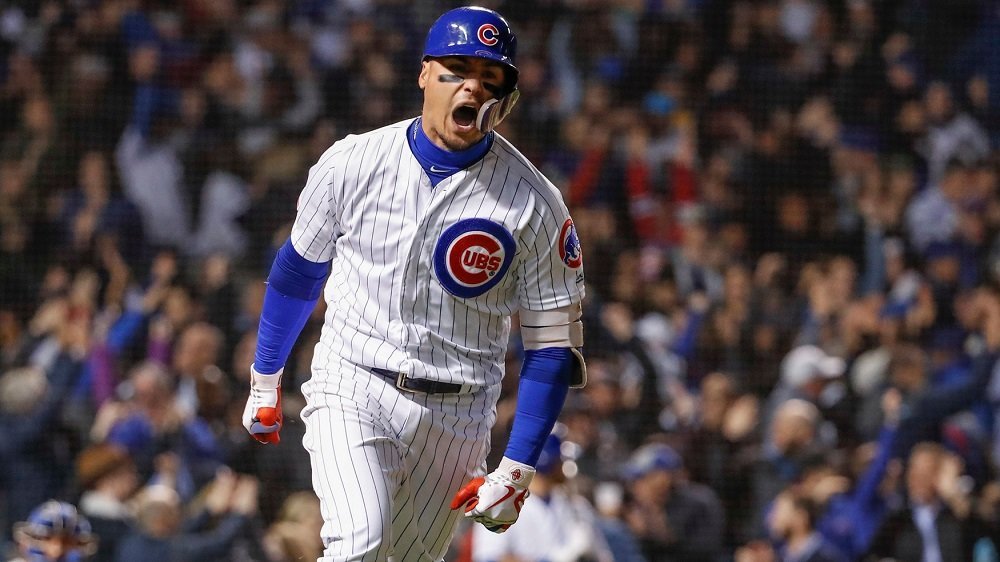 | | |
| --- | --- |
| Cubs News and Notes: Dog days of the Cubs offseason, Kris Bryant declines comment, more | |
---
| | | |
| --- | --- | --- |
| Friday, February 7, 2020, 8:18 AM | | |
CUBS NEWS AND NOTES
Next Game: Next Game: 15 days – Saturday, February 22, 2020: Athletics vs Cubs (Sloan Park).
Opening Day: 48 days – Thursday, March 26, 2020: Cubs vs. Brewers (Miller Park).
The dog days of winter: Another slow day in Cubs' news occurred yesterday, which has become quite the theme as of late. I asked my editor yesterday what he thought you folks would want, and his answer was simple, "Baseball and a winning team."
Well, I can guarantee you that baseball is coming, but the "winning team" part is going to be based on a lot of hard work by a lot of players and a top-notch effort by Davis Ross.
I wrote a commentary yesterday about the Cubs' non-roster invitees and what to expect. In that part (1 of 2), I covered the twelve pitchers coming to camp, with today's installment covering the nine position players. I think a few may have a good shot at making the team, but I believe winning is going to fall back on the core, last year's pitchers who remain, and a few new faces.
This team has talent. I've said that 100 times this winter, and I'll probably say it 100 more. My biggest concern is that the teams around them (save for the Pirates) have taken considerable strides to improve. The Cubs can win 90 games this season, but if everyone wins 91 or more, it's all for naught. There's no need for me to reiterate what the Cubs need to do this year because, at this point, we all know.
Beyond the obvious pitching concerns and offensive woes, I think the biggest thing this team needs to do is play together, as opposed to nine guys playing for individual stats. The team has been going through the motions for the last two years, and it hasn't worked out very well. Maybe going home for the playoffs was the kick in the rear end that they needed to regain a hunger that seemed to be lost following 2016.
More than anything, I want to see an aggressive offense. I want to see them running on the pitch, stealing more bases, and laying down more bunts. I want them to consider USA Today's prediction of finishing fourth, and I'd love to see them hang that in the clubhouse to remind them.
In short, I want to see them hungry again. Baseball's almost here again. Let's do this.
KB on the QT: Kris Bryant was greeted by a flock of reporters in Las Vegas yesterday, each wanting to hear what he had to say about the decision on his service time grievance. Bryant declined comment, stating that he would speak to the Chicago media first. No date has been set for that, but I'd imagine it'll be from Mesa in a couple of weeks.
Cubs 3rd baseman Kris Bryant is declining to discuss his takeaways on the grievance process he underwent with the team out of respect for Chicago media who he says he hasn't been able to speak with yet. The #lasvegas native says he'll wait until spring training to do so. @News3LV pic.twitter.com/lmNP4sK3OM

— Amber Dixon (@AmberNews3LV) February 6, 2020
Casey Sadler: Move over Yu Darvish, I think Cubs' pitcher Casey Sadler may want your Twitter throne. No, he's not as edgy, but he is pretty funny.
First up: Eating microwave Mac & Cheese in my hotel bathroom, so my daughter can nap peacefully in the room. If you have a toddler...you already know how important naps are. ?? #theothersideofbaseball https://t.co/39WJc6OPca

— Casey Sadler (@sadler_squared) February 6, 2020
Cubs' Birthdays: Celebrating yesterday, were ex-Cubs Travis Wood (33) and posthumously, Forrest "Smoky" Burgess (93), Dale Long (94), and Walt Huntzinger (121).
Babe Ruth was born #OTD in 1895.

In 1920, he hit more home runs (54) than any other TEAM in the American League that season, and more than all but one team in the National League. pic.twitter.com/Hi3hhYVWIU

— MLB Stats (@MLBStats) February 6, 2020
Baseball Quotes: "Think classy, you'll be classy. You win twenty in the show, you can let the fungus grow back on your shower shoes, and the press will think you're colorful." -Bull Durham
Ok, this next one is just bizarre. Jose Cardenal and Bill Madlock take an official at-bat… together.
One of the wildest sequences I've ever seen.

First, the umpire, who is being yelled at by the opposing manager, puts the ball in play and calls a high strike.

Then, two batters in the same batters box take a pitch together.

Lastly, A BRAWL BREAKS OUT!pic.twitter.com/iNcQhdltYB

— Baseball Quotes (@BaseballQuotes1) February 5, 2020
MLB News and Notes:
Cardinals: The Cards have claimed LHP Ricardo Sanchez off waivers from the Mariners.
Time out: Not so fast on the big Mookie Betts trade, says the Boston Red Sox. The team was displeased with something in the medical records of a player they received. The deal is currently on hold.
.@Ken_Rosenthal breaks down the latest update on the reported three-team blockbuster sending Mookie Betts to the Dodgers. #MLBNHotStove pic.twitter.com/qcFAJThYsS

— MLB Network (@MLBNetwork) February 6, 2020
Dodgers: The Dodge and Max Muncy have agreed on an extension: three-years/$26M. there is also an option for a fourth year worth $13.5M with a $1.5M buyout.
Giants: SF has announced that former manager Bruce Bochy will stay on as a special advisor to the team.
MLB MLB says that it hopes to conclude the red Sox sign-stealing scandal soon. Rob Manfred said, "Investigations are funny. You think you know what the timeline is, but that's a day-to-day prediction."