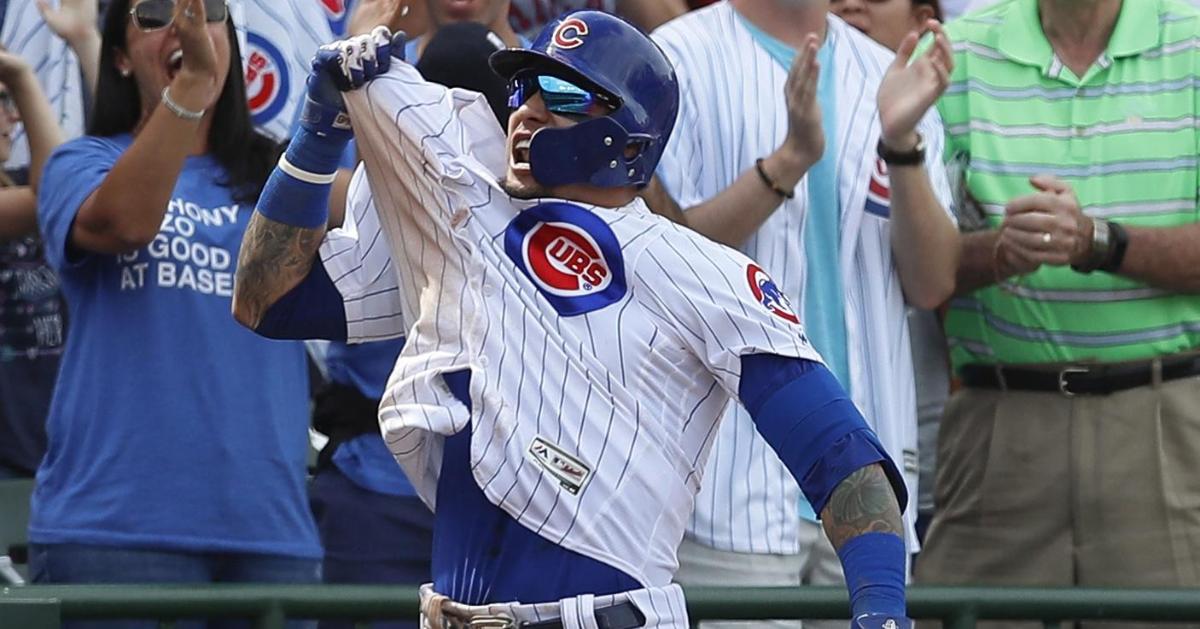 | | |
| --- | --- |
| Cubs News and Notes: El Mago, Cubs linked to Japanese star, Yu vs. Yelich, Hot Stove, more | |
---
CUBS NEWS AND NOTES
Javy's house: Back on October 3, 2019, I wrote, " … I believe this all starts with signing Javier Baez to a multi-year extension this winter:' well, here we are.
The Chicago Cubs are reportedly starting negotiation talks on a long-term extension with Baez, which is generally being considered as "more feasible" than striking a deal with Kris Bryant.
The Cubs have started negotiations to secure a long-term extension with Baez, which is considered more feasible than getting one done with Bryant. How those talks go could influence other moves this winter. https://t.co/MQxQ5j55lJ

— Gordon Wittenmyer (@GDubCub) November 15, 2019
Shogo Akiyama: The Cubs have now been linked to Japanese (NPB) center fielder, Shogo Akiyama. Generally, many of the Japanese postings draw a lot of interest from MLB teams, but I'm not sure I'm all that excited about this one.
Yes, the Cubs need to find (or so they say) a bona fide leadoff man, but at nearly age 32, I'm not sure that Akiyama is that guy. As I've repeated time and time, the trend is toward a younger roster, manager, and coaching staff, and Akiyama would be the antithesis of that. Akiyama recently suffered a foot injury, with the long-term prognosis unknown, putting him more in a bracket with the older and questionable players than the young and healthy. I'll take a pass on this one, in hopes that the Diamondbacks (who are also interested) or somebody else will outbid the Cubs.
Scouting report for Shogo Akiyama . Both Cubs and Diamondbacks have interest . Good range - Speed and on base ability . Left handed bat ..376 OB . Some power but Japanese ballparks are smaller.Three year contract limit at age 32 .has stolen 112 bases but thrown out 65 times.

— Bruce Levine (@MLBBruceLevine) November 15, 2019
Also now available from Nippon Professional Baseball, is left fielder/1B Yoshitomo Tsutsugo, who'll just be turning 28 on November 26. Tsutsugo has been one of Japan's most prominent sluggers for the past four seasons, hitting a combined .293/.402/.574 with 139 home runs, 116 doubles, five triples, a 15.1 percent walk rate and a 20.4 percent strikeout rate; much more appealing than Akiyama in my opinion.
Darvish vs. Yelich: Yu Darvish and Christian Yelich are at odds over the sign-stealing controversy. For a more detailed look at what's going on, you can check out the full story here, but the gist of it is that Yu eluded to the fact that Yelich did something that seemed a little odd at the time. Darvish attempted to mitigate his remarks by saying that the Brewers weren't necessarily stealing signs in this instance, but too late – the seed had already been planted.
Here's the video - it happens very quickly, and just before Yu steps off. Yelich is locked on Darvish, eyes flick toward left center, then back to Darvish. Yu steps off. pic.twitter.com/hqOSvGMGEh

— Bleacher Nation (@BleacherNation) November 15, 2019
After Darvish made his comments on Twitter, Yelich responded.
Easy man.
I'm not saying your are stealing signs.https://t.co/kc0wcuTfeO https://t.co/CBQMa3p17Y

— ???????(Yu Darvish) (@faridyu) November 15, 2019
Barring any weird setbacks, Darvish should face Yelich in Milwaukee as the 2020 season kicks off, and I'll be curious to see if one of Yu's fastballs "accidentally" gets away from him.
Darvish on the 2017 World Series: For Yu Darvish, the 2017 World Series was anything but a pleasurable memory, as he took a beat down at the hands of the Houston Astros, who've now been tied to cheating. This seemed to form the opinion for many – myself included, at the time – that Darvish had become mentally weak. During a 2018 visit to Los Angeles, Darvish headed straight for the Cubs' clubhouse in Los Angeles, fearing the "boos" and jeers from Los Angeles fans, as Chicago battled the Dodgers.
Yu Darvish lasted just 3 1/3 innings and allowed eight runs in two horrendous starts – including the winner-take-all Game 7 – while pitching for the Los Angeles Dodgers during the 2017 World Series, his putrid performance making him an easy scapegoat and target for fan derision. -Ryan Gaydos, Fox News
It's been 2 years, but I would like to talk about what happened in the 2017 WS, the Dodgers, my own confusion, and my thoughts via my YouTube channel. @dylanohernandez will be translating the content for an article as well.

— ???????(Yu Darvish) (@faridyu) November 15, 2019
Darvish was thought to be tipping his pitches, something that he has steadfastly denied, but now in light of the Astros' elaborate method for sign stealing,
Darvish on Astros player saying he tipped pitches from WS: Since I saw my Game 7 footage numerous times,I was convinced that I wasn't doing that,and there was something in the back of my mind that didn't mesh well with what that player was saying,and what was shown on the footage

— Bob Nightengale (@BNightengale) November 15, 2019
Darvish seems to be vindicated, but maybe not so much in his own mind.
The following is from Dylan Hernandez's article in the LA Times
"Because I had that experience, I was able to work hard these last two years and become the person I am now. I feel that if I absolve myself and say it was the Astros' fault [that] I was bad in Game 7, in the World Series, I can't develop as a person," he said. "In life, I think huge failures are extremely important. I've had a few up to this point. The World Series was one of them. I think it will remain a point of reference for me. I've already learned a lot from it. So, regarding that, I can't view myself charitably. I think I have to continue to accept the results." – Yu Darvish
He's already received numerous apologies from fans, which I would think would give him even further momentum in 2020. MLB has already begun investigating.
MLB investigators are moving quickly. They are now interviewing players. Mike Fiers is among those the league has contacted, sources tell me and @EvanDrellich. Fiers spoke to The Athletic about the #Astros' sign-stealing operation. https://t.co/VyS35fmie5

— Ken Rosenthal (@Ken_Rosenthal) November 15, 2019
Additional rule change: MLB will be making yet another change to the IL. While position players will still have a 10-day IL, pitchers will be subject to a 15-day IL, to quell roster manipulation (it still won't be that difficult to do).
Cubs' Birthdays: Celebrating yesterday were former Cubs (all posthumously) Thompson "Mickey" Livingston (105), Pat Ragan (136), and Pete Childs (148).
Baseball Quotes: "You have to have the right attitude when playing baseball. It's a game, smile and have some fun!" -Jose Fernandez
Don't look back. Someone might be gaining on you. -Satchel Paige pic.twitter.com/3D1OXxBjqZ

— Baseball Quotes (@BaseballQuotes1) November 12, 2019
MLB and the Hot Stove
NL Central Hot Stove:
Brewers: Milwaukee has claimed RHP Eric Yardley off waivers from San Diego.
Pirates: The Pirates have announced that former Boston exec, Ben Cherington, will serve as Pittsburgh's next GM. Cherington has been pleased with the legwork that the club has done in their search for a manager, and it appears that no new applicants will be interviewed. The team expects to start conducting second interviews for a select few, but Cubs' first base coach Will Venable is not on that list.
Pirates/Cherington now need to hire a manager. That process had been paused. Word is at least Derek Shelton and Mark Kotsay had excellent interviews in Pitts and many holdover execs were part of process. Of course, Cherington is free to pick someone who hadn't been a candidate.

— Jon Heyman (@JonHeyman) November 15, 2019
From the rest of MLB:
MLB minimum salary For 2020, the league minimum will increase from $555k to $563,500.00, equal to an $8,500.00 raise.
Orioles: USA Baseball coach, Anthony Sanders has been interviewed for the first base coach's spot in Baltimore. Sanders is a gold medal Olympian (2000) and has time in the majors as a player with both Toronto and Seattle and has spent the last 14 years as a manager/coach in the Rockies system.
Former Yankees 1B Tyler Austin is headed to the Yokohama DeNA Baystars on a one-year, deal with a club option, a source tells ESPN. Austin spent time with the Twins, Giants and Brewers in '19. He'll replace Yoshitomo Tsutsugo, who is drawing strong interest from big league clubs.

— Jeff Passan (@JeffPassan) November 15, 2019
Dodgers vs. Maeda: Kenton Maeda is frustrated that a spot in the rotation seems to be on a permanent hold. Dodgers' president Andrew Friedman has told Maeda to "find another gear" in his performance. Ouch.
Upgrade Your Account
Unlock premium boards and exclusive features (e.g. ad-free) by upgrading your account today.
Upgrade Now