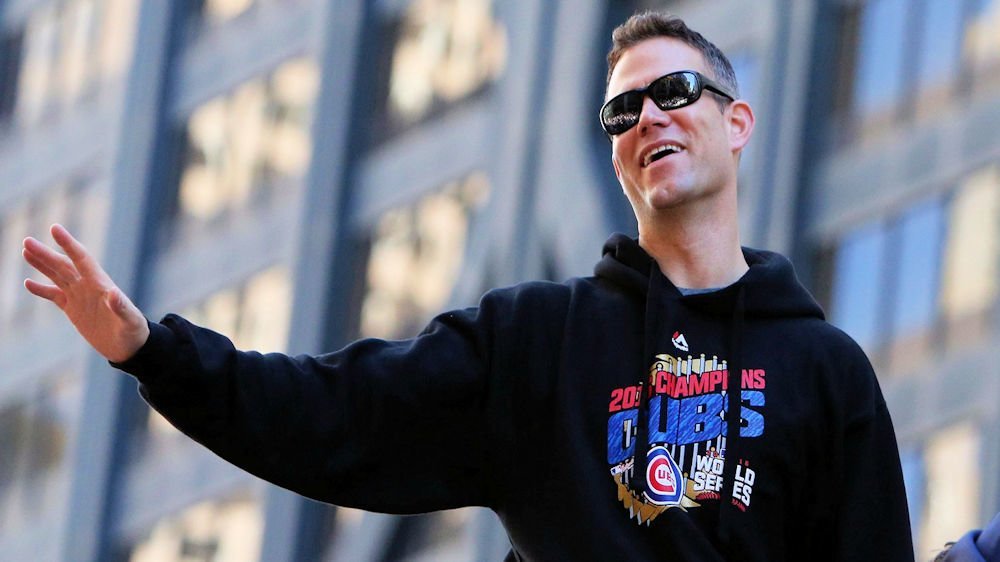 | | |
| --- | --- |
| Cubs News and Notes: Epstein on trade rumors, Cubs window in 2020, Hot Stove, more | |
---
| | | |
| --- | --- | --- |
| Tuesday, November 12, 2019, 9:40 AM | | |
CUBS NEWS AND NOTES
Venable confirmed: As expected, Theo Epstein has officially confirmed that Will Venable will be staying on board this season as a bench coach, meaning that the Cubs now only need to find a base coach and quality assurance coach before David Ross' coaching staff is complete.
Theo on trade rumors: "We're not going to contribute to this environment where there's this hysteria about a certain player on a given day, and it turns out not to happen, and the next day it's on the to the next player who's definitely going to get moved."
Theo on Cubs' window: "This was coming. It's not like it was going to be one generation of players, and that's it. We knew, when a lot of our best players were cost-controlled, those were the years we could squeeze the most amount of talent on the roster, and there would be difficult decisions and change ahead at some point. We're just rapidly approaching that time, that's all."
Theo on going back to the dance in 2020: There's probably a series of moves that we could pull off that could bring [another World Series] about, but it won't be easy, and you normally have to make sacrifices one way or the other and operate in a world where there are real tradeoffs. So, we'll have to see what's available to us. This is the start of that process, really seeing what [realistic paths] we can take, not just these sort of idyllic paths that we try to create in our mind."
MLB Rumors and the Cubs: Theo says that he's not out to feed into the hysteria about trade rumors, but after saying that he'd be 'exploring trade possibilities" this winter, one can't help but take note of which teams are looking for what.
The Rangers want "a substantial upgrade at third base;" the Tigers want "an MLB ready, impact infielder," the Athletics are looking for a powerful, left-handed bat and the Royals want to build a contender, while the Nationals are said to be looking for a quality third baseman to replace Rendon. Obviously, Kris Bryant's and Kyle Schwarber's names fit into all of those "desires," but so do a lot of other Cubs' players.
That's just three of probably 25 teams the Cubs could deal with this winter, and as the GM meetings move ahead, more rumors from the other teams will begin to surface. I mentioned those four for a reason; the Cubs do a lot of dealing with each of them. Among others, you can thank the Tigers for Castellanos, the Rangers for Cole Hamels and Jesse Chavez, the Nationals for Brandon Kintzler, the Royals for Maldonado and the Athletics for Addison Russell – OK, forget the last two if you want. The Cubs trade well with all of these teams and each has a void that Theo Epstein can help fill; the question is, what can they do for the Cubs?
Rookie of the Year Awards: The Rookie of the Year Awards were handed out last night at the GM Meetings in Scottsdale. Not that it comes as any great surprise, but Yonder Alonso of the Astros took home top honors for the American League, while Pete Alonso raked the National League version.
And your rookies of the year are ... https://t.co/DgHmO6Dnkg pic.twitter.com/MnF541YqGt

— MLB Trade Rumors (@mlbtraderumors) November 12, 2019
It's unanimous! ??

Yordan Álvarez is the 2019 @officialBBWAA Jackie Robinson AL Rookie of the Year! pic.twitter.com/wBHm073qFP

— MLB Network (@MLBNetwork) November 11, 2019
Baseball Quotes: "I love to take my cuts, but I hate to take a third strike. Cause when you do, it's a real long walk back to the dugout." -Jimmy Foxx
You win not by chance but by preparation. -Roger Maris pic.twitter.com/a5eKAVsS7x

— Baseball Quotes (@BaseballQuotes1) November 5, 2019
MLB and the Hot Stove
Yankees: Add the Yankees to the list of teams vying for Gerrit Cole, as confirmed by Brian Cashman at the GM meetings. Cashman says they're concerned that Cole would prefer to play in his native California, but that won't stop the Bronx Bombers from trying for him for a third time.
One highly ranked evaluator predicts that the first ask from Gerrit Cole's camp will be north of $300 million.

— Buster Olney (@Buster_ESPN) November 12, 2019
The Yanks also have ended their search for a bench coach, naming Carlos Mendoza, who will forego his role as infield coach. The Yankees are also expected to bring on Matt Blake as pitching coach and Tanner Swanson as catching coach.
Mets: As team after team expresses interest, NY says that it hopes to put together a multiyear deal which will keep Zack Wheeler in NY. Wheeler will undoubtedly be denying the $17.8m qualifying offer, which was issued last week.
Kyle Gibson: After having his year derailed by ulcerative colitis, Kyle Gibson is reportedly drawing interest from multiple teams.
Kyle Gibson getting buzz even in market stacked w/top starters. 10 teams showing interest. Before ulcerative colitis hijacked season, KG had a 2 yr run of 65 starts, 383 inn, 365 k's, 3.74 era w 51% gb. Colitis being treated by Cleveland Clinic w no expected lingering effects.

— Jon Heyman (@JonHeyman) November 12, 2019
Astros: While the Mets attempt to hammer out a deal to keep Zack Wheeler, Houston has now entered the ring for a shot at the coveted starter.
Don't "Betts" on it: The asking price will be outrageously high for Mookie Betts – an impending free agent who may be able to provide a significant boost to any team interested in the (most likely) one-and-done rental.
While Red Sox will likely gauge the trade market for Mookie Betts this winter, there's great skepticism any interested team will trade a package of great prospects and pay about $28M for 1 year even for a superstar such as Betts.

— Jon Heyman (@JonHeyman) November 12, 2019
Rangers: Don't look now, but the Rangers are reported to be exploring top-tier free agents this winter. It's been rumored for six weeks that they'd be spending big during this offseason, and they've now set some lofty goals: Gerrit Cole and Anthony Rendon.
Nationals: Washington knows they'll probably be short a third baseman this year now that Anthony Rendon is a free agent, but while they await news of a reunion, they've reportedly starting courting Josh Donaldson
Rays GM Erik Neander was voted top MLB exec in voting by peers. Yankees Brian Cashman was 2nd, Twins Derek Falvey and A's Billy Beane tied for 3rd. So AL sweep.

— Jon Heyman (@JonHeyman) November 12, 2019
A's: Oakland showing interest in free-agent catcher, Stephen Vogt, who played for the Athletics from 2013 until 2017.
Red Sox: Did you think second baseman Dustin Pedroia was retiring? Guess again. Pedroia says that despite mid-season knee surgery in 2019, he attends to return.
White Sox: Eloy Jimenez on Jose Abreu: "I think he's going to come back . . . I think they need to bring him back."