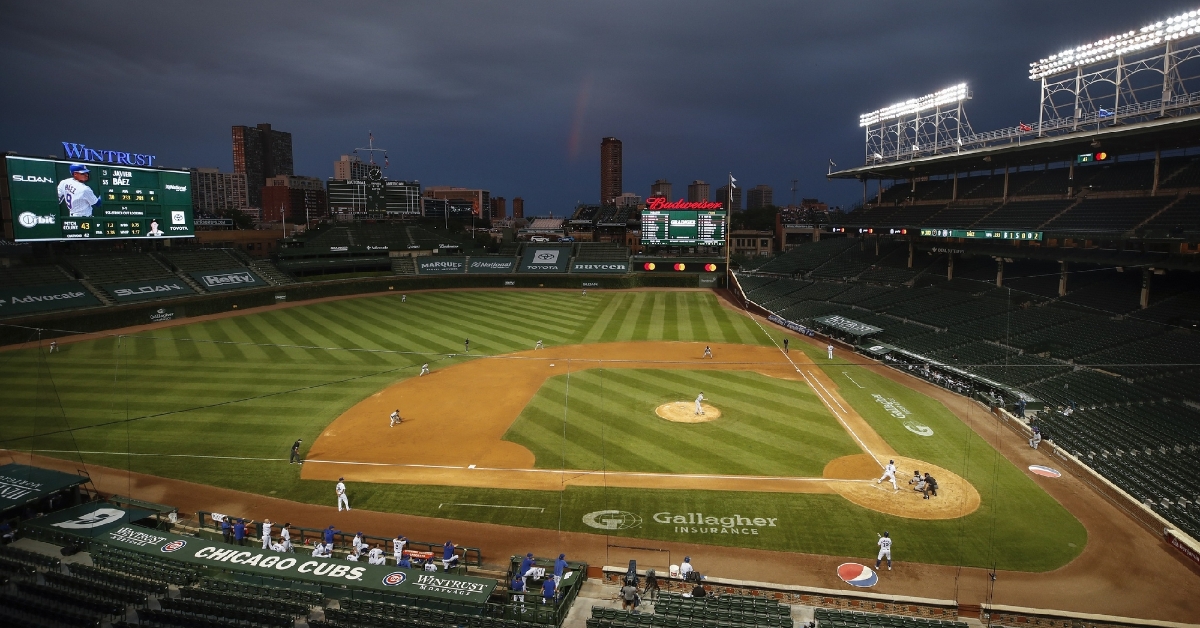 | | |
| --- | --- |
| Cubs News and Notes: Fly the W, Chatwood unbelievable, KB out sick, COVID-19 issues, more | |
---
CUBS NEWS AND NOTES
A look at last night: Last night was one of the most bizarre Cubs games I've seen in quite some time. Going into the eighth, the Cubs only led by a score of 2 to nothing, get it felt like they should have been ahead by about eight runs.
Tyler Chatwood is nothing short of amazing. He lasted seven solid innings, not allowing a run while tying a record high 11 strikeouts. His pitch count was in good shape going into the seventh, but a walk a single and an error left the bases loaded, forcing David Ross to pull him from the game.
Tyler Chatwood in 2020:

19 strikeouts
0.71 ERA
0.79 WHIP

How is Tyler Chatwood looking, @Cubs pic.twitter.com/qnUnC0QtxA

— Marquee Sports Network (@WatchMarquee) August 2, 2020
Then it was time to fret, as the Cubs bullpen had to come in for 2.1 innings of work, which lately has been a disaster.
Jeremy Jeffress, Kyle Ryan, and Rowan Wick were able to finish off the Pirates. Interesting that David Ross didn't go to his closer, but let's face it, Craig Kimbrel has been horrific as of late. In case you missed it, Kimbrel gave up back to back home runs in his last appearance, although the Cubs did end up salvaging the win.
Tyler ChatGOOD.

Recap: https://t.co/41WPk1JpAe pic.twitter.com/zpMNKBGW0Q

— Marquee Sports Network (@WatchMarquee) August 2, 2020
So far as the offense was concerned last night, the Cubs certainly showed that they could be potent. Ian Happ launched, Javier Baez went deep, and of course, Kyle Schwarber was not going to be denied. The Cubs did leave several runners stranded on base, which is becoming more and more alarming, as Chatwood was starting to run out of gas.
Here's 853 feet of home runs for your viewing pleasure. pic.twitter.com/UKSQup0ytK

— Marquee Sports Network (@WatchMarquee) August 2, 2020
375 feet to opposite field. NBD. pic.twitter.com/zndfUPNqQo

— Marquee Sports Network (@WatchMarquee) August 2, 2020
Bryant absent: if there was one thing that was notably missing from last night's game, Kris Bryant was a last-minute scratch due to what Len Kasper described as gastrointestinal issues. David Ross was able to shift around his lineup, placing Ian Happ is a leadoff spot, and obviously, Happ did not disappoint.
I admire David Ross' integrity, sticking with Kris Bryant out of the leadoff spot, but it has become apparent that Ian Happ is much better from that spot. Granted, the Cubs have an extremely overcrowded outfield, so play Happ every day means some sits. In the end, this isn't Little League, and winning is all that matters in the end.
COVID strikes again: first it was the Miami Marlins who are getting series canceled, and now COVID-9 has affected the National League Central. The Milwaukee Brewers and Saint Louis Cardinals series has been canceled due to an outbreak of COVID among the Cardinals players.
Hear multiple Cardinals personnel tested positive. Don't have breakdown of players/staff

— Jon Heyman (@JonHeyman) August 1, 2020
Interestingly enough, reports say that several of the Cards players were seen at a casino in Illinois, well pictures of fans posing with Miles Mikolas were posted on social media. The Brewers lost Lorenzo Cain. He opted out over the weekend, who basically stated that playing had become much too dangerous.
August 1, 2020
Last week, baseball commissioner Rob Manfred issued an ultimatum to the MLBPA: Either figure out a way to control the spread of this virus, or the baseball season is over. I'm not sure who we blame for all of the delayed testing and botched attempts to get labs to get results sorted out, so that team like the Oakland Athletics don't have to sit idle waiting and wondering. Similar delays cost of the Cubs one day of practice earlier last month.
I wanted baseball to me back as much or more than anyone else, but I can't help but wonder if it is time to throw in the towel and start again next season. There doesn't seem to be a way for teams to control the virus – or maybe manage the actions of their players might be a better way to phrase it – and the situation only continues to worsen. The baseball season seems to be becoming some bizarre version of The Hunger Games.
If you believe Keith Olberman, a recent tweet from him that I saw a screenshot of, suggested that as early as today, television networks need to be considering alternative programming for win baseball with scheduled. This could all end today, folks, and I'm not happy, perhaps a little relieved.
Cubs' Birthdays: Happy birthday yesterday to ex-#Cubs Brandon Kintzler (36), Greg Gross (68), Wayne Tyrone (70), and posthumously, Howard Freigau (118), Harry Croft (145), and Ed Gastfield (155).
Baseball Quotes: "The only good thing about the past is that the Chicago Cubs would occasionally win the World Series. But that's it. Everything else was Nazis and disease." – Stephen Colbert
Good hitters don't just go up and swing, they always have a plan. Call it an educated deduction. You visualize.

You're like a good negotiator. You know what you have, you know what he has, then you try to work it out. -Dave Winfield

July 31, 2020

Tags: Chicago Sports Baseball
,
Tyler Chatwood
,
David Ross
,
Jeremy Jeffress
,
Kyle Ryan
,
Rowan Wick
,
Craig Kimbrel
,
Ian Happ
,
Kyle Schwarber
,
Kris Bryant
,
Brandon Kintzler